Enjoy Patient Stories
Real-life stories from our patients bring Premier Health's caring and capabilities to life. Learn more about some of the people who have benefited from our team's knowledge and compassion. We're proud to make a difference!
Sue Sounders
Sep 28, 2021, 17:37 PM
Sue's Story: Breast-Cancer Free And Diving Into Life
Her doctor celebrated the conclusion of her breast cancer journey with a "cancer-free jig" right in the exam room.
Lumpectomy and brachytherapy breast cancer treatments. Kindness, support, and exceptional care leaves patient grateful. Find out.
Patient Name :
Sue Sounders
Year :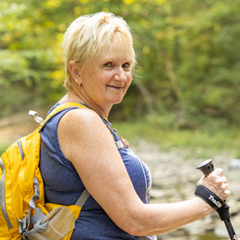 Sue Souders jumped out of a plane at 14,000 feet, feeling an adrenaline rush and heart-pounding exhilaration as she and her tandem instructor hurtled through the air. As the parachute billowed out for her second-ever sky dive, the free fall transitioned to a serene floating, and she spun in circles with the pure joy of it. "As I took in the breathtaking beauty of the view, it gave me such peace and appreciation of life, even more so because of what this year has brought me," she says.
Just four months before, Sue had gone for a routine mammogram that detected a thickening spot in her left breast. That led to a biopsy and a confirmation later in the month that she had stage 1 invasive ductal carcinoma, the most common type of breast cancer.
"I know others who have had this type of cancer, and they're doing great now. It was unnerving to get the diagnosis, but I wasn't shocked," Sue says.
A big reason for her calm demeanor was the positive attitude of her breast surgeon and breast cancer team. She says fellowship-trained breast surgical oncologist Selyne Samuel, MD, FACS, "was so knowledgeable, so informative, and so available. She ripped off a sheet of exam table paper and started drawing a picture to explain. The cancer hadn't spread outside my breast, and everyone was so confident we caught this in time."
Oncology nurse navigator Nancy Thoma, BSN, RN, OCN, was also on hand to meet with Sue. "She gave me tons of information, a patient guide, notebooks, and a list of people I could reach out to for questions or support.
Nancy said, 'You're going to be fine. We've caught this in time. Please don't Google anything.'
Sue laughingly says, "I thought, 'oh no, I already did that.' Nancy showed me where to go on the internet for information and encouraged me to reach out to breast cancer staff."
Treatment With Surgery And Brachytherapy
Dr. Samuel performed a title=lumpectomy;healthinfo=Breast-Conserving Surgery (Lumpectomy) for Breast Cancer on Sue in June, taking out the tumor in Sue's left breast. She also recommended that Sue receive a form of title=radiation therapy;healthinfo=Radiation For Early-Stage Breast Cancer called brachytherapy that precisely delivers radiation to the area where the cancer occurred.
"Brachytherapy is like getting a security system in the breast and decreasing the chances of the cancer coming back," Dr. Samuel explains. "This technology has been around for years and is equivalent in outcomes to whole-breast radiation. This is an option we weren't currently providing here, and I advocated for it when I came to Premier Health. For patients who are candidates, I want to get them back to their daily living as quickly as possible."
For Sue, the brachytherapy process started in Dr. Samuel's office a few weeks after her lumpectomy. Through a small incision close to Sue's lumpectomy incision, Dr. Samuel inserted a balloon into the area where the tumor was located. Small catheters attached to the balloon extended outside her body, looking like "an octopus," as Sue describes it.
She received radiation seeds through these tubes twice a day for five days. During each treatment, the seeds remained in the breast for a few minutes and were then removed.
"The radiation therapist said I might feel fatigue, and I did. Not horribly bad," Sue says. She went back to work a week later to her job as a lab technician. "I still take one estrogen-blocking pill a day as preventive maintenance, because my cancer type feeds on estrogen. I feel fine and haven't really seen any side effects, other than tiring a little easier. I was hiking on the weekends eight to 14 miles a day, and I can do about five miles now. But I'll build my strength back up."
Gratitude For Support
As Sue's treatment course rapidly progressed, her son and daughter-in-law provided support from California, and her son came to town for her surgery. Her brother and close friend live nearby, and her sister "was constantly texting and calling me."
She also receives emotional boosts from seeing and talking with her grandchildren, who live in Mansfield, Ohio.
Her co-workers stepped in to cover her job responsibilities so she could focus on her treatment and recovery rather than the stress of missing work.
Sue also expresses her gratitude for the team at Miami Valley Hospital South. "From day one, they were awesome! Dr. Samuel is an amazing doctor. Plus, my other doctors, the nurses, and the physicist who did the radiation treatment. Everyone was so friendly and positive. They helped me not to worry so much about having cancer. They were all fantastic."
On one of her visits, when she learned that she had no lymph node involvement, Dr. Samuel told Sue she was cancer-free. She had asked about Sue's favorite music, which is country, and brought in Chris Stapleton's version of "Tennessee Whiskey."
"Dr. Samuel said, 'Let's do the cancer-free dance,' and we did a little jig. That's just the kind of doctor she is. So amazing and uplifting."
Inspired by her restored health and recent sky dive, Sue is ready for her next adventure.
Premier Health's Cancer Prevention Program can help to determine your personal cancer risk due to family history or genetics.
Categories :
Acquisition
Acute Care
Breast Cancer
Convenience Seeker
Critical Fixer
Fit Searcher
Patient Story
Seniors
Wellness
Wellness/Recovery
Women
Related service lines
Related services
Related physicians
Related practices
Contact Us
Our cancer team is here for you. Our cancer specialists have access to nationally recognized cancer care protocols and best practices, since Premier Health is a certified member of MD Anderson Cancer Network®, a program of MD Anderson Cancer Center. Our patients benefit from advanced local care backed by the world-renowned expertise of the nation's leading cancer center.
Call the Premier Health cancer hotline at (844) 316-HOPE(844) 316-4673 (4673), Monday through Friday, 8 a.m. to 5 p.m., to connect with a Premier Health cancer navigator.