Print this recipe
Veggie Wraps with Hummus And Garlic Aioli
Servings:

6

Calories:

594

kcal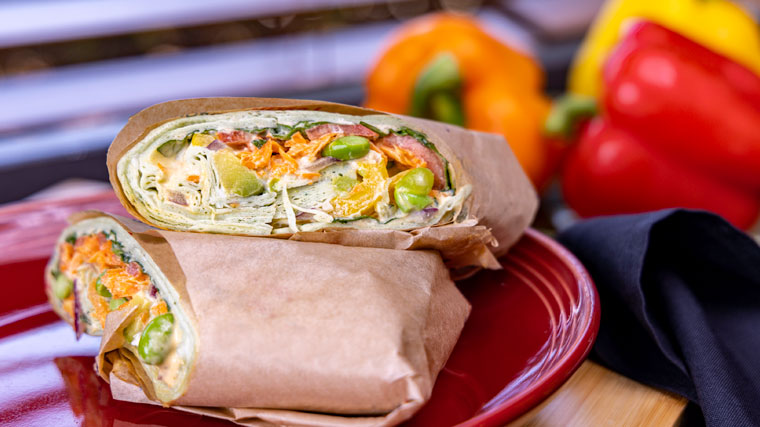 This no-cook recipe for veggie wraps with hummus and garlic aioli makes a refreshing brunch or lunch main dish, or a snack. Read now.
Ingredients
Six 12-inch veggie, flour, or gluten-free tortillas
10-ounce container of premade hummus
4 cups baby spinach (4 ounces)
1 medium avocado cut into thin slices (6 ounces)
2 medium tomatoes halved and sliced (12 ounces)
1 cup shredded carrots (3 ounces)
1 bell pepper (any color) sliced into strips (6 ounces)
1 cup edamame
1/2 cup red onion thinly sliced (4 ounces)
For the aioli:
3/4 cup vegan mayonnaise
3 cloves garlic, minced
2 1/2 tablespoons lemon juice
3/4 teaspoon salt
1/2 teaspoon ground black pepper
Instructions
Make the aioli: Mix mayonnaise, garlic, lemon juice, salt, and pepper in a bowl. Cover and refrigerate for at least 30 minutes before serving.
Chop the veggies into long strips. (Optional: If your tortillas are not soft enough for easy folding, warm them briefly in a skillet over medium-high heat or microwave for a few seconds.)
Smooth about three tablespoons of hummus onto the middle of each tortilla. Then add spinach and layer on the rest of your vegetables.
Drizzle with aioli, then fold in the outer sides of the tortilla and roll it up like a burrito.
Cut in half and enjoy immediately or wrap in sandwich wrapping paper. Store in an airtight container in the refrigerator until ready to serve. Amber Marks
Dietetic Intern