Print this recipe
Chicken, Bacon, and Spinach Salad
Servings:

6

Calories:

553

kcal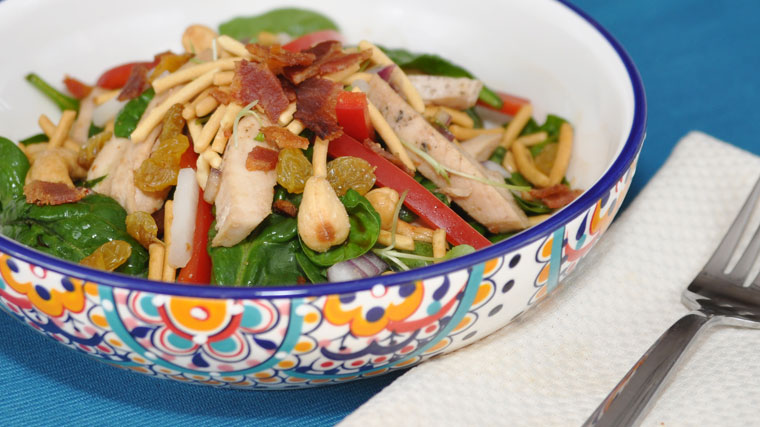 A little bacon goes a long way to rev up this Asian-inspired salad. Try the recipe now!
Ingredients
2 chicken breasts
1 tablespoon olive oil
3 slices bacon
4 cups baby spinach (washed; pat dry)
1/2 cup bean sprouts
1 red pepper (thinly sliced)
1/2 cup roasted, unsalted cashews
1 small red onion (diced)
1/4 cup raisins
1 cup crisp fried Chinese noodles
Dressing
2 tablespoons soy sauce
1 teaspoon lemon juice
1 teaspoon finely grated lemon zest
1 tablespoon honey
1 clove garlic (crushed)
1 tablespoon sesame oil
Instructions
Brush the chicken breasts with a little olive oil and cook in a hot pan for 5 minutes on each side — until the chicken is cooked through, without overcooking.
Remove the chicken and set aside.
Cook the bacon until crisp in the same pan.
Slice the chicken into thin strips and roughly chop the bacon.
Toss together the chicken, bacon, spinach, sprouts, red pepper, raisins, cashews, red onion, and noodles.
Whisk the dressing ingredients in a small saucepan and warm gently to dissolve honey.
Drizzle the dressing over the salad and serve.