A Higher Level of Care
Atrium Medical Center's Level III Trauma Center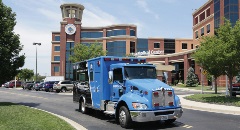 A trauma center must have specialized medical professionals on-call 24/7, plus resources including operating rooms, a laboratory, diagnostic testing and more that are prepared and ready to treat patients immediately.
Atrium Medical Center has a verified Level III Trauma Center. While it serves the needs of patients and families no matter where they live, it is the only choice for this level of care in Warren County.
A Designated Trauma Team
"When EMS notifies us of an incoming patient with a traumatic injury, we activate a paging system that reaches between 20 and 30 medical professionals, including the trauma surgeon," says Alexandra Carpenter, trauma program manager, Atrium Medical Center. "In a traditional emergency department, available staff provide initial care. We have a fully designated trauma team. Our trauma surgeons are at the patient's bedside within 30 minutes of their arrival, providing key procedures and interventions at the bedside."
"Atrium Medical Center has dedicated trauma surgeons with over 50 years of combined trauma care experience," says Daniel Butler, MD, medical director of Atrium Medical Center's Level III Trauma Center.
Resources at the Ready
Atrium Medical Center's Level III Trauma Center provides constant availability of board-certified emergency physicians, anesthesia, critical care, and orthopedic, cardiothoracic, urologic, orthospine, and vascular surgeons. Radiologists and technicians are available for CT scanning, angiography, and MRI, and imaging interpretation if needed. This depth of patient resources is what has led to the Level III verification from the American College of Surgeons for 15 straight years and counting.
"This valued verification is the result of our ongoing commitment to provide our community with outstanding trauma care," says Dr. Butler, who has served as a trauma surgeon in the U.S. Army Reserve for 27 years, with six of those as a commander of Forward Surgical Team, and three overseas combat zone deployments.
Injury Prevention and Education
Atrium Medical Center's Level III Trauma Center plays an active role in the community by providing injury prevention training and education through partnerships with area organizations, such as the Warren County Safe Communities Coalition. The Atrium Medical Center team carefully reviews and analyzes trauma patient data to identify injury trends and proactively address needs in the area.
"Since falls have been identified as a leading cause of trauma, we go out to different assisted living centers and nursing homes to teach them various ways of being safe in their home and preventing falls," says Alexandra. "We are working to identify patients at a higher risk and keep them safe." For information on Atrium Medical Center's Senior Lifestyles and Injury Prevention (SLIP) Program to help prevent falls, call (513) 974-4713(513) 974-4713.