Enjoy Patient Stories
Real-life stories from our patients bring Premier Health's caring and capabilities to life. Learn more about some of the people who have benefited from our team's knowledge and compassion. We're proud to make a difference!
Marilyn Tracy
Aug 31, 2022, 14:34 PM
Marilyn's Story: Surviving Glioblastoma
What is glioblastoma? How is glioblastoma treated? How surgery and a special device has helped Marilyn survive for more than seven years. Find out now.
What is glioblastoma? How is glioblastoma treated? How surgery and a special device has helped Marilyn survive for more than seven years. Find out now.
Patient Name :
Marilyn Tracy
Marilyn's Story: Surviving Glioblastoma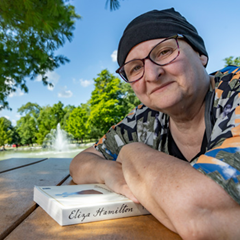 Marilyn Tracy's world changed in spring 2015 when she was felled by glioblastoma, an aggressive brain tumor. "I woke up one morning, and I just felt weird," she recalled. When she looked in the mirror things appeared normal, so she went back to sleep. "When I woke up, I was having a seizure," she said. After being hospitalized and receiving an X-ray, Tracy was transferred to Miami Valley Hospital. There, an title=MRI;healthinfo=Magnetic Resonance Imagining (MRI) of the Head and more tests found the glioblastoma.
"I didn't think it was that serious. I thought, 'I am going to have an operation and they are going to take it out,'" Tracy said of the tumor. The seriousness of her condition didn't hit home until Tracy, then 54, was home and looked up glioblastoma. "I thought, 'Oh! This isn't good,'" she said.
The surgery to remove the entire tumor was performed by Neurosurgeon Ania Pollock, MD. Following surgery, Tracy experienced no issues with mobility but has had some trouble with words and numbers. She said she was determined to return to her work doing taxes with H&R Block - and did. "It is hard sometimes to find the right word to say what I want to say," she said.
Her family, including husband, Jim, and four children are what kept her going during recovery, Tracy said. Her youngest child was 11 at the time of her surgery. "My goal was to get him out of high school," she said. He joined three older sisters this spring in becoming a Northmont High School graduate and is heading to Wright State University in the fall.
Tracy continues to have an MRI every six months and to use OptTune, a device worn on the head that sends out electromagnetic waves to keep the tumor from reforming. Although she was hesitant at first about the device, which was recommended by her radiologist in 2016, she decided to use it. The average survival rate for those with glioblastoma is 15 months. "Because of the kids, I thought it was important that I take every chance I could get," Tracy said. "It is a fascinating piece of equipment." The device requires patients to shave their heads and wear it as much as possible. Her goal is to use it 80 to 85 percent of the time. "I think that has also kept me going all this time. They say use it at least 75 percent of the time," she said.
Seven years after discovering the cancer, which is often deadly, Tracy is still praising her care and follow-up. "The care was amazing. Everybody was just amazing," she said. She credits family and friends for helping keep her spirits from deteriorating. "Everything has been good. I have a full life, have good friends. My family is wonderful. I am so grateful that I got this extra time," Tracy said.
Categories :
Acute Care
Brain Tumor
Convenience Seeker
Critical Fixer
Fit Searcher
Heads Up
Men
Patient Story
Seniors
Wellness/Recovery
Women
Related service lines
Related services
Related physicians
Contact Us
Our cancer team is here for you. Our cancer specialists have access to nationally recognized cancer care protocols and best practices, since Premier Health is a certified member of MD Anderson Cancer Network®, a program of MD Anderson Cancer Center. Our patients benefit from advanced local care backed by the world-renowned expertise of the nation's leading cancer center.
Call the Premier Health cancer hotline at (844) 316-HOPE(844) 316-4673 (4673), Monday through Friday, 8 a.m. to 5 p.m., to connect with a Premier Health cancer navigator.