Bing's Story: The Art Of Living
Celebrated Dayton Artist Is Grateful For Each Day Of His Life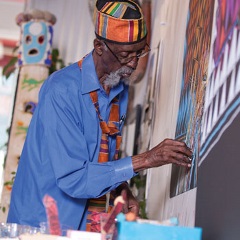 As an artist, Willis "Bing" Davis is deeply thoughtful and reflective. He lets pieces develop on their own while waiting patiently for found materials to reveal their repurposed use. "They'll tell me when they're finished," he says.
But when it came to a recent cancer diagnosis, his response was incredibly swift.
"My wife and I said, 'Well, let's move forward and see if we can address this,'" says the much-loved Dayton artist and teacher. "Within a week or so, we proceeded to go ahead with the operation and hope for the best."
A Spot Of Concern
Premier Health pulmonologist Murthy V. Gollamudi, MD, had been monitoring a spot on Bing's lung annually for several years. When Dr. Gollamudi performed a biopsy, the spot turned out to be cancerous.
A physician with Cardiothoracic Surgery Associates recommended robotic surgery to remove the tumor, stating that Bing's cancer was in the high part of his lung.
In addition to removing the cancer, a lymphadenectomy was performed which is the removal of the lymph nodes. This procedure prevented the disease's recurrence.
Bing says he's grateful for the time the physicians at Cardiothoracic Surgery Associates took to educate him and his family about the procedure.
"I was aware that they were really doing all they could for me," he says. "Each one that came in, you could see their expertise and professionalism, and that they were a part of that team."
Bing also is thankful for his relatively quick recovery and spending just two days in Miami Valley Hospital.
"I don't have my full energy back, and I know I'll have a new normal, but whatever it's going to be and however much time I have to work, I'm grateful for it," he says. "As a matter of fact, I think work is medicine, too."
The Battle Goes On
Bing was fortunate to be accepted into a year-long clinical trial program and is now receiving immunotherapy under the care of oncologist Satheesh K. Kathula, MD, of Dayton Physicians Network with the hope of preventing the cancer from returning.
Immunotherapy is gaining popularity as an alternative to chemotherapy because it is much less toxic, explains Dr. Kathula. "I think we'll be treating cancer differently in years to come, with more oral treatments, more targeted treatments, more immunotherapies," he says. "They're getting away from intravenous (IV) chemo in a lot of patients, and we are seeing good responses in many, many areas."
There are a lot of new trials and treatments in the pipeline, says Dr. Kathula, and it is a "huge plus" to have such treatments available locally.
"I feel very fortunate to have been in a situation to receive such expert care at a time when I needed it the most," Bing says. "It was an added bonus to see these medical scholars of color using their skills to help me."
Positive Thoughts
Bing initially feared what his care team might find, but he remained positive. "I thought to myself, 'Going under the anesthesia, if I don't wake up, my work was done. If I wake up, then there's still more to do,'" he says.
"I'm just glad that I have the opportunity to continue to do some of the things that I enjoy – making art, being alive, appreciating the day," Bing says. "When people look at my work, I want them to feel a joy, a vitality, the energy. There's a positiveness to being alive."
Contact Us
Our cancer team is here for you. Our cancer specialists have access to nationally recognized cancer care protocols and best practices, since Premier Health is a certified member of MD Anderson Cancer Network®, a program of MD Anderson Cancer Center. Our patients benefit from advanced local care backed by the world-renowned expertise of the nation's leading cancer center.
Call the Premier Health cancer hotline at (844) 316-HOPE(844) 316-4673 (4673), Monday through Friday, 8 a.m. to 5 p.m., to connect with a Premier Health cancer navigator.