Marty's Story: Surviving Cancer Surrounded by Family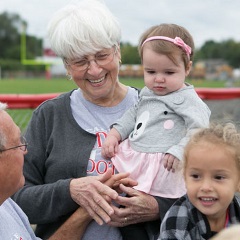 Marty Chaney packed her schedule with the many activities of her large extended family. Then she began feeling discomfort in her abdomen, which affected her appetite, her energy level, and her ability to enjoy her family.
Marty managed to go to nearly every activity involving her family or church. But after an activity-packed day, she often needed to take the next two days to recover.
"My primary care doctor first talked about testing because when he examined me and pressed on my stomach, it was very tender," she says.
Through a series of tests, including an endoscopy, Marty learned her stomach lining was inflamed. And she was diagnosed with mucosa-associated lymphoid, or MALT lymphoma.
While this type of cancer grows slowly, it isn't something to be ignored. Mucosal tissue is the soft, moist, protective tissue that lines many parts of the body, such as the mouth, stomach, breathing passages, and internal organs. Lymphoid tissue (where lymphocytes– white blood cells that fight infection – collect) is normally found in mucosal tissue.
"Her symptoms were typical for this type of cancer," says Ryan Steinmetz, MD, radiation oncologist with Dayton Physicians Network. "MALT lymphoma can show up in many different parts of the body because the body has this type of tissue in many places."
While Marty experienced abdominal symptoms, the condition also can trigger symptoms such as rapid weight loss, night fevers, and heartburn or acid reflux. Dr. Steinmetz urges patients to check with their primary care physician if these symptoms persist and aren't controlled by medications.
Marty's treatment plan included daily doses of radiation. She experienced minimal side effects of nausea and some fatigue. Thanks in part to her general good health and positive attitude, her treatment and recovery went well.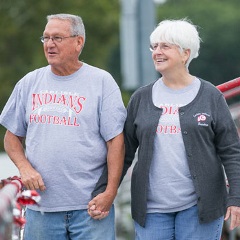 Marty received radiation treatments at Atrium Medical Center. "I'm glad we were there," she says. "Everyone is on a first-name basis and so friendly."
After the radiation rounds, she had a series of follow-up visits with a gastroenterologist, medical oncologist, and Dr. Steinmetz. The three physicians gave her the all-clear. She is currently cancer-free.
Dr. Steinmetz said in rare cases, the cancer could return, but periodic check-ups should detect any reoccurrence.
The ordeal has given Marty and her husband, Bob, a new lease on life. Married 54 years, the two are nearly inseparable. "I can't imagine going through this life with anyone else or anywhere else," she says.
After celebrating three years of being cancer-free, Marty has returned to football games, school and church events, and large family gatherings. On Friday nights in the fall, you will see her surrounded by children, grandchildren, and great-grandchildren in the stands at Carlisle football games.
Contact Us
Our cancer team is here for you. Our cancer specialists have access to nationally recognized cancer care protocols and best practices, since Premier Health is a certified member of MD Anderson Cancer Network®, a program of MD Anderson Cancer Center. Our patients benefit from advanced local care backed by the world-renowned expertise of the nation's leading cancer center.
Call the Premier Health cancer hotline at (844) 316-HOPE(844) 316-4673 (4673), Monday through Friday, 8 a.m. to 5 p.m., to connect with a Premier Health cancer navigator.