Heather's Story: Family Battles Cancer Twice With a Sense of Humor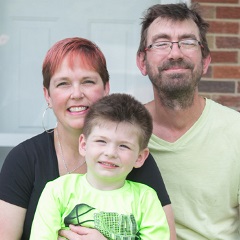 Faced with a breast cancer diagnosis, you could cry and get mad. But if you're like Heather Minton of Beavercreek, you do the opposite.
"It's a lot easier to be happy and know that whatever hurdles come at us, we are going to fight," says the 45-year-old breast cancer survivor and dental hygienist.
That positive, forward-looking attitude carried Heather and her family — husband Joe, 47, and son Hunter, 5 — through her breast cancer battle, plus a second fight against leukemia for Hunter.
Everything started when Heather's obstetrician recommended a baseline mammogram. (Her grandmother had a double mastectomy in 1970.)
A day after her mammogram, Heather received a call. Doctors wanted a closer look. A week later, she had an ultrasound. A week later, doctors biopsied her left breast.
"I found out it was cancer as I was leaving the pediatrician's office for my son's 15- month check-up," Heather says. This was on September 18, 2013. She was 39.
The following Monday, Heather and her husband met Melissa Roelle, MD, of the Wright State University Department of Surgery. Dr. Roelle recommended BRCA mutation genetic testing and had them meet with a Premier Health oncology nurse navigator.
"They kept pushing tissues toward us, but my husband and I made it funny," Heather says. "We were not going to cry."
The genetic test was negative, meaning Heather didn't have mutations in the BRCA genes, which can raise the risk for certain cancers, especially breast and ovarian cancer.
Heather talked options with Dr. Roelle and her oncologist at Premier Health. "The first thing I said was, 'Let's cut it out.'"
She remembers reading about women with cancer in one breast, only to have it appear in the other breast years later. Heather knew her cancer — Stage 2A, HER2 receptive — was aggressive.
Heather would need chemotherapy and radiation.
"That's when I decided on a double mastectomy," Heather says.
Her choice was a brave one, and certainly not easy to make, Dr. Roelle says.
"Without a gene to blame it on, Heather wondered why it happened to her," Dr. Roelle says. "Heather is a mother first and I know she was extra brave because of what she knew she was fighting for — her life with her husband and her son."
Dr. Roelle performed the surgery. Six weeks later, Heather began six rounds of chemotherapy, followed by 33 radiation sessions.
Frustration set in when Heather had to delay her final radiation treatment so her red, burned skin could heal. Then the breast reconstruction method she'd planned fell through. The skin on her chest was too damaged.
Todd Hicks, MD, of Premier Plastic Surgeons, suggested the latissimus dorsi flap procedure instead. This procedure uses muscle, fat, and skin from the upper back.
Heather had the surgery in November and completed her HER2 targeted treatments the following month.
Two months later, the Mintons' world was rocked — again.
Hunter was sick. What the Mintons thought was strep throat turned out to be leukemia. Doctors at Dayton Children's Hospital diagnosed Hunter on Feb. 28, 2015. He was 3 years old.
Knowing how intense cancer treatments can be gave Heather insight into what her son would endure during his own treatments.
"We had some breakdowns and meltdowns," she recalls. "We are human. All three of us had our moments where 'enough is enough!'"
But Dr. Roelle says that Heather is an optimistic and determined person, with a positive prognosis.
"She told me she believes part of the reason she had cancer was to better prepare her to be a mother for her son, who was going to have to go through a cancer journey of his own."
Cancer and its aftermath brought the family closer together. "It was rough for us," Heather says. "My husband, he is my rock. He went through it twice."
Constant support from doctors, nurses, co-workers, friends, family, and others living with cancer got them through, she adds.
Not to mention a sense of humor.
"I told my husband it wasn't a competition and that it is not his turn after Hunter."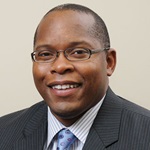 Contact Us
Our cancer team is here for you. Our cancer specialists have access to nationally recognized cancer care protocols and best practices, since Premier Health is a certified member of MD Anderson Cancer Network®, a program of MD Anderson Cancer Center. Our patients benefit from advanced local care backed by the world-renowned expertise of the nation's leading cancer center.
Call the Premier Health cancer hotline at (844) 316-HOPE(844) 316-4673 (4673), Monday through Friday, 8 a.m. to 5 p.m., to connect with a Premier Health cancer navigator.