Enjoy Patient Stories
Real-life stories from our patients bring Premier Health's caring and capabilities to life. Learn more about some of the people who have benefited from our team's knowledge and compassion. We're proud to make a difference!
Charity Roth
May 26, 2021, 12:55 PM
Charity's Story: Portraits of Hope Offers Snapshot of Cancer Journey
Patient Name :
Charity Roth
Charity's Story: Portraits of Hope Offers Snapshot of Cancer Journey
A snapshot forever captures a moment in time. Images taken of Charity Roth over the past two years show her courage and strength from the early days of her cancer diagnosis to now.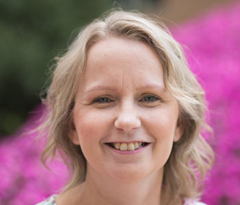 During those three years, the 51-year-old Clayton resident has participated in Portraits of Hope, a program offered by Premier Health and Laveck Photography. The annual event offers free portrait sessions for cancer patients, cancer survivors, and their families. It also offers Charity and her family a memento of her breast cancer journey.
In 2015, Charity's world was turned upside down. One morning, while taking a shower, she discovered a lump on her right breast.
"Months before I found the lump, I kept telling my husband that I felt like something was wrong, but I couldn't pinpoint what it was," explains Charity.
Charity immediately called to schedule a mammogram at Miami Valley Hospital North (then Good Samaritan North Health Center) in Englewood.
"A few days after my mammogram, ultrasound, and biopsy, I got the call as I was driving to work," remembers Charity. "I called my husband, and as the day went on, it began to sink in."
Charity was diagnosed with triple positive - estrogen, progesterone, and HER2 positive - title=breast cancer;healthinfo=Breast Cancer. This type of cancer tends to grow and spread faster than other breast cancers, but is much more likely to respond to treatment with drugs that target the HER2 protein.
"As a nurse, I knew what was ahead of me when I heard the word 'cancer,'" says Charity. "There would be chemotherapy and radiation. But I started looking into the background of triple-positive breast cancer, because I really wasn't sure of what it was."
Charity worked on her treatment plan with Shamim Jilani, MD, FACP, an MD Anderson Cancer Network® certified hematologic oncologist at Dayton Physicians Network.
"This diagnosis really affected her both emotionally and physically," explains Dr. Jilani. "Charity was very positive. She kept saying, 'I'm going to fight, I'm going to fight.'"
Charity participated in 18 weeks of chemotherapy. Her treatments took place every three weeks for six months and continued with HER2 treatment for six additional months.
"My thought was, 'This is not my time to go,'" explains Charity. "I've still got things to do. I've got people I still want to help."
Charity says one of the most difficult parts of her cancer diagnosis was losing her hair. At the time of her breast cancer diagnosis, her daughter was weeks away from graduating high school. Charity's goal was to keep her hair until after her daughter's graduation.
"It started falling out about two days after her graduation," recalls Charity. "That was probably one of the most horrifying pains in the world. A family friend, who owns a beauty shop, brought me in on a Sunday, when nobody else was there, and cut my hair."
In addition to her treatment, Charity was able to take advantage of additional support services at Premier Health. She was paired with a social worker to help her with financial questions, grants, and was someone to talk to about the challenges breast cancer can bring. Charity was also paired with an oncology nurse navigator who put her in contact with a cancer support group.
Additionally, Charity had three surgeries following her breast cancer diagnosis, including a title=double mastectomy;healthinfo=Mastectomy (Removal of the Breast) for Breast Cancer from MD Anderson Cancer Network® certified physician Michelle DeGroat, MD, FACS of Gem City Surgeons, through which both of her breasts were removed.
She felt that breast implants would be the answer to look in the mirror and feel like she was "normal." However, the final step was when she met Christine, her "Angel of Hope."
"I decided to have 3D breast tattoos with Christine at Living Story Tattoo, which gave me the chance to look in the mirror and say, 'Oh my, wow. I look pretty good,'" explains Charity.
Giving Back To Her Community
Six years have passed since Charity's breast cancer diagnosis. She still has another five years of daily hormone therapy medication, but is cancer free.
When she's not working as a nurse, Charity volunteers as the concessions manager at the Englewood Little League. She's also found a new organization that holds a special place in her heart: Pink Ribbon Girls.
Pink Ribbon Girls is a nonprofit that offers meals, transportation, house cleaning, and peer support to gynecologic and breast cancer survivors in the Miami Valley.
"The most fun part about being an ambassador for Pink Ribbon Girls is going to events and sharing my story with other survivors or people in the community," explains Charity.
Charity says she and her husband typically volunteer at more than 10 events per year.
"We feel like it's a therapeutic opportunity for both of us to share our cancer journeys," says Charity. "I'm able to share the patient side of things and my husband can give the caregiver perspective."
Snapshot Of Support
Reflecting on her breast cancer journey, Charity says Portraits of Hope is more than just a snapshot in time. It's about fellowship with other cancer patients, survivors, and families.
"Portraits of Hope is just one more way we can support one another," says Charity. "All the families and patients who go to it, even the ones you don't know, are there to say, 'You got this. Keep fighting.'"
The 2021 Portraits of Hope event will take place at Miami Valley Hospital South in Centerville on June 6, which is National Cancer Survivors Day.
"It makes you feel good about yourself," explains Charity. "After cancer, it's so financially destroying that you really cannot afford to do the things you want, and when having a family portrait is one of those things, it makes you feel special."
Charity says her breast cancer diagnosis has changed her outlook on life. She now focuses on the things we take for granted, such as quality family time.
"I realized that after cancer, that I'm different, I'm even more focused on sharing my story. Cancer is hard, but you don't have to face it by yourself, "says Charity. "With me, my faith, my family, and extended 'survivor' family – that's what helped me get through it."
Registration is required for Portraits of Hope. Learn more or register.
Categories :
Miami Valley Hospital North Campus
Miami Valley Hospital South Campus
Related service lines
Related services
Related physicians
Related practices
Contact Us
Our cancer team is here for you. Our cancer specialists have access to nationally recognized cancer care protocols and best practices, since Premier Health is a certified member of MD Anderson Cancer Network®, a program of MD Anderson Cancer Center. Our patients benefit from advanced local care backed by the world-renowned expertise of the nation's leading cancer center.
Call the Premier Health cancer hotline at (844) 316-HOPE(844) 316-4673 (4673), Monday through Friday, 8 a.m. to 5 p.m., to connect with a Premier Health cancer navigator.