One More Chance
By Kim Cooke-Lorenz

Pauline Horn is happy to wake up each morning, to hear her grandson coo and cry. It's another day she's lived to see. Although she's only 41 years old, she's come close to facing death. Pauline had ovarian cancer. The recipient of a bone marrow transplant earlier this year, the Vandalia resident is happy to say she's now in remission from her cancer.
Treating Ovarian Cancer through Bone Marrow Transplant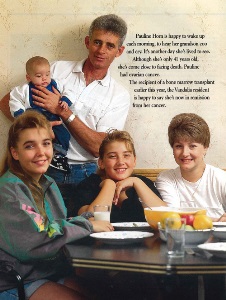 Miami Valley Hospital's Bone Marrow Transplant program, the first of its kind in Dayton, offers hope to patients with advanced forms of cancer, such as breast and ovarian cancer, multiple myeloma, leukemia and various types of lymphoma.
The program, which officially opened late last year, offers adult autologous bone marrow transplant, in which a patient serves as his or her own donor. In the process, the patient's own bone marrow is "harvested," frozen, and stored for later use. After the infusion of high doses of chemotherapy, the marrow is given back to the individual. The bone marrow then produces new blood cells that can "rescue" the patient from the toxic effects of chemotherapy.
Pauline was diagnosed with ovarian cancer in June 1992 by her obstetrician/gynecologist, William Stalter, MD, in concert with Max Clark, MD, gynecologic oncologist. They determined that she had stage three (advanced) ovarian cancer. Pauline underwent surgery to remove the tumor in her ovaries. Chemotherapy treatments followed.
After recovering, Pauline returned to her job at Delco Chassis, while continuing close follow-up care with Dr. Clark. In June 1993, the cancer returned.
Once again on sick leave from her job, Pauline began many months of treatment with various types of chemotherapy. None were effective for more than a few months.
In March 1994, while hospitalized for chemotherapy treatment, she received a visit from Dr. Clark and Burhan Yanes, MD, oncologist and medical director of the Bone Marrow Transplant program at Miami Valley Hospital. "They told me I was a good candidate for a bone marrow transplant," she remembers. Pauline didn't hesitate. "There really wasn't a lot of talking to do. My prognosis was not good. I didn't really have a decision to make – I felt obligated to do whatever it was I needed to do," recalls Pauline.
"I have a 13-year-old daughter who was telling me, 'I don't want you to die.' But the reality is that 80 percent of women with ovarian cancer do not survive longer than three years," she says.
A Better Chance of Survival
According to Dr. Yanes, a transplant dramatically increases a patient's chances of remaining disease-free. "Those women with stage three breast cancer, who have a bone marrow transplant, have a 72 percent chance of surviving for more than two years. Without a transplant, only 15 percent of these women are still alive three years after being diagnosed."
"Patients who undergo a bone marrow transplant can receive much higher doses of chemotherapy," explains Claire Rodehaver, RN, project manager for the program. "The whole intent is to kill more cancer cells than what can be accomplished with standard doses of chemo."
"It takes the restored bone marrow from 10 to 14 days to begin producing cells," says Rodehaver. "During this time, the patient requires blood products transfusions, multiple antibiotic infusions, and infection control measures, since he or she does not have any white blood cells with which to fight off infection."
Many precautions are taken to reduce the patient's risk of acquiring an infection. The Bone Marrow Transplant unit is equipped with a high-efficiency filtration system. Although family members are encouraged to visit often, visitors are screened carefully to prevent the transmission of infection. Patients are placed on a special, low-bacteria diet that prevents exposure to germs from foods like fresh fruits and vegetables.
"This is a difficult period for the patient," Rodehaver explains. "The white and red blood cells and platelet counts plummet during this time, making the patient feel very sick and weak. It's a waiting game. We do what we can to support the patient while the blood cell count slowly increases."
'You realize what's really important'
Pauline, experiencing some complications with infection following dismissal from the hospital, had to return for 10 days to be treated with antibiotics. When she returned home in mid-June, she found that things were different from when she left.
"My husband was so cautious. I thought he was going to lock me in the bedroom and make me stay there forever," she recalls. "There were so many things my family had to be careful about. All the live plants had to be removed, as well as any silk flower arrangements because of the dust. The bedroom, where I spent most of my time at first, had to be cleared out and the curtains taken down and cleaned. Even the cleaning lady was scheduled to come while I was away from the house."
At first, Pauline was allowed to leave the house only to go to the doctor's office – she made the trip four times a week and always wore a mask to protect herself against airborne bacteria. The mask was also her common companion when she was around children or anyone with even a slight suspicion of germs. "Even a cold sore was a major issue," she remembers.
"It wasn't just me who had to make changes; the entire family was involved," says Pauline. "It's been a big effort for everyone."
Three months following a transplant, patients are scanned to check for signs of cancer. The patient is then referred to his or her regular physician for periodic follow­up. Of the 13 patients who have received transplants through the MVH program, all are currently free of cancer. The first three patients to receive the transplant procedure have also returned to work.
"One day, life is normal. You're dealing with everyday problems," says Pauline. "Overnight, my whole world changed. It amazes me now what people consider 'problems.' Priorities take a good shaking up and you realize what's really important – God, your family and friends."
How Does a Bone Marrow Transplant Work?
Patients with solid tumor cancers, leukemias, and lymphomas are usually the best candidates for a transplant. Transplantation therapy begins with a thorough medical evaluation to determine the patient's current state of health. Special emphasis is also placed on educating the patient and his or her family about the process, which typically takes from three to six weeks.
One of several important criteria is a proven response from standard chemotherapy, a factor that made Pauline Horn a good candidate.
Shortly after being admitted to the unit, the patient's bone marrow is harvested from the pelvic bones during a two-hour surgical procedure. The bone marrow is immediately filtered, sent to the Blood Center for processing, and frozen in liquid nitrogen at -197C° for later transplantation back into the individual.
The following day, high doses of chemotherapy begin and continue for several days.
After chemo treatments are completed, the bone marrow is returned to the patient on about the eighth day of hospitalization. Dr. Yanes administers the bone marrow into the patient's bloodstream through a catheter. During the process, which takes about an hour, the patient is continuously monitored.
For the remaining time spent on the Bone Marrow Transplant unit, the patient, with the help of the Bone Marrow Transplant team, focuses on regaining strength, avoiding infection, and returning to his or her accustomed lifestyle.