MVH Opens Emergency Center in Jamestown

Miami Valley Hospital cut the ribbon to its new 24-hour emergency center in Jamestown earlier this spring. The center is housed in the Living Water Professional Building located at 4940 Cottonville Road.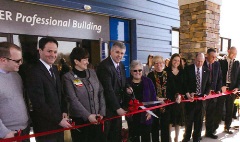 The new facility is the first full-service emergency center in Greene County to be built away from a hospital. The center, which provides hospital-level emergency services around the clock, includes 1- patient exam rooms; on-site medical services, including imaging, medical lab testing, physical therapy, and pharmacy; and
CareFlight Air and Mobile Services. The center also housed a number of physician offices.
The new emergency center is staffed by 75 employees, including board-certified physicians from Miami Valley Emergency Physicians the same group that provides services to MVH and MVHS.
"Patients from Jamestown and other communities in Greene, Clinton and Fayette Counties will benefit tremendously by having this service near to where they live," says Bobbie Gerhart, president and CEO of MVH. 'The new 24-hour facility will provide emergency medical care when seconds count."