MVH Named Dayton's First Magnet Hospital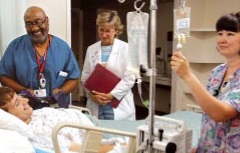 So you say you've never heard of a "Magnet hospital?" You're not alone. Most people outside the healthcare industry haven't either – but not for long.
While the words, "Magnet hospital," are relatively new terms in health care, the buzz of what being a Magnet hospital means and how it benefits patients is spreading quickly.
"Because Miami Valley Hospital has been designated as Dayton's first Magnet hospital, we would like to help everyone learn more about our Magnet status," states Deb Mals, chief nursing officer at Miami Valley Hospital. "We are excited to communicate to the public about our Magnet status; to provide an easy-to-understand explanation to help you understand how this honor is another way MVH continues to be the region's leader in quality patient care."
How Does Magnet Work?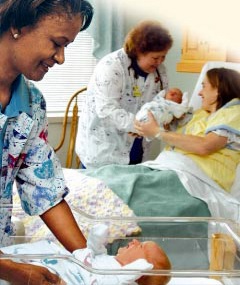 The American Nurses Credentialing Center (ANCC), a division of the American Nurses Association, is an organization that performs accreditation in the nursing industry. It was the ANCC who decided to begin the Magnet Recognition Program™ to recognize healthcare organizations that provide the very best in nursing care by meeting stringent quality standards and upholding the tradition of professional nursing practice.
Regardless of the healthcare organization's size, setting, or location, achieving Magnet designation serves to attract and retain quality employees. A hospital's Magnet status helps consumers locate health care organizations that have a proven level of excellence in nursing care.
Achieving Magnet designation reflects a professional work environment where nurses collaborate closely with physicians and other healthcare disciplines to follow the patient's care plan. It is also a place where nurses actively participate in decisions affecting nursing practice. Magnet hospitals are recognized as excellent places for nurses to work and can, therefore, address the primary concerns of nurses who are seeking jobs that incorporate independence and include respect and satisfaction.
The impact that Magnet status has on a hospital is substantial. According to Mals, "Magnet hospitals are able to recruit and retain the best nurses, and they have better outcomes for patients, decreased length of stay for some patients, and fewer complications and medication errors."
How Did the Magnet Recognition Program™ Get Started?
The program was begun during a nursing shortage in the early 1980s. The American Academy of Nursing appointed a task force to investigate why nurses weren't working in hospitals. The task force found a number of hospitals who appeared to be nurse "magnets," attracting well-qualified nurses when other hospitals couldn't. The task force recommended that the academy identify these hospitals and examine what made them successful. Once these factors were identified, the American Nurses Credentialing Center developed a list of standards in nursing practice to recognize and reward hospitals who can prove they meet the standards.