MVHS – Expanding + Expecting
By Julie Thompson
It's no secret patients love what they experience at Miami Valley Hospital South. Just ask their physicians.
Spine and Joint Center
Orthopedic and spine surgeon Nicolas Grisoni, MD, hear about it almost on a daily basis when patients came to his office, located in the hospital's medical wing. Although Dr. Grisoni held appointments there, he did all his surgeries at MVH's main location downtown.
"Patients really like this place, and they want to have their surgery here," says Dr. Grisoni, who is also a clinical assistant professor at Wright State University Boonshoft School of Medicine. "It's a convenient location for people who live along the 1-675 corridor and beyond, the parking is easy and the environment is tranquil."
Because of MVHS's recent 220,000-square-foot expansion, Dr. Grisoni is now able to accommodate his patients' requests for inpatient surgery and recuperation at the new Spine and Joint Center at the south campus.
The $56 million five-story addition, which opened for business March 14, not only doubles the hospital's original size but also allows surgeons like Dr. Grisoni to do procedures once reserved for the downtown campus.
Initially, three floors opened in the new addition, which is dedicated to orthopedic, maternity and medical/surgical care. Two floors are shell space reserved for future expansion.) The addition's first stage added 48 inpatient beds and 100 full-time employees.
"I am very excited about being able to provide spine care at the south location," says Dr. Grisoni. "This is a great opportunity for patients to have excellent orthopedic and spine surgery at a hospital in their community. We've taken the same resources available at the main campus and extrapolated them to smaller top-notch facility."
Exceeding Expectations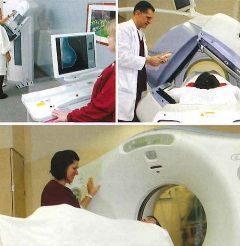 Since its debut, MVHS has rapidly expanded its services in response to customer demand. Begun in 2007 as an outpatient facility with a full-services Emergency Department, the hospital added a Sports Medicine Center and outpatient surgical services in 2008. A year later, the hospital opened a 10-bed inpatient unit.
Today, MVHS attracts thousands of patients, who come for medical tests and medical treatment, including specialized care such as that offered at the Hyperbaric Oxygen Therapy Center and the High Risk Breast Cancer Center. MVHS's Emergency Department has been busy since day one, registering more than 30,000 visits in 2011.
As such, the location has quickly evolved from its original role as a satellite health care center to full-service hospital. Each service line is delivered with the same quality – and, in some cases, the same top-notch physicians – MVH is known for at its downtown location.
"We knew that the southern neighborhoods of Dayton were ready for what we had to offer, but we couldn't have anticipated how fast that has occurred," says Joann Ringer, Chief operating officer of MVHS. "This latest addition helps meet the ever-increasing demands of our community, including the addition of inpatients beds, which was always a part of our long-range plan."
Maternity Services
Perhaps the most anticipated part of the addition is what expecting moms can expect. Beginning this summer, MVHS will be able to deliver babies at the addition's adjoining maternity wing. The area will include five labor-and-delivery rooms, two operating rooms for Caesarean sections, 16 postpartum beds and a newborn nursery.
Keith Watson, MD, medical director of gynecological robotic surgery at MVH, practices obstetrics at his office in Yellow Springs. He says the new campus is a frequent topic of discussion with his patients.
"My patients are hearing about it [the maternity wing] and are pretty excited about it," says Dr. Watson. "A lot of them have expressed interest in having their babies there."
Dr. Watson says the south campus will be a great alternative for women with low-risk pregnancies, particularly those who live in Dayton's outlying communities like Beavercreek and Centerville. The hospital's downtown location will remain top choice, however, for high-risk patients with conditions that could complicate labor or for those who want to deliver in the Family Beginnings natural childbirth facility.
Patient-Focused Design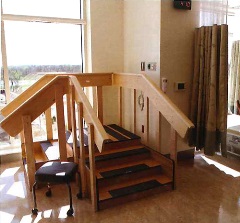 The new addition, located to the south of the hospital's main building, has a separate access of Clyo Road as well as a new entrance and lobby. The ambiance, however, is the same as that of the main building. A décor crafted with dark wood and warm hues will make visitors feel as if they are stepping into an upscale hotel rather than a health care facility.
The inpatient rooms are mirrored after those in the new patient tower at MVH in Dayton. Each corridor of the patient-care floors has twelve private patient rooms overseen by three separate caregiver stations. Each nurse's station has an alcove that keeps vital medicine and supplies nearby.
The spacious patient rooms are naturally lit by large wall-to-wall windows and warmed by rich wood and limestone accents. A large couch and 32-inch flat-screen television are part of the amenities for patients and their visitors. And while all patient rooms are the same, women recovering in postpartum rooms will enjoy a slightly larger space.
The Valley Café, located on the addition's first floor, offers healthy eating choices to employees, patients and visitors. Nearby, a large conference room – planned at the request of physicians – can seat up to 100 people for meetings.
Large photographs of nature displayed throughout the facility promote peace and healing. When visitors step out onto patient's floors, they will experience a quite environment, including the absence of television sets. Many of the waiting rooms overlook the hospital's enclosed four-season garden.
The Past is Prologue
The opening of the new addition is a time to reflect on the future as well MVHS' short, but significant, past. In a matter of five years, MVH has executed a plan to deliver the award-winning services provided at its downtown campus to those living in Dayton's southern communities.
"Our south campus and its continued growth are evidence of our mission to build healthier communities," says Bobbie Gerhart, president and chief executive office of MVH. "We are over-whelmed by the reception we have received from the thousands of people living in the south suburbs and are honored to be their first choice for health care."
Comprehensive Cancer Center
Even after this summer, MVHS's growth will continue. Work is currently underway on an 87,000 square foot Comprehensive Cancer Center, scheduled to open in January 2013. The center – a collaboration between MVH and Dayton Physicians Network – will serve as a hub for cancer care. About 35 physicians offering medical and radiation oncology will work closely to facilitate highly personalized treatment for cancer patients. In addition, the center will offer medical counseling for cancer survivors and guidance on cancer prevention.