Miami Valley Hospital South: New Name, Expanded Services

With the addition of then short-stay, inpatient beds, the former Miami Valley South Health Center has changed its name. Now known as Miami Valley Hospital South, the hospital admitted its first patient on June 29. Short-stay patients can remain for up to 72 hours.
MVHS already has an around-the-clock emergency department and provides outpatient surgery services through Far Hills Surgical Center. Now, when necessary, patients using these services can be admitted to the hospital for follow-up treatment and observation.
This latest enhancement provides patients in the southern part of the region easier access to Miami Valley Hospital's excellent patient care and services. In many cases, friends and family will find it more convenient to visit their hospitalized loved ones at this location.
The equivalent of 24 full-time patient-care and food-services positions have been created for the new hospital.
The new hospital does not mean a reduction in beds or employees at the downtown location, which continues to expand its physical plant and services. The Dayton region's most serious trauma cases will continue to go to MVH.
Excellence in Women's Health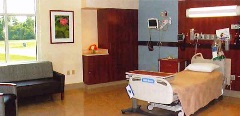 Miami Valley Hospital has received the 2009/2010 Women's Health Excellence award from HealthGrades, the nation's leading independent health care ratings organization.
Hospitals receiving the Specialty Excellence Award for women's health rank among the top 5 percent of all hospital nationwide when it comes to providing care to women in three key areas: women's medicine; women's cardiovascular procedures; and women's bone and joint health.
The sixth annual HealthGrades Women's Health in American Hospitals study analyzed patient outcomes for the in-hospital treatment of 16 procedures/diagnosis concerning women's health. The study found that wide gaps persist between the quality of care at best- and worst-performing hospitals.
In the study, HealthGrades analyzed more than 2.6 million hospitalizations using Medicare
data from all 50 states from 2005 through 2007. To be included in the analysis, hospital had to have an open-heart program and treat significant numbers of women for stroke. Hospitals also had to have a significant patient population in at least six additional subgroups from all areas (pulmonary, cardiac, vascular, orthopedics and spine).