A New Era Begins

As 2010 comes to an end, we have plenty to celebrate at Miami Valley Hospital – 120 years of service to the Dayton area and the beginning of a new era of excellence represented by a spectacular addition to the downtown campus.
The new patient tower is unique – not just because of its architectural beauty but also because of its patient-focused design.
This issue of ProHealth is devoted entirely to the new patient tower. The lead article provides an overview of the new building, with emphasis on its new look and feel – both outside and inside. A follow-up article explains how the new building was designed to promote patient wellness.
There's an article on the enhanced heart and vascular center and another on the expanded Orthopedic Joint and Spine Center, which together occupy most of the new patient tower. In the final article, you'll learn about the new "wayfinding" navigation system for getting around the downtown campus.
But this publication can only provide a glimpse of what the new facility has to offer. For more in-depth coverage, I invite you to explore our Web site where there are text, photo and video links to the building's many facets.
Less than three years since the new patient tower was announced, it has become a reality, thanks in part the visionary input of hundreds of MVH staff members and physicians. As has always been the case, their guidance and support made my job easier. Thus it is with mixed feelings that I am leaving – albeit on a very high not – my current position.
But, I am not going far.
I have accepted a new position with MVH's parent company, Premier Health Partners. As executive vice president and chief operating officer, I'll be able to support healthcare excellence among all the hospitals in the Premier Network, the largest healthcare system in southwest Ohio.
I'm delighted my replacement will be Bobbie Gerhart, MVH's current chief operating officer. She will be an able leader as MVH begins a new era of service and excellence.
Mary Boosalis
President and Chief Executive Office
Miami Valley Hospital
Renewing the Region's Leader
By Julie Thompson
Space is what you make of it.
The new Miami Valley Hospital patient tower is evidence of that. The 12-story, $135 million building has become a catalyst for change for the entire downtown campus. It marks a new era for the hospital that is celebrating 120 years in Dayton – at the same location.
Same Location – Different Look
The change is dramatic. Now visitors coming to the hospital will see a much different MVH. The new tower, dressed mostly in glass, redefines a campus historically built with brick. The park-like surrounding refine an environment of asphalt and concrete
What people see on the outside is just a taste of what is waiting on the inside. The 484,000 square-foot tower successfully marries high-powered technology with the power of nature – to provide a healing place for patients and their caregivers. It's a healthcare setting unique to the region.
Creating a New Portal
Large boulders and a waterfall mark the entrance to the hospital's campus from Wyoming Street. Once parked in the hospital's visitor garage, visitors can walk across a new courtyard into the tower or catch a courtesy shuttle. Among the courtyard's numerous trees, shrubs and greens is a lively brook that winds under a bridge and leads to the edge of the patient tower – as if ushering visitors into the hospital's new main entrance.
Nature's flow continues as visitors step into the hospital's new two-story lobby and are greeted by eye-catching décor such as the six-foot-high water wall behind the reception desk. "We've really brought nature indoors," explains Nikki Burns, RN, project director for the MVH patient tower. "The natural wood used in the lobby mirrors that found in the trees outside. In the same way, the stone retaining walls and boulders outside are carried indoors with the limestone that line the lobby's walls."
From the spacious lobby, visitors are able to access all other areas of the hospital. They can view a large directory of speak to Information Desk staff to find which of two main hallways they should take. The hospital's new wayfinding system – which uses colors, images and letters – also helps individuals reach their destination.
The lobby includes a coffee bistro and a Health Information Center. And just across from the library, 32 panels of softly etched "rain" glass stretch along the wall as a way of welcoming patients to the hospital's new Heart and Vascular Center.
Heart Care in One Place
One of the main benefits of the new patient tower is that it allows MVH to consolidate all of its cardiac services – inpatient and outpatient – in one location. Previously, patients had to travel to different parts of the hospital to undergo testing or surgery.
All outpatient cardiac testing is done on the tower's main level. The rooms are bright and cheerful to counteract the tension many patients feel while undergoing diagnostic testing. All of the center's stress-testing rooms have windows. Patients in one of the two nuclear testing rooms can view a lighted mural of colorful autumn trees.
"Patients have often remarked that they would love to look at something soothing while undergoing testing and the windows and lighted mural accomplishes that need," Burns says.
Quite Zones
Just behind the center's reception area is the first of many carefully designed waiting areas that provide places of respite. Like many of the waiting areas in the new patient tower, this one does not have a television.
Instead, visitors can view an enclosed garden, accessible through a conveniently located door. And they can enjoy beautiful artwork, many by local artists.
Patients and employees are also able to enjoy the artwork displayed throughout the tower. And because of the abundant windows in the rooms and hallways, they can also view the outdoors – whether it be the gardens and landscaping or the panoramic views of the city.
"Our goal was to create various quite zones or places where people could sit and relax," Burns says.
A New Kind of Nursing Care
More than 300 staff members – including physicians, nurses, therapists and other non-clinical staff – helped make key decisions about the design of the work spaces and the patient rooms. Input from bedside nurses was especially insightful.
"We really listened to what our nursing staff wanted and needed," says Kim Hensley, RN, director of nursing. "Bedside nursing is very labor intensive, and nurses are increasingly being required to deal with patients with higher acuity. So, it was no surprise that most of our staff wanted an environment that reduced the number of steps required to get to their patients and vital supplies."
Staff and patient insight created a framework for NBBJ, the firm commissioned to design the building. Ryan Hullinger, senior associate with NBBJ, says he was extremely impressed by how forward-thinking MVH staff was in the building's design process.
"Often when we work with hospital staff, they think about how they can emulate what they already have," Hullinger says. "What was exciting about working with MVH employees is that they were envisioning how they could increase their performance and change how they practiced healthcare." The nursing care delivered in MVH's new tower will be different from what patients and their families are accustomed to.
Visitors who step out onto one of the five patient care floors will immediately notice a reception area, but they likely won't see nurses working there. Instead, the reception desk will be a hub for many of the patient's other caregivers such as social workers, discharge planners, chaplains and care coordinators.
The nurses will be right where they need to be: just outside the patient rooms. Down the corridor of the patient care floors are 12 private patient rooms manned by three separate patient care stations. Near the stations are alcoves that keep vital medicine and supplies at the caregiver's fingertips.
Family Friendly
Perhaps one of the best features is that all 178 patient rooms are private. Aside from the obvious benefits to the patient, private rooms make it easier for families to assist in the healing process. Each room is equipped with a sleeper sofa, comfortable chairs, a safe for valuables and a 32-inch flat screen television, so families can spend more time with their loved ones. Family and friends can also spend quiet time in one of the three lounges at the end of the hall.
The Heart and Vascular Center's surgical suites and cath labs are located on the tower's second floor, which is visible and accessible from the lobby below. There, loved ones can wait in a large waiting room lit by a gas fireplace and decorated with an oil pastel, titled Ancestral Spirit #401, by Dayton artist Willing "Bing" Davis.
The Orthopedic Joint and Spine Center
While the Miami Valley Hospital patient tower was originally envisioned as a cardiac care unit, it was built to include the hospital's Orthopedic Joint and Spine Center as well.
The orthopedic center is located on the tower's eighth and ninth floors, providing 70 rooms for patients who have undergone joint or spinal surgery. Patient rooms are now large enough to comfortably hold the large equipment often needed for rehabilitation. An 865-square-foot physical therapy area is also located on the eight floor.
A New Era
Cardiac and orthopedic patients are not the only patients to benefit from the tower. The new expansion will allow 98 percent of the remaining beds at MVH's main campus to be converted to private rooms by the end of the first quarter of 2011.
Such progress in patient care and comfort is yet another sign that MVH's vision for the patient tower wasn't just about a new building, but a new era.
LEED Certification
MVH is seeking the prestigious Leadership in Energy and Environmental Design (LEED)
certification. LEED certification is awarded by the United States Green Building Council, a third-party certification program that is nationally regarded as the benchmark of "green" buildings.
"To be eligible for this certification, MVH was required to meet criteria in five key areas including sustainable sites, water efficiency, energy and atmosphere, materials and resources, and indoor environmental quality," says Nikki Burns, RN, project director for the MVH patient tower project.
Here are some of the actions MVH took to earn certification: The construction team successfully diverted more than 75 percent of the building's demolition and land-clearing debris from disposal in landfills and incinerators.
Compared to what is requires by the building code, the new patient tower will reduce energy use by 18 percent through the use of high-efficiency mechanical and lighting systems.
The materials used in the project contain more than 35 percent recycled content, such as the structural steel, aluminum, glass curtain wall, and fabrics and flooring used in the building's interior.
The design reduces water use within the building by more than 20 percent and recues water used for landscaping by 60 percent.
One of the unique aspects of the patient tower is the use of green roods (i.e., roofs partially or completely covered with vegetation). Two lower roods of the tower contain 11,000 square feet of plants.
In addition to aesthetics and their connection to the natural environment, green roods help absorb rainwater, which reduces storm water run-off; provide insulation, which helps reduce heating and air-conditioning costs; lowers air temperatures and combats what is known as heat-island effect. Plants, soil, and air trapped in the soil also aid in better acoustics.
"Miami Valley Hospital employees have been committed to 'going green' for many years," says Barbara Johnson, vice president, Hospital Operations. "Green roods are one of many initiatives that MVH has implemented to save energy costs, reduce waste and improve the hospital environment. Not only is it the right thing to do, but it is an important commitment of the community we serve."
MVH has submitted the required documentation for LEED certification to the U.S. Green Council and expects to receive notification in the spring of 2011.
Designing a Healing Space
By Helen Listerman
When Miami Valley Hospital began planning for its new patient tower in 2006, the overriding vision was to create a healing space. Such a space would promote patient wellness and a sense of well-being – not only for the patients but also for medical staff, nurses and family members.
"Wellness" and "well-being" are terms that encompass health, comfort, security, efficiency, satisfaction and peace and quiet. When patients and visitors experience the new tower, they will get a sense of all these things; and they will know that those who planned and built this space did, indeed succeed in transforming the vision into reality.
Valuable Input
MVH planners had lots of help in designing the new patient tower.
First and foremost, they listened to patients. From patient surveys, MVH administrators received valuable feed-back about what patients liked and disliked about their hospital stays. For example, noise was one item that annoyed a lot of patients – noisy rooms, noisy hallways and noisy nursing stations.
It will be a lot quieter in the new patient tower. All 178 patient rooms are private. The 16-foot-wide corridors have special acoustical floor and ceiling tiles. Large, central nursing stations have been replaced by smaller patient care stations situated closer to patients. It's a model that allows nurses to spend more time with each patient and less time with each patient and less time between them.
Because supplies and pharmaceuticals can be transferred via pass-through drawers that are accessible from both the hallways and the patient's room, there is less traffic in and out of the room – and less intrusion.
Even visitors can experience less noise – most waiting areas do not have televisions. Other quiet areas include the Health information Center and easily accessible outdoor gardens and patios.
Patients also complained about being moved around a lot. In the new tower, the patient's room is "acuity-adaptable"; that is, the room is designed to meet a patient's need from high (critical) to low (stable) acuity so there is less need to transfer patients from one room to another as their conditions change.
Hundreds of staff members contributed their ideas for the new space. They included not only nurses, physicians, respiratory therapists, physical and occupational therapists and lab technicians but also representatives from the hospital's pharmacy, nutrition, registration and linen-supply departments, among others.
To encourage input, the designers built full-scale mock-ups of a patient room and support corridor, equipped with furniture, medical equipment and supplies and other components. Nurses, physicians and other support staff were able to role-play various medical scenarios – from routine to life-threatening – to validate (or veto) the design, including such small, but important, variables as the position of electrical outlets.
Robin Rutledge, RN, director of Cardiology Services, says there is great value in having caregivers influence the design of a hospital because they understand the patients' needs and how to best meet those needs.
All 178 patient rooms are the same-sided (i.e., identical). Such sameness is a good thing for nurses, who may work on different floors of the tower, depending upon their shifts and assignments, explains Rutledge. It's also a good thing for busy physicians making their rounds and for returning patients and their families.
Evidence-Based Design
Of course, much valuable input came from the architects and designers at NBBJ, a leading global architecture and design firm, with offices in eleven cities worldwide, including Columbus, Ohio. NBBJ has an international reputation for innovative hospital design, with special emphasis on "evidence-based design (EBD)," an emerging concept in healthcare architecture and design.
The basis of EBD is that physical environment can influence patient wellness and staff efficiency. More than a thousand studies have been undertaken to determine the impact of hospital design on such metrics as length of hospital stay, infection rates and the reduced need for medication. For example, many EBD studies have studied the impact of patient room transfers on outcomes such as patient safety and staff efficiency. (Learn more about EBD, at healthdesign.org.)
The addition, including the patient rooms, was designed to meet not only today's requirements but also those of tomorrow. As NBBJ's lead designer for the tower, Ryan Hullinger, notes, "The way care is deliver in the future will change; the patient rooms, along with other areas of the tower, will be able to adapt to those changes because flexibility was built into the design."
The Influence of Nature
EBD studies have shown that even brief connection with nature "can have immediate physiological benefits in terms of recuing stress and anxiety." In her pivotal book, A Visual Reference for Evidence-Based Design, Jain Malkin reports that views of nature, even when simulated, reduce anxiety in a treatment setting.
Bobbie Gerhart, MVH's chief operating officer, was very involved in the tower's design, especially its interior. As a nurse, she understands how a healing environment can contribute to patient satisfaction. As a top hospital administrator, she understands how a beautiful, best-in-class facility can improve employee morale, increase operational efficiencies and decrease stress.
"The new tower bring the calming effects of nature inside," explains Gerhart. "Glass is used abundantly throughout the building to bring in natural light and its healing effects. All the patient rooms have floor-to-ceiling windows. Every area of the tower affords a view of the outside."
Running water is another natural element that provides a calming effect, both outside where a brook meanders through the entrance courtyard; and inside where a wall of water trickles down behind the reception desk in the main lobby. (The babbling brook is fed by recycled water.)
The paint, carpets and furniture are the colors of nature. Even the wayfinding system uses the symbols and colors of nature.
Art and Other Amenities
Carefully selected works of art can have calming effect in a healing environment. Malkin calls the art displayed in hospitals "a positive distraction."
There is a lot of positive distraction in the new patient tower – paintings, sculptures, murals and artifacts – all of it funded by local donors and selected by a national consultant.
Visitors seeking the simple pleasure of a cup of coffee will enjoy the bistro off the main lobby, where they can gaze out at gardens or tap into Wi-Fi. And for visitors who prefer a different kind of respite, there is a large-screen television available nearby.
Knowing and Feelings
Most people know that a hospital is a place for healing. Now when patients come to the Heart and Orthopedic Centers at Miami Valley Hospital, they will feel they are in a healing space.
Heart and Vascular Center
By Alison Bour
Miami Valley Hospital has long been considered the region's leader in cardiac care. Now, with the new Heart and Vascular Center opening in MVH's patient tower, the cardiac program has a facility as outstanding as its reputation.
The Layout
The Heart and Vascular Center will occupy five dedicated floors of the new tower, in addition to the outpatient diagnostic area off the main lobby.
Three floors will house inpatients. Two of the inpatient floors are dedicated as "step-down" units for patients who need a lower level of care, and one level is dedicated to critical-care patients. The new center will have 108 private patient rooms – much larger than traditional hospital rooms – including 36 cardiac intensive-care rooms.
Having a private room offers numerous advantages, notes Mark Krebs, MD, director of cardiac electrophysiology at MVH. In addition to allowing private conversations with one's patient and family, private rooms promote a more restful and healthy atmosphere.
Patients will enjoy another element of privacy: In a typical cardiac unit, patients are transported in large hallways accessed by visitors of the hospital. The hallways in the new center are situated in areas not accessed by visitors, allowing patients to be transported in privacy.
The heart and vascular procedure suites are on the second floor of the patient tower. This area includes five catheterization labs and two operating rooms devoted exclusively to heart surgery.
Outpatients
Care has been taken to ensure the comfort and privacy of outpatients. The patient tower's new parking garage leads directly to the outpatient registration area on the main level, where check-in time is drastically reduced because detailed information is gathered at the patient's bedside prior to testing.
Most outpatient rooms support a variety of diagnostic tests so patients don't need to be transported to another location for separate tests. Among the diagnostic tests offered are diagnostic tests offered are electrocardiograms, echocardiography, nuclear cardiac scans and treadmill stress tests.
The stress-testing area is more than double the size of the former space, allowing each patient to have a private room fully visible to those monitoring the test from the main station outside.
Centralization Supports Collaboration
Everything is centrally located in the Heart and Vascular Center.
"All cardiology services are in close proximity, including catheterization lab and the operating rooms," notes Ali Zaman, MD medical director, cardiothoracic trauma surgery and assistant clinical professor at Wright State University Boonshoft School of Medicine . "This arrangement will enhance collaboration among physicians and support staff, as well as allow us to respond quickly to life-threatening events."
Robin Rutledge, RN, director, Cardiovascular Services, points to the "cardiac core" as an example of design that benefits the physicians, the support staff and the patients. "The core is centralized supply room that serves our two operating rooms and our five catheterization labs," explains Rutledge. "This allows cardiothoracic surgeons and cardiologists – who perform cath and other procedures – to consult easily and quickly with each other. You won't find this design anywhere else in Dayton," says Rutledge.
A "Hybrid" Approach
Robert Bowman, RN, is administrative director of Surgical Services at MVH. He explains another feature patients will find comforting when having cardiac procedures. "Our cath labs are set up as "Hybrid" operating rooms. That means if a patient's condition worsens during a procedure and the ORs are already in use, these can be quickly transitioned into a fully operation OR. This feature represents a new approach in healthcare."
A similar approach was taken when designing the inpatient rooms. As the population ages, the prediction is that more critical-care beds will be needed in the future. "For this reason, all rooms not already designed for intensive care patients have been constructed to be easily redesigned as cardiac intensive care rooms," Rutledge explains. "This will allow us to create more critical care rooms, when needed, without incurring the cost of addition renovations."
Putting Nurses Closer to the Patient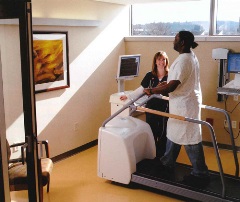 Newly configured nursing stations – replicated in the tower's Orthopedic Center – represent a modern approach to patient care, says Rutledge. Rather than one station situated at the end of a hallway of rooms, the new cardiac units have multiple patient care stations that serve four rooms each.
"This configuration is different from a tradition nursing unit," says Rutledge. "It allows nurses to remain closer to the bedside of their patients and respond faster when needed."
Sophisticated monitoring equipment is also being installed to provide real-time patient information to all members of the patient's cardiac team. Nurses in the center will also wear unique devices – similar to pagers – on lanyards so they can quickly communicate with other professional caregivers when patients require additional help.
Because TB monitors are available at caregiver stations and in hallways, nurses can continually monitor a patient's vital signs without entering the patient's room.
Excellence Enhances
Those who experience MVH's new Heart and Vascular Center, especially patients, will know in their hearts that Miami Valley's cardiac program now has a physical space worthy of its reputation for excellence.
Orthopedic Joint and Spine Center
By Alison Bour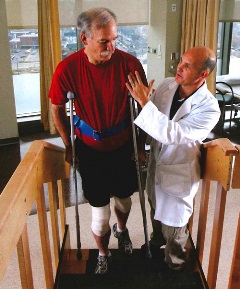 When patients enter Miami Valley Hospital in need of skeletal system treatment, it takes a team of medical experts and professional caregivers to care for them and prepare them to continue their journey toward recovery at home.
The new MVH Orthopedic Joint and Spine Center will open in January in the Southeast section of the hospital's new patient tower. The center's specialized services include:
Treatment of diseases such as progressive arthritis to the spine and joints
Treatment for fractures to the skeletal system from a traumatic source
Joint replacements to the knee, shoulder and hip
The center is located on the eighth and ninth floors of the patient tower. There are 34 private rooms on the eighth floor for patients requiring a wide range of orthopedic treatment. The ninth floor, which has 36 beds, is designed to treat spinal illness and trauma. (Any condition involving damage to the spinal cord is treated by neurological specialists in another unit at MVH.)
The new center offers a 40 percent increase in orthopedic care capacity at MVH, says Lisa K. Williams, RN, nurse manager for Orthopedics and Orthopedic Services.
Room Rehab
"The new Orthopedic Joint and Spine Center will support all aspects of orthopedic care," says Michael Prayson, MD, director of orthopedic trauma at MVH, and professor and vice-chair of the Department of Orthopedic Surgery at Wright State University Boonshoft School of Medicine. "The private rooms are much larger than our current rooms," he notes. "Consequently, it will be convenient for family members to spend more time with patients, offering encouragement and assistance." Such involvement, he notes, will have a positive impact on the patient's healing process.
Williams agrees on the benefits of larger, private rooms: "These new rooms are large enough that families can participate directly in a patient's rehabilitation. They can also stay overnight with their loved ones while they're in the hospital."
Lisa Holscher, PT, clinical coordinator of acute physical therapy at MVH, describes why it's important that family members participate in a patient's physical, occupational and speech rehabilitation whenever possible. "We see the patient for a relatively short period of time. Family members often provide care and support to patients in the home setting. After discharge, it's the family members who have to keep their loved ones energized and encouraged."
Bathrooms in each room are large enough to accommodate a shower so patients and families can practice safe methods of using the bathroom once discharged. Holscher says the bathrooms are large enough to accommodate a patient, professional caregiver and a family member even if a patient uses wheelchair, walker or crutches.
Therapy Satellite
While the new, spacious rooms in the center allow rehabilitation to take place inside a patient's room, the center's new therapy satellite, conveniently located on the eighth floor, is well equipped with rehabilitation equipment. This satellite serves patients from both floors of the center and is especially useful for group therapy.
Working in Sync
As with the floor plan of the Heart and Vascular Center (the other tower tenant), the Orthopedic Joint and spine Center's patient floors follow a modern design that permits better patient care and better collaboration among caregivers.
Multiple patient care stations, each serving fewer patients, are a major improvement that allows nurses to be closer and more responsive to their patients.
The new design also allows other caregivers such as therapists, technicians, dietitians and social workers to confer together about a patient's care. They can easily find the nurse assigned to a particular patient at the patient care station. Rather than learning the status of a patient by reading a chart, these professionals can discuss patient care with a nurse face to face.
It's also easy for several caregivers to collaborate at the central hub located at the end of the corridor." Such interaction will allow us to work as a unified team to provide the best care for the patient," says Holscher.
A Different Look, a Different Feel
The new tower features numerous large windows, allowing for an abundance of natural light in both the patient rooms and the therapy satellite. Dr. Prayson, along with Williams and Holscher, believes that this feature will positively impact healing for orthopedic patients.
"Patients have a more relaxing view and can enjoy much more sunlight," says Williams. "This extra sunlight provides patients with an additional source of vitamin D."
Of course the rooms have blinds that can be drawn during rest and sleep. Williams says that experiencing routine day and night "cues" promotes healing.
Williams and Holscher say the new center offers a completely different feel from a traditional hospital setting, and both are looking forward to treating patients there.