Transforming MVH's Main Campus… and Patient's Perceptions
By Julie Thompson

More than 400 employees and community leaders attended the May 12, 2008 groundbreaking for Miami Valley Hospital's new Heart Tower.
The 12-story tower will transform the hospital's Dayton campus and build up its strong presence in the region.
The $135 million investment means many things to the hospital, like new technology and an increase in bed capacity. But for area residents, it means much more.
Designed for Efficiency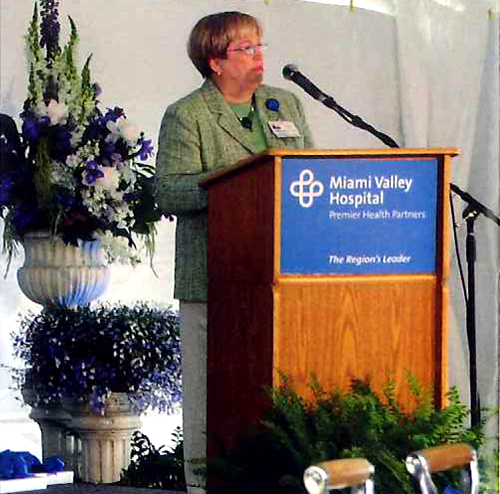 The Heart Tower, expected to be completed in 2010, will be the culmination for many months of planning. Most of those at the groundbreaking – from executives in suits to nurses and doctors in scrubs – played a vital role in that planning.
"Everyone from physicians to nurses to physical therapists to the staff on the loading dock contributed. There were more than 150 employees representing 15 different disciplines," says Heart Tower project director, Nikki Burns, RN.
The result of such a diverse planning team is an environment that will deliver efficient patient care. The tower will include 180 private patient rooms and house all cardiac care services such as imaging services, cardiac testing, cardiac-catheterization labs and heart-surgery suites.
Right now, patients sometimes have to have one test and then travel to another area to have a second one. The tower will bring all cardiac-related services and clinical personnel together, including the 22 Miami Valley cardiologists and cardiothoracic surgeons who were present to commemorate the tower's official start.
"A groundbreaking is usually seen as a beginning," said Tom Thornton, MD, medical director of Cardiology at MVH, before a row of neatly placed shovels adorned in bright blue ribbons. "However it actually represent the end of thousands of hours of planning and plain hard work."
"We began this project with a clean sheet of paper. As we worked on the new Heart Tower with the architectural team, we had three goals in mind."
Those goals, he reiterated, were to design an environment that makes it easy for the team to be at its best for patients; to make the facility accessible and attractive for patients and their families; and to build in flexibility for the inevitable evolution of cardiovascular care.
Designed with the Patient in Mind
Every bit of space in the tower is arranged so that patients have an easy time navigating from the moment they arrive until they leave. Convenient underground parking and patient discharge zones are two such examples.
Private patient rooms were a priority. Research shows that private rooms actually help patients to heal faster by giving them private time with family. Rooms separate from other patients also decrease infection rates, says Burns.
Key design elements also help to bring the caregivers – such as nurses – closer to the patients. Every four rooms will have a caregiver station, features computers that support electronic medical records and patient processes. The design allows nurses to be close to the patient's bedside, says Bobbie Gerhart, then MVH's chief operation officer.
To increase patient care even more, the hospital chose to build "same-sided rooms," whereby every room looks alike. It's a concept that not only helps patients, who might become confused by a different layout after being switched to a new room, but also the caregivers who work in multiple rooms.
"This [new building] will allow our doctors and nurses to work in an environment that enhances their expertise," Gerhart said at the groundbreaking.
Designed for Aesthetics
Hospital leaders talk about the tower as being "transformational and transparent." The tower will totally transform the face of the hospital's campus. Its construction will result in a revamped campus entrance and more green space. The front landscape will include will include stone walkways, a courtyard and a water feature.
With its open design and extensive use of glass, the tower will make the hospital appear more transparent. The goal is to bring nature inside, Gerhart says, while providing an aesthetically pleasing healing environment.
Securing Its Stake in the Miami Valley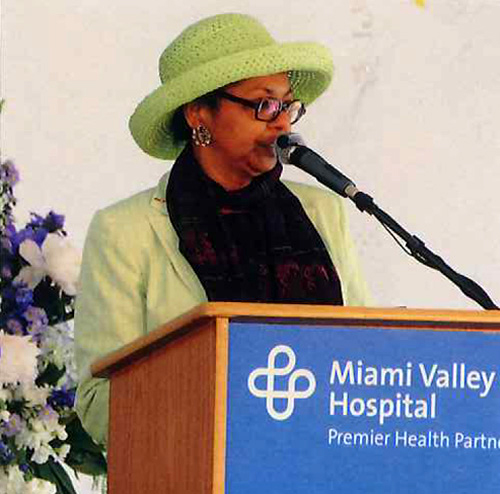 Since it was founded in 1890, Miami Valley Hospital has been integral part of the Dayton community. "We have a rich legacy as the region's leader of health care innovation and patient care," notes Mary Boosalis, then MVH president and chief executive office. "This investment demonstrates our continued leadership in caring for the health of our community."
The Heart Tower will enhance the hospital's total package, which includes such specialized services as its Burn Center, Level I Trauma Center and Level III Neonatal Intensive Care Unit. The tower will contribute to MVH's reputation as the hospital to which other hospitals send patients who are in need of specialized or critical care.
The multimillion-dollar investment – one of the largest construction projects in Dayton's history – reaches far beyond the hospital's campus, according to Rhine McLin, then mayor of the City of Dayton, who spoke at the groundbreaking. "This is an extraordinary commitment to our city. It will provide a modern and impressive gateway into downtown Dayton," McLin said.