Celebrating a Century of Quality Care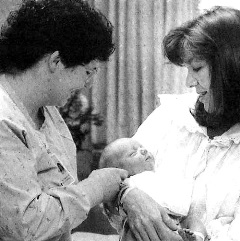 The Berry Women's Health Pavilion, Miami Valley Hospital's state-of-the-art maternity facility, opened for patient care July 16, 1990. Completion of the new pavilion was celebrated with a black tie gala and open houses offering the public, as well as the hospital family, a glimpse of the building's capabilities.
Named in honor of the John W. Berry family who donated $1 million to start the project, the four-story pavilion offers 35 rooms for family-centered childbirth, along with nine antepartum rooms and facilities for high-risk labor and birth.
The Neonatal Intensive Care Unit provides the latest in high-tech equipment, with accommodations for 43 premature and ill infants. Miami Valley Hospital is the only Level III perinatal facility in a 17-county area to offer both high-risk maternity and neonatal care in the same building.
The new building includes expanded quarters for the Perinatal Health Center, Birth and Family Education and a 175-seat auditorium for medical and other health education programs.
More than 4,500 babies were born in 1990 at Miami Valley Hospital – more than one-third of all babies born in Montgomery County.