Neurosciences
Premier Health provides advanced, comprehensive, compassionate treatment for conditions of the nervous system, including the brain and the spine.
Keeping You Safe During COVID-19
You will find new safety measures in place when you schedule appointments and come to our facilities — all with the goal of keeping you safe as we care for you.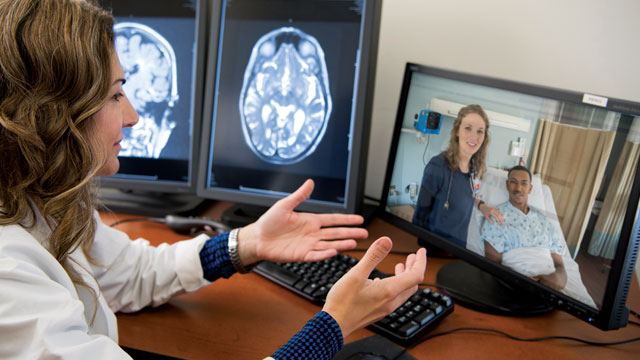 When you come to Premier Health for neurological care, you get access to advanced, comprehensive treatment for a wide range of neurological conditions of the nervous system, including the brain and the spine, through the Clinical Neuroscience Institute.

We use a personalized approach that combines expertise from doctors and surgeons in diverse neuroscience subspecialties, clinical neuroscience research, and medical education.

Whether you need emergency care, a specialized procedure or surgery, or support to manage a chronic condition, our neuroscience team provides advanced, coordinated, compassionate care close to home.

Our specialists are experts in diagnosing and treating many conditions, including:

The spirit of collaboration is at the heart of the Premier Health philosophy and extends to our special partnership with Wright State University, through the Wright State University and Premier Health Neuroscience Institute. The Dayton region's strongest biomedical research institution has joined forces with the clinical resources of the region's leading hospital system to create a centerpiece for neuroscience research that is unmatched in the area.
Our partnership with Wright State University and its Boonshoft School of Medicine means you experience the most up-to-date, evidence-based neuroscience care possible.

ALS
Alzheimer's
Alzheimer's Disease
Aneurysm
Arteriovenous Malformation
AVM
Brain Aneurysm
Brain Injury
Brain Tumor
Deep Brain Stimulation
Dementia
Dementia with Lewy Bodies
Dystonia
Epilepsy
Epilepsy Surgery
Essential Tremor
Facial Pain
Frontotemporal Dementia
Glioma
Headache
Hemorrhagic Stroke
Ischemic Stroke
Memory Disorder
Meningioma
Migraine
Mild Cognitive Impairment
Mixed Dementia
Movement Disorders
MS
Multiple Sclerosis
Muscular Dystrophy
Myasthenia Gravis
Neuromuscular Disorder
Neuropathy
Parkinson's Disease
Pipeline Embolization
Pituitary Tumors
ROSA
Seizures
Skull Base Tumors
Spinal Muscular Atrophy
Spine Tumor
Stroke
Thrombectomy
TIA
Transient Ischemic Attack
Trigeminal Neuralgia
Vagus Nerve Stimulator
Vascular Dementia