System News: October 2022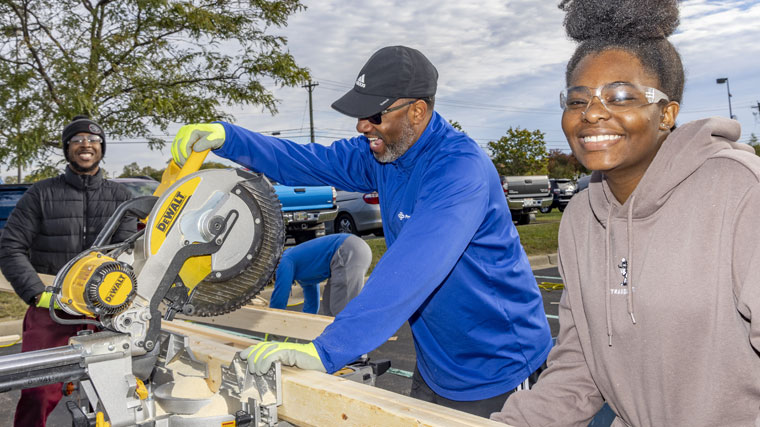 Atrium Medical Center
Atrium Medical Center hosted a successful Butler and Warren County Heart Walk, raising more than $35,000 for the American Heart Association and welcoming nearly 300 participants to campus for the event. The raffle basket fundraiser raised nearly $8,000 thanks to the many physicians and hospital departments that submitted items. A health expo prior to the walk included the Middletown Health Department, Great Miami Valley YMCA, MidPointe Library, and emergency vehicles. Several service lines, Premier Physician Network, and Fidelity Health Care also participated in the health expo.
Atrium partnered with the Rotary Club of Middletown to host a bed build for Sleep in Heavenly Peace. During a bed build, volunteers use raw lumber and easy-to-use tools to build beds for local children who are sleeping on the floor. More than 50 Premier Health employees and their family members joined the effort, which took place on Atrium's campus.
Newcomer Funeral Home made a $1,000 donation to Atrium's Help Endure a Loss (HEAL) program. Dayton business, with locations in Beavercreek, North Dayton, Kettering, and Centerville, reached out to offer the donation after seeing HEAL coordinators compassionately guide a young family through an infant loss.
Atrium Medical Center Foundation and Octane Outlet in Middletown combined their charity motorcycle rides to benefit local families. Octane Outlet's Dave Kirkland Memorial Ride supports the Kirkland family and Highway to help mark its eighth year of benefiting the Adopt-A-Family program at Atrium. Atrium employees identify patients and fellow employees who would benefit from the extra holiday cheer throughout the year. Atrium's employees shop for presents and other necessities and then deliver them to families.
Other community relations activities include: Atrium participated in Fenwick High School's service fair, sharing information about the hospital's junior volunteer program with students; Atrium athletic trainers greeted golfers and shared information about the GolfFit program during Countryside YMCA's annual golf outing; Atrium was a sponsor and representatives attended the Lebanon Area Chamber of Commerce's annual awards dinner; Atrium employees were guest readers to preschool students at Middletown Early Learning Center; a CareFlight Mobile Intensive Care Unit took part in Safety Day at the Lebanon Home Depot, and Community Blood Center returned in September for its monthly blood drive and collected donations to meet 119 percent of its goal.
Miami Valley Hospital Campuses
To ensure a safe environment for visitors and employees, Miami Valley Hospital South now has limited evening access to the hospital. Between 8 p.m. and 5:30 a.m., all visitors will need to enter through the emergency room entrance.
Miami Valley Hospital North has created an employee engagement committee, "Premier Care Crew." The group meets monthly to plan fun and engaging activities throughout the year for the employees at MVHN. The committee held a fall kickoff event on Sept. 23.
The Miami Valley Hospital Heart Team achieved the lowest percentage of prolonged mechanical ventilation in the hospital's history. Miami Valley Hospital North has gone more than one year without surgical site infections.
Good Samaritan Foundation-Dayton and Miami Valley Hospital Foundation have finalized their first system-wide annual report. In collaboration with Atrium Medical Center Foundation and Upper Valley Medical Center Foundation, this year's "Because of You: Philanthropy at Work" annual report showcases the charitable efforts of Premier Health's four hospital foundations in 2021. The system-wide annual report will be delivered to the community in early October. View a digital copy of the report.
Good Samaritan Foundation-Dayton's Board of Trustees approved the allocation of $75,000 to support Samaritan Health Center operations. The center continues to be a much-needed refuge for those who need easily accessible, high-quality health care regardless of their ability to pay.
Jenell Ross, on behalf of Bob Ross Buick GMC, presented the Miami Valley Hospital Foundation with a generous donation in memory of Ross' father, who was diagnosed with and passed away from heart disease. The gift will support cardiology screenings for community members through the Mobile Health Clinic, which Premier Community Health operates. The Mobile Health Clinic provides health screenings and education throughout our community, especially in underserved areas in the Miami Valley.
Good Samaritan Foundation-Dayton supported five nurses from MVHN to participate and receive continuing education credits at a recent Compassionate Caregiver Conference. This conference offered nurses helpful tools for wellness and compassionate care. The Foundation sponsored five entrance fees, allowing one nurse from each primary nursing department at the MVHN to attend.
Miami Valley Hospital Foundation received an $8,000 donation for stuffed animals from the Suzy Pender Memorial Golf Outing at Pipestone Golf Club. The tournament is named for Suzy Pender, a young, vibrant woman who suddenly passed away from a heart attack at age 30. The stuffed animals are provided to young patients who visit the Miami Valley Hospital Emergency Department. Since 2005, this golf tournament has raised nearly $109,000 to support our youngest Miami Valley Hospital patients.
Miami Valley Hospital Trauma Team participated in the Premier Health Gem City 9/11 Memorial Stair Climb held at UD Arena. Each stair climb participant pays tribute to a New City Fire Department firefighter by climbing the equivalent of the 110 stories of the World Trade Center.
Upper Valley Medical Center
Upper Valley Medical Center's Annual Appreciation Reception was held Sept. 22 at the Piqua Country Club. This event has been hosted for many years to welcome new medical practitioners and honor UVMC supporters.
UVMC Imaging introduced Pylarify® PET/CT scan at the hospital in September. This technology is designed to enhance prostate cancer treatment planning. Pylarify® is a radioactive diagnostic agent used with Positron Emission Tomography (PET) imaging for men with prostate specific member antigen (PSMA) positive lesions with known or possible recurrent prostate cancer due to elevated PSA levels. A PET/CT scan using Pylarify® may improve early detection of PSMA, a protein found on approximately 90% of prostate cancer cells.
In collaboration with the Miami County Courts, UVMC provided a booth at the Miami County Mental Health Information Fair held at Troy Courthouse Square on Sept. 8.
UVMC was the top sponsor of the Miami County Walk to End Alzheimer's held Sept. 17 in downtown Troy. The hospital partnered with AdCare, SpringMeade, and Koester Pavilion to organize teams for the walk and booths at the heavily attended event. UVMC also was presenting sponsor and hosted a booth at the Troy Porchfest hosted by Troy-Hayner Cultural Center and the Troy Historic District on Sept. 10.
UVMC was the presenting sponsor of the Piqua Chamber of Commerce Annual Steak Fry and Auction held in Piqua Sept. 15. In other community engagement, UVMC was a sponsor of the Troops in Town celebration held at Miami Valley Veterans Museum in Troy Sept. 11. Piqua Arts Council Annual Fine Arts Reception was held at the Apple Tree Gallery in Piqua Sept. 8, the First Place Food Pantry Bowls of Hope Fundraiser held Sept. 18 in Troy. Power 107.1 Radio Dine to Donate event held Sept. 26 in Troy. Additionally, UVMC was the breakfast sponsor for the Troy Chamber of Commerce Annual Golf Outing held Sept. 23 at Miami Shores Golf Course.
Surgeon Zachary Simmons, MD, of Miami County Surgeons was featured in a Dayton Business Journal profile article on Sept. 9. Dr. Simmons specializes in breast, colon, trauma, and general surgeries.
UVMC Lisa Pitcairn, APRN, was interviewed for National Cholesterol Education Month for the Troy Power 107.1 and Piqua WPTW radio morning shows on Sept. 19. She shared important information with listeners about what cholesterol is, its impact on overall health and wellness, and modifiable risk factors that can help keep cholesterol levels in a healthy range. Throughout the month of September, Troy Power 107.1 ran a Health Minute spot focused on the UVMC Sleep Center and the impact sleep has on overall health and wellness.
UVMC in September launched UVMC Rocks, an employee engagement initiative to showcase employee Premier Pride. The activity, which has been very popular, involves staff being invited to find hand-painted rocks with special messages throughout the hospital campus for entry into prize drawings.
Premier Physician Network
PPN recently redesigned their New Provider Orientation experience and launched their new format on October 19 in welcoming 15 new providers! Please help us welcome:
Mohamedkazim Alwani, MD, Premier ENT Associates - MVH
Charles Armstrong, PA, SureCare Medical Center
Hasan Chaudhry, MD, Premier Health Primary Care – Beavercreek
Susan Collins, MD, Roosevelt Surgical
Gabriel Duda, DO, Hyatt Family Care
Susan Collins, MD, Roosevelt Surgical
Molly Hoffman, CNP, Premier Vascular Surgeons
Daniel Keltner, MD, Trenton Family Medicine
Melissa Mejia, CNP, Premier Cardiovascular Institute
Janece Molinuevo, CNM, Lifestages Centers for Women
Neeta Monteiro, CNP, Premier Cardiovascular Institute
Amaal Salhieh, MD, Premier Health Primary Care - Beavercreek
Neha Sarvepalli, MD, Gem City Surgeons
Nita Thomas, MD, Premier Health Family Care - Vandalia
Daniell Todd, APRN, Premier Health Urgent Care – Centerville
Premier Blood and Cancer Center was a key sponsor of the Leukemia & Lymphoma Society's Light the Night Walk on Sep. 29. Piyush Patel, MD, Angie Dales, Nancy Hampton-Jones, and Lisa Weaver volunteered at this uplifting event to share health information with participants. Proceeds from the event benefit Leukemia & Lymphoma Society research. (We have a photo from this event -- attached)
To help show community support during breast cancer awareness month, Premier Physician Network was once again the presenting sponsor of the MIX 107.7 Concert for A Cure. On Wednesday, October 19, PPN providers and volunteers were at the event to share health information with concert goers and sell T-shirts to benefit the Noble Circle Project, a local volunteer-driven organization that provides transportation and meals to women with cancer.
Back to the October 2022 issue of Premier Pulse