System Hospital News: November 2019
Atrium Medical Center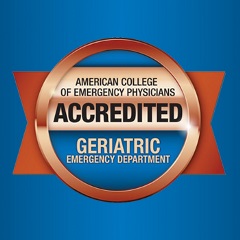 The Senior Emergency Center at Atrium Medical Center has received accreditation from the American College of Emergency Physicians. With the bronze standard Level III Geriatric Emergency Department Accreditation (GEDA), Atrium is the first hospital in the Cincinnati area and one of only five hospitals in Ohio to achieve a GEDA honor. The GEDA provides a set of guidelines for staffing, equipment, education, policies and procedures, follow-up care, and performance improvement measures.
Atrium Medical Center received several accolades as part of Healthgrades' latest quality achievement awards. Atrium received the Healthgrades Critical Care Excellence Award™ for a seventh consecutive year (2014-2020) and the Healthgrades Patient Safety Excellence Award™ for a fifth consecutive year (2015-2019). AMC also was recognized as a Five-Star recipient in multiple specialties: esophageal/stomach surgery, and the treatment of heart attack, stroke, pneumonia, sepsis, respiratory failure, and diabetic emergencies.
More than 300 bagged Panera Bread breakfasts were distributed to commuters during Atrium's annual Brake for Breakfast. Cincinnati television station FOX19 broadcasted from the event, with a live segment every 30 minutes from 5 to 9 a.m. Atrium representatives featured during the live interviews included: Nkeiruka Okoye, MD; Phyllis Rudokas, an oncology nurse navigator; Rhonda Seidenschmidt, vice president of operations; Beth Riley, mammography tech; and Jennifer Burcham, site manager of public relations and community relations.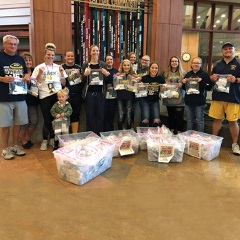 Coaches and members of Monroe High School's softball team visited Atrium with donations for families of intensive care unit patients. The team assembled more than 300 bags that include travel size toothbrush/toothpaste, soap, lotion, shampoo, conditioner, and a shower cap. The team's hope is the bags provide patients' family members some support as they spend time in the hospital. A photo of ICU staff and the Monroe softball team with the donations was published in the (Middletown-Hamilton) Journal-News.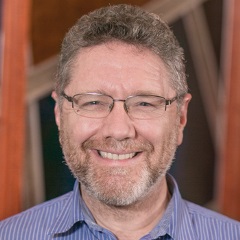 Ed Bastien, manager of pastoral care services at Atrium, was honored with a Caring Like Karen Award in the Hospital/Hospice Caregiver category during the organization's luncheon in West Chester. Ed is "a constant advocate for patients and their loved ones, demonstrating dedication to our hospital's values of respect, integrity, compassion and excellence," read a portion of his nomination. Ed was honored by Caring Like Karen for establishing the Honor Walk program at Atrium for families who decide to make an organ donation, and for his work with the HEAL program to help families cope with losing a child to death or miscarriage.
The city of Middletown's former Heroin Summit, now called the Community Health Partnership, was hosted at Atrium with more than 40 health, police, and fire officials in attendance. Atrium Chief Operating Officer/Chief Nursing Officer Marquita Turner provided an update on the behavioral health services offered at the hospital, which is focusing its efforts on services available for those battling addictions.
Miami Valley Hospital
The Miami Valley Hospital South EMS team attended an open house hosted by the Bellbrook Fire Department and Bellbrook Firefighters Association. This event allowed the fire department and association to educate the public on safety topics, emergency preparedness, and the various emergency response equipment. MVHS representatives were on hand to promote Premier Health's Healthy Heroes program and South services.
Miami Valley Hospital's trauma program has been reverified as a Level I Trauma Center by the Verification Review Committee, an ad hoc committee of the Committee on Trauma of the American College of Surgeons. This achievement recognizes the trauma center's dedication to providing optimal care for injured patients.
A marketing team from Sinclair Community College visited Miami Valley Hospital to film a television commercial with Amy Cline, director of respiratory care. This partnership is a collaboration between Sinclair and Premier Health as a tool to develop and recruit respiratory therapists.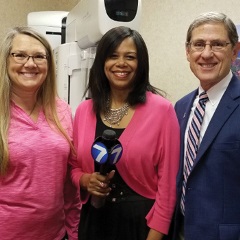 WHIO-TV Daybreak Edition broadcast live for an hour from Miami Valley Hospital North's breast center. News anchor Letitia Perry went live as part of a breast cancer month initiative during which she walked viewers through the process of getting a mammogram. She also interviewed Diane Anderson, MD, and Thomas Heck, MD, on the importance of getting a mammogram and early detection.
With the assistance of funding from the Miami Valley Hospital Foundation, Fitness on Demand™ is now available for use in the Miami Valley Hospital Wellness Center. Fitness on Demand™ provides employees using fitness equipment the opportunity to browse hundreds of workouts, either displayed on the television in the wellness center or on a mobile device.
The Miami Valley Hospital Foundation presented a new fundraising event on Oct. 5. More than 200 people attended Emmett's Place Family Night at the Boonshoft Museum of Discovery. Emmett's Place is an area at the hospital dedicated to respite and hospitality for the immediate family members of NICU patients and for antepartum mothers and their families.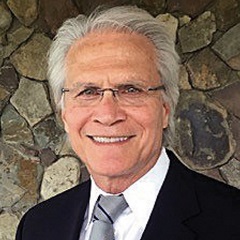 On October 29, Wayne Sotile, Ph.D., was the featured speaker at the Chiefs of Staff Lecture Series presented by the hospital's foundation. Entitled Resilient Medical Families: New Challenges, New Solutions, the presentation examined the unique pressures experienced by caregivers and their families. The Chiefs of Staff Lecture Series was initiated and funded by generous support from former chiefs of staff at Miami Valley Hospital.
The Statue of the Good Samaritan that stood at the entrance to Good Samaritan Hospital was moved to the main entrance of Miami Valley Hospital North. In addition, the announcement was officially made to rename the main entrance at the north campus as the Samaritan Pavilion.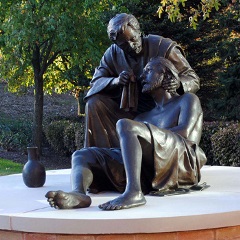 Attended by employees, Sisters of Charity, Good Samaritan Hospital School of Nursing alumni, and members of the Good Samaritan Foundation-Dayton board of trustees, an unveiling ceremony took place in what will be known as the Aull Garden. Attendees also heard about plans to construct four separate garden areas under the banner of the Trail of the Good Samaritan. These gardens will include flowers, plants and statues from the former Good Sam Hospital. Including the Aull Garden, the areas will be named Samaritan Springs, the Serenity Garden and the Employee Plaza.
Producers from Top Stream Media contacted hospital officials about a documentary focused broadly on mass shootings. A full crew spent three days interviewing staff who provided care after the Oregon District shooting in August. The goal of the project is to educate the public through expert interviews about potential red flags and warning signs, explore prevention and early intervention programs working in various jurisdictions, and highlight rapid and effective law enforcement and medical responses.
Upper Valley Medical Center
U.S. Congressman Warren Davidson from Ohio's 8th Congressional District visited Upper Valley Medical Center on Oct. 25. He and his aide met with UVMC executives and Premier Health government affairs leaders to examine health care in rural areas, discuss health care-related issues, and tour the hospital. In his e-newsletter the following day, the Congressman noted, "It was gratifying to visit this high-tech medical facility, which offers top-grade medical care for those of us in the 8th district. UVMC provides many of the resources we need to continue providing the best health care possible."
UVMC administration hosted Employee Town Hall Update meetings Oct. 31 and Nov. 4 in the Physician Office Building Conference Rooms. More than 100 employees attended the meetings, at which UVMC leaders provided updates on UVMC's current priorities and challenges in an open forum environment. Leaders also unveiled details of a new emergency department marketing campaign.
The UVMC Evening of Appreciation to welcome new medical staff and honor hospital supporters was hosted Oct. 24 at Piqua Country Club. The annual event was attended by nearly 200 physicians, board members, UVMC and Premier Health executives, community leaders, and friends of UVMC.
Hospital representatives, community agencies, and organizations attended a Miami County Community Health Improvement Plan meeting at UVMC on Oct. 16. This meeting reviewed the health improvement plan and gave attendees an opportunity to collaborate on ways to address health care needs in our community.
Back to the November 2019 issue of Premier Pulse.