Service Line Update: Redefining Cancer Care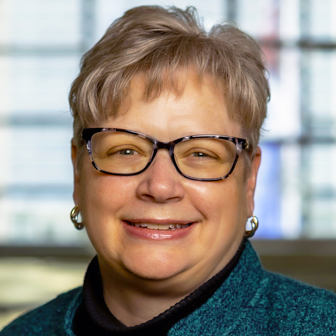 By Mikki Clancy, service line vice president, oncology
Premier Health Cancer Services is undergoing some exciting changes this year. Under the leadership of Charles Bane, MD; James Ouellette, DO, FACS; and Ryan Steinmetz, MD, the Oncology Institute has redefined its vision for the future of cancer care in our region. The vision of one cohesive program with a consistent experience for patients, families, and referring physicians is driving a reenergized approach to refining and building our oncology services.
Our affiliation with MD Anderson Cancer Network® has verified the outstanding quality provided by our care facilities as well as the MD Anderson certified physicians and their practices. We have been able to leverage this relationship by bringing additional programs to our cancer services that will be implemented over the next few months. Our MD Anderson affiliations provide patients access to local physicians certified by one of the leading cancer centers in the nation, while receiving care close to home. Utilizing MD Anderson to verify our quality services provides patients with the ease of mind and confidence because our local certified physicians have easy access to MD Anderson faculty and best practices.
Officials with Premier Health cancer services also are pleased to unveil our new marketing plan. This plan started with a very successful set of Cancer Survivor Day activities, including a well-attended virtual event featuring the talents of Mark Marinella, MD, Beth Delaney, and Christine Broomhall; the Tree of Life mural of survivor photographs; and our survivor's billboard prominently displayed across our service area.
The implementation of the cancer navigator program has elevated the ease of traversing the scheduling, complexity, treatment plan, and journey of dealing with a cancer diagnosis. Our navigators' kind, compassionate, and supportive nature assists the patient and family during this scary journey. Nurse navigators are available to assist with ANY new diagnosis of cancer to ensure a cohesive patient experience. Please consider an oncology nurse navigator consult for inpatient or outpatient patients via EPIC or the navigator referral form for non-EPIC users.
Over the past several weeks we have been working on additional programmatic additions, technology investments, and service changes for Premier Health cancer services. If you have suggestions for improvement or new ideas, please reach out to Dr. Bane, Dr. Ouellette, or me.
Back to the July 2020 issue of Premier Pulse