Remembering Raj

By Tarek Sabagh, MD, oncologist
As a practicing nephrologist at Renal Physicians, Inc., Raj Dhingra, MD, MS, FASN, served as president of the group for several years. He was also medical director of both Buckeye Dialysis and Five Rivers Dialysis. In addition, he was a member of the American Society of Nephrology and a Clinical Assistant Professor of Medicine at Wright State University.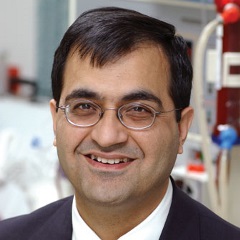 Dr. Dhingra pursued medicine at the University of Illinois-Chicago College of Medicine and was inducted into the Alpha Omega Alpha Medical Honor Society. He later completed his residency in internal medicine and fellowship in nephrology at the University of Michigan-Ann Arbor. He also earned his master's degree in biostatistics and clinical research design at the University of Michigan-Ann Arbor. In 1997, Raj met his wife, Freesia, in Michigan after ordering the same ice cream flavor (mint chocolate chip). They moved to Ohio in 2001 and raised their two beautiful children, Rhea and Rohan.
Raj was first and foremost known for his devotion to his family. He carried immense pride for his children, and the love he had for his wife was unmatched. His coworkers admired him for his quiet diligence and for the long hours he dedicated to best serving his patients. We all had a friend in Raj and he'll be dearly missed.
On a personal level, I lost a very close friend unexpectedly a few months back. We called him Tap. We had planned a hiking trip to Iceland for almost a year. We planned everything, we trained together, but when the time came, he was not around to join us. I felt hopeless and no longer had an interest in making the trip. A friend gave me advice. If Tap was alive he would be with you, so do it for him, go on and enjoy the journey, which I did. Today, I'm sharing the same advice with you. Raj approached life with kindness, grace, and humility. He was a bright light to many, always finding reasons to smile and share his joy with others. Keep the smile on your face, keep the camaraderie, and keep taking care of our patients. Do it for Raj. Do it for yourselves, your patients, and your families.
I also remind you to pay attention to your well-being. We have been under tremendous stress due to the pandemic. Talk to someone, take a walk, enjoy a short run, meditate, have a drink, and listen to music or just do nothing but pause and ponder. Be hopeful. Hope is resilience.
Raj will be deeply missed by the countless people he has touched. We hope that everyone can appreciate the good he brought to this world and carry on his memory by working to improve the lives of others.
Back to the May 2020 issue of Premier Pulse