Premier Health Announces Premier Physician Network Primary and Specialty Care Hubs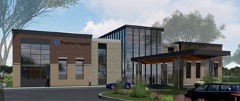 Premier Health is taking steps to expand convenient access to its primary and specialty care services across the region.
The health system plans to operate two 45,000-square-foot primary and specialty care hubs in Vandalia and Beavercreek that will open in October 2019, as well as two smaller "spoke" sites under construction in Liberty Twp. (13,000 square feet) and Monroe (18,000 square feet) that are scheduled to open late this year.
The properties are located at 600 Aviator Court in Vandalia; near North Fairfield Road and Lakeview Drive (behind Chick-fil-A) in Beavercreek; 6615 Cin-Day Road in Liberty Twp.; and 35 Overbrook Blvd in Monroe.
The locations will offer services such as primary care, orthopedic services, cardiology, endocrinology, rheumatology, multispecialty, and other ancillary services, as well as CompuNet laboratory services. The Beavercreek location also will include obstetrics services. And for the first time, Premier Health patients will be able to enjoy the convenience of checking in for appointments online.
The four locations, which represent a $25 million investment, will employ about 150 people, about 25 percent of whom will be in newly created roles.
The new offices will consolidate some smaller practices near the proposed larger hub offices, and make it easier for providers to cover for one another when they are out of the office, said Diane Pleiman, president of Premier Physician Network. Patients also will be able to go to one familiar location for the majority of their care, she said.
Premier Physician Network is the largest physician group practice in the Dayton area.
Back to the September 2018 issue of Premier Pulse