Kiosks Seen As Way to Streamline Registration, Improve Patient Experience
During the fourth quarter of 2017, Premier Health will be implementing self-service check-in kiosks at two of the system's locations to enhance patient experience. These self-service check-in kiosks will be located at Atrium Medical Center's Trenton location, and Upper Valley Medical Center's Outpatient Registration.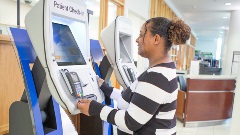 Welcome is the EPIC application used in the kiosk. Welcome is a powerful tool that helps patients take aspects of their care into their own hands. The touch screen interface is easy to use and the application is intuitive.
The initial rollout allows patients who have scheduled appointments and are pre-registered to:
Check in for appointments
Update demographic information (address and phone number)
Verify insurance information
Change emergency contact information
Sign consent to treat form
Sign up for MyChart
Make credit card payments
Print receipts
If the pilot proves successful, we'll expand to additional locations in 2018 and add functions such as:
Self-registration
Self-scheduling appointment(s)
eCheck-in
Self-service check-in has never been so fast or easy. Utilization of this technology provides numerous benefits. The self-check-in process allows patients to take control of their own health care from the moment they walk through the door. This reduces patient wait times, improves demographic accuracy, maintains HIPAA compliance, and improves patient experience.
Back to the November 2017 issue of Premier Pulse