Colleagues and Partners Motivate Physician to Stay with Premier Health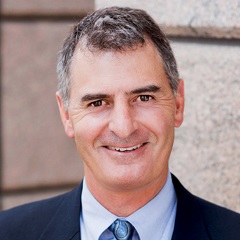 L Joseph Rubino III, MD
, sees patients at the Miami Valley Hospital South office of Premier Orthopedics.
What is your clinical specialty? Orthopedic Sports Medicine
Where did you go to school?
College – Villanova, Medical school – Georgetown
What brought you to Premier Health?
I came to Premier Health for my orthopedic surgery training, and I stayed because of my great colleagues and partners.
Why did you choose medicine as a career?
I chose medicine because I wanted a career in which my days were personally fulfilling, and I could work as long as I continue to enjoy it.
Who are the people who influenced and/or mentored you?
Dr. Delahay at Georgetown because of his tireless devotion to teaching, and Dr. Lynn Crosby for his work ethic and devotion to his patients.
What is one thing most people don't know about you?
I am a good cook.
Where is your hometown?
Bethesda, Maryland
What, if any, sports team(s) do you cheer for?
Washington Redskins, Washington Capitals, Dayton Flyers
What is the last book you read?
"Atlas Shrugged"
What is your favorite song in your playlist?
"Sympathy for the Devil"
What is your favorite food?
Indian
What is your favorite hobby?
Golf
What is your favorite animal?
Other people's dogs!
Where is your favorite vacation spot?
Snowmass, Colorado – great outdoor family time
Describe something for which you are especially thankful:
Dr. Pompe for giving me the opportunity to become an orthopedic surgeon.
And…my family for supporting me through the many years of training.
Pick a Side
iPhone or Android?
iPhone
Early bird or night owl?
Night owl
Beach bum or mountain hiker?
Mountain
Dress shoes or tennis shoes?
Tennis shoes
Paperback or e-reader?
Paperback
Coffee or tea?
Coffee
Cooking or baking?
Cooking
Sweet or salty?
Salty
Back to the March 2018 issue of Premier Pulse