Troy's Story: Seconds Matter Following Bicycle Accident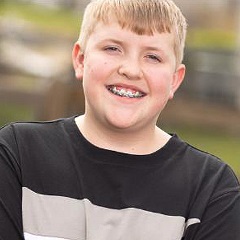 When her son Troy stormed into the house last May, sobbing, after what seemed like a minor bicycle accident, Mandy Whiteside suspected he was overreacting. She could barely detect a scratch through his thin blonde hair. "Let me look and cut the drama," she ordered.
But Troy continued screaming and clinging to his mother in a way highly uncharacteristic of the independent 13-year-old boy. As the Trenton mother headed to urgent care, Troy began hyperventilating and throwing up blood. "My gut told me to call the ambulance, and thank God I did," Mandy says.
Mandy and her husband, Alan, didn't fully grasp the seriousness of Troy's injuries even when the chaplain greeted them in the Emergency Trauma Center (ETC) at Atrium Medical Center. As the parents of 12 children and more than 60 foster children, Mandy explains, "We have seen so much road rash and pop knots; we could never imagine the severity of his injuries."
Fortunately, the physicians at Atrium's Level III Trauma Center employed technologically-advanced emergency services to swiftly assess Troy's condition. A CT scan revealed multiple skull fractures and a significant brain hemorrhage – an outcome his physicians suspected so strongly they already had summoned CareFlight Air and Mobile Services. They maintained continuous contact with Cincinnati Children's Hospital Medical Center as they stabilized Troy.
"The life-saving surgery was done at Cincinnati Children's, but the life-saving prep was done at Atrium," Mandy says. "When minutes mattered, Atrium literally saved his life."

Trauma program manager Alexandra Carpenter says the Whitesides' quick thinking played an important role in Troy's survival. "Many parents want to jump in the car instead of calling 911," she says. "They could have lost critical moments of providing care if they had done that. When the EMS arrived on the scene, they gave us a call, which activated a trauma alert. We were prepared."

The Whitesides scarcely recognized their son in the ETC. "The last time we saw him he was talking to us," Mandy says. "And now he was strapped to a table with his clothes cut off, covered in vomit and screaming and moaning still."

Understanding that Troy's parents were experiencing trauma as well, the ETC staff urged them to drive safely to Cincinnati Children's. "They really took care of us," Mandy recalls. "The chaplain stayed with us the whole time. I can't tell you how many times I stepped away to catch my breath, and she was right there praying with us. She was our rock."

Troy's recovery after the five-hour surgery exceeded all expectations.

"On the fourth day post-surgery, he was adamant about getting up and going to the bathroom," Mandy recalls. "His recovery blew all of our expectations out of the water."

More than a year after the May 4, 2018 accident, Troy has nearly fully recovered. "We didn't know what would happen when he left us," Alexandra says. "His care had gone in such a great direction that day. Troy has not only survived, but is almost back to baseline. It's astonishing to see how hard he has worked and how far he has come. He is very resilient and very happy."

Every family activity that summer was centered around Troy, Mandy says: "We even rented an air-conditioned cabana at the pool because Troy couldn't handle the heat."

Even this very experienced mother has learned some invaluable lessons. First and foremost, she says, "Helmets are not overrated. Helmet use went up 99 percent in our subdivision last summer."

Another key lesson: Trust your child's lead. "I felt silly even taking him to Urgent Care; I thought it would be a big waste of time," Mandy says. "You just don't really think an everyday accident can be that severe."

Finally, the Whiteside family believes even more strongly in the power of prayer. "We're still amazed that Troy woke up at all and has so few lasting side effects," Mandy says. "We believe every day we have a walking, talking miracle."
Contact Us
If you or a loved one needs emergency or trauma care, our teams of specially trained doctors and nurses are here to help. At Premier Heath, we quickly assess your condition and provide the care and treatment you need.
You can access emergency services at the following locations: