Upper Valley Medical Center
Upper Valley Medical Center serves residents of Miami County in Southwest Ohio from our 100-acre campus in Troy, next to Interstate 75. We offer a wide range of advanced care, including emergency, heart (including cardiac catheterization), cancer, maternity, behavioral health, long-term care, and much more. Leading national organizations regularly recognize our quality care. We offer Miami County's only Level III Trauma Center and the only Level II Special Care Nursery between Dayton and Lima. Our stroke care has earned The Joint Commission's Gold Seal of Approval® Advanced Certification for Primary Stroke Center. We have achieved Magnet® Recognition, nationally recognized as the highest standard for excellence in patient care.
Visitors
Whether you're a patient, family member, friend, or business partner, we welcome you to our campus. Get more information on parking, how to contact patients, rules for visiting patients, and the amenities we offer, including our food and dining options.
Our Providers
Whether you're looking for a primary care provider or a specialist, our physicians and advanced practice providers offer you advanced, compassionate care in a wide range of specialties. You'll find them conveniently close to home and work.
See all providers
Awards
We're proud to make a difference in our community. When others recognize our achievements, we know we're fulfilling our mission. We're grateful for the awards and recognition our hospital and people have earned.
See all awards
Tuesday, October 4, 2022
A mammogram is the best way to detect breast cancer early
Wednesday, October 5, 2022
A mammogram is the best way to detect breast cancer early
Thursday, October 6, 2022
A mammogram is the best way to detect breast cancer early
UVMC Expands Heart Care Capabilities
More Patients Can Receive Advanced Care in Miami County
JULY 30, 2018 -- Individuals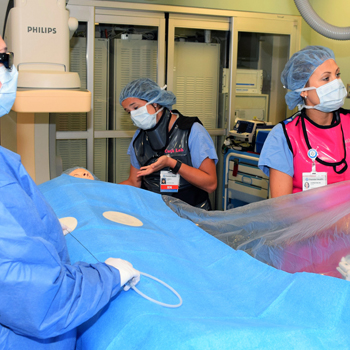 experiencing a heart attack and those with non-emergency coronary blockages will benefit from more treatment options now at Upper Valley Medical Center (UVMC). With the expansion of UVMC's cardiac catheterization laboratory capabilities and availability of additional experienced cardiologists, patients who need angioplasty and many types of stents will be able to receive them at UVMC 24 hours a day, seven days a week.
"We're pleased to expand heart care services in Miami County. With our new capabilities, more patients can get the heart care they need close to home. This is the latest way UVMC demonstrates our commitment to serving our neighbors with advanced, compassionate care," said Tom Parker, president, UVMC.
"With this expansion of services, we'll now provide angioplasty to improve the symptoms of blocked arteries, such as chest pain and shortness of breath," explained interventional cardiologist Gary Fishbein, MD, interim medical director of the cath lab. "Angioplasty can also be used during a heart attack to quickly open a blocked artery and reduce the amount of damage to the heart." During angioplasty, the cardiologist temporarily inserts and inflates a tiny balloon where an artery is clogged to help widen it.
"We'll also be able to implant stents — small wire mesh tubes — to help prop open a clogged artery and decrease the chance of it narrowing again," Dr. Fishbein said. Stents are placed during an angioplasty procedure.
Patients whose heart disease requires advanced stenting procedures, coronary artery bypass (CABG) surgery, or other complex procedures can be stabilized by the UVMC team and transported to Miami Valley Hospital for care.
With the expansion, UVMC's cath lab now will be on call around the clock every day. Diagnostic catheterizations will still be available, as well as insertion of pacemakers and defibrillators. UVMC also offers outpatient cardiac testing, disease management for those living with heart failure, cardiac rehabilitation, pulmonary rehabilitation and wound care and hyperbaric services.
To learn more about heart services at UVMC, visit UVMC.com/heart or call (937) 440-4000.
*The current wait time is an estimated wait time before a person sees a physician and is not a guarantee. It is based on patient activity (how many patients are being treated and the severity of their injuries) within the last hour, and it is subject to change at any moment. If you are experiencing an emergency, call 911.