Awards and Recognition
Upper Valley Medical Center (UVMC) has received many awards and recognitions that demonstrate our commitment to excellence, to our patients, and to our employees.
U.S. News & World Report Designation
Upper Valley Medical Center received "high performing" designation from U.S. News & World Reports for COPD.
Certified Acute Stroke Ready Hospital
Upper Valley Medical Center has earned Advanced Disease-Specific Care Certification for Acute Stroke Ready Hospital from The Joint Commission and the American Heart Association/American Stroke Association (AHA/ASA). The certification recognizes hospitals equipped to treat stroke patients with timely, evidence-based care prior to transferring them to a primary or comprehensive stroke center.
Get With The Guidelines Stroke Gold Plus Quality Achievement award and Target: Stroke Honor Roll
This award recognizes Upper Valley Medical Center's commitment and success in implementing a higher standard of stroke care by ensuring that stroke patients receive treatment according to nationally accepted standards and recommendations set by the American Heart Association and American Stroke Association. To learn more about the American Heart Association/American Stroke Association.
Joint Commission Top Performer
Upper Valley Medical Center was recognized as a Top Performer on Key Quality Measures by The Joint Commission. The recognition is based on exemplary performance in using evidence-based clinical processes that are shown to improve care for certain conditions. UVMC was recognized for quality measures in the areas of heart attack, heart failure, pneumonia and surgical care. The Joint Commission is an accreditor of health care organizations across the county.
Healthgrades Five Star Rankings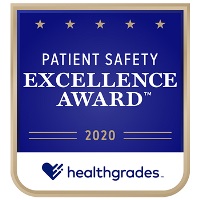 Upper Valley Medical Center has received five star rankings from Healthgrades in the area of Treatment of Esophageal/Stomach Surgeries and Treatment of GI Bleed (2019), Treatment of Pneumonia (2018), Treatment of Heart Failure (2015-2017), Treatment of Sepsis (2016-2018), and Treatment of Stroke (2017). UVMC also earned HealthGrades' Patient Safety Excellence Award™ for 2017 through 2020 placing it in the top ten percent nationally for patient safety. Healthgrades is an independent national provider of health care quality information which develops and markets quality and safety ratings of health care providers.
Geriatric Department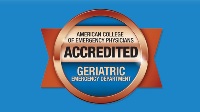 UVMC 2020 was awarded Geriatric Emergency Department Accreditation by the American College of Emergency Physicians. This award recognizes the interdisciplinary Emergency Department team for their focus on the highest standards of care for serving geriatric patients. Premier Health was the first health system in Ohio and second in the nation to achieve system-wide Geriatric Emergency Department Accreditation.
Wound Care and Hyperbaric Services National Awards
The Wound Care Center and Hyperbaric Services at Upper Valley Medical Center was recognized with a national award for clinical excellence in 2017-2019. The Center of Distinction Award was presented by Healogics, the nation's leading and largest wound care management company. The Center was also honored with the Healogics President's Circle Award.
Miami County Reader's Choice – Best Medical Facility
The readers of the Miami County Today in Miami County select their choices for top organizations in a variety of categories. Upper Valley Medical Center was voted Best Medical Facility by the Miami County community from 2012-2019.
YWCA of Piqua Women of Excellence
The Women of Excellence program, established by the YWCA in 1997, recognizes women and young women who reside in, are employed, or active in Miami County and have distinguished themselves in their careers and/or in civic and community activities. Ruth Jenkins, past president / member of the executive committee of the UVMC Foundation Board, was honored with this award in 2017. Others from UVMC who have receive the distinction include Jean Heath, nursing director, in 2006; Becky Rice, president and CEO, in 2016; and Nancy Bowman, communications specialist, in 2016.
VHA Leadership for Clinical Excellence in Cardiac Care
Upper Valley Medical Center (UVMC) received a Leadership Award for Clinical Excellence from VHA Inc. This national health care alliance honors hospitals for meeting or exceeding national performance standards for clinical care in specific areas. UVMC won the award for its efforts in treatment for heart attack patients and treatment for congestive heart failure.
VHA Inc., based in Irving, Texas, serves more than 2,400 health care organizations nationwide, including 1,400 hospitals. VHA provides industry-leading supply chain management services. It also supports the formation of regional and national networks to help members improve their clinical and economic performance.
UVMC Cancer Care Center Awarded Accreditation With Commendation
Upper Valley Medical Center's Cancer Care program has received Accreditation with Commendation from The Commission on Cancer (CoC) of the American College of Surgeons. The accreditation, good for three years, was awarded following an extensive onsite evaluation.
CoC accreditation ensures a patient they will have access to: comprehensive care; a multi-specialty team approach to coordinate treatment options; information about ongoing clinical trials and new treatment options; access to cancer-related information, education and support; a cancer registry collecting data on type and stages of cancers and treatment results and lifelong patient follow up; ongoing monitoring of care; and quality care close to home.
UVMC Long Term Care Center Recognized
UVMC's SpringMeade Health Center has been recognized with a Five-Star Quality Rating from CMS as well as a recipient of the Bronze Commitment to Quality award for its dedication to improving the lives of residents through improved quality care. The award is one of three distinctions possible through the National Quality Award program, presented by the American Health Care Association and National Center for Assisted Living (AHCA/NCAL). The program honors facilities across the nation that have demonstrated their commitment to improving quality care for seniors and individuals with disabilities.
The DAISY Award
Premier Health is pleased to recognize our nurses with The DAISY Award, a national program that honors the compassionate care and clinical expertise our nurses bring to patients every day. Learn more.
Everyday Heroes Award
Premier Health is pleased to celebrate the dedicated staff that provide outstanding support to nurses. These individuals are our Everyday Heroes. Learn more.