Upper Valley Medical Center
Upper Valley Medical Center serves residents of Miami County in Southwest Ohio from our 100-acre campus in Troy, next to Interstate 75. We offer a wide range of advanced care, including emergency, heart (including cardiac catheterization), cancer, maternity, behavioral health, long-term care, and much more. Leading national organizations regularly recognize our quality care. We offer Miami County's only Level III Trauma Center and the only Level II Special Care Nursery between Dayton and Lima. Our stroke care has earned The Joint Commission's Gold Seal of Approval® Advanced Certification for Primary Stroke Center. We have achieved Magnet® Recognition, nationally recognized as the highest standard for excellence in patient care.
Visitors
Whether you're a patient, family member, friend, or business partner, we welcome you to our campus. Get more information on parking, how to contact patients, rules for visiting patients, and the amenities we offer, including our food and dining options.
Our Providers
Whether you're looking for a primary care provider or a specialist, our physicians and advanced practice providers offer you advanced, compassionate care in a wide range of specialties. You'll find them conveniently close to home and work.
See all providers
Awards
We're proud to make a difference in our community. When others recognize our achievements, we know we're fulfilling our mission. We're grateful for the awards and recognition our hospital and people have earned.
See all awards
Monday, December 5, 2022
A mammogram is the best way to detect breast cancer early
Tuesday, December 6, 2022
A mammogram is the best way to detect breast cancer early
Wednesday, December 7, 2022
Join us for a free weight loss surgery seminar
UVMC Occupational Health Team Helps Couple After Crash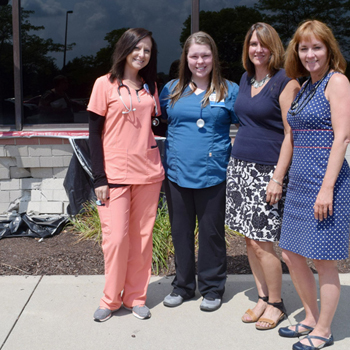 TROY - When an elderly driver drove into the Outpatient South building in Troy, members of the Upper Valley Medical Center Occupational Health team responded quickly.
"We heard a loud boom. We thought it was from our physician assistant's office," said Mindy Oates, a medical assistant at Occupational Health. "She (Kelly Prikkel, physician assistant) met us at the door and said an elderly man had hit the building. She took off running, so we followed."
Others in the Occupational Health office and other building offices called 9-1-1.
Oates, fellow assistant Lindsay Ryan and physician assistant Kelly Prikkel headed down the stairs and to the front of the building.
There, they found the driver outside the passenger side of the car attempting to help his elderly wife inside.
Prikkel saw the woman's arm had a serious fracture, so she held the arm in a stable position until Troy Fire Department medics arrived. She noticed the man, who had come to the South Dorset Road medical building for treatment of COPD, having difficulty breathing and asked helpers to summon Rod MacGregor, MD, to assist.
Joined by fellow assistant Amanda Dillon, the medical assistants grabbed towels, gloves, bandages, and other supplies.
The couple were stabilized and kept calm until help arrived.
Prikkel said her experience with trauma patients helped with her immediate response. "Working in the ER, I think, helped me," she said.
Ryan, who also works in medical/surgical ICU, agreed. "I was running all over getting various items for Kelly. I just went immediately into trauma mode," she said.
"They were very apologetic. They felt so bad," Dillon said of the couple.
"It felt good to help them," Dillon said. Her advice to others: "Go when needed; don't hesitate to help."
*The current wait time is an estimated wait time before a person sees a physician and is not a guarantee. It is based on patient activity (how many patients are being treated and the severity of their injuries) within the last hour, and it is subject to change at any moment. If you are experiencing an emergency, call 911.