Upper Valley Medical Center
Upper Valley Medical Center serves residents of Miami County in Southwest Ohio from our 100-acre campus in Troy, next to Interstate 75. We offer a wide range of advanced care, including emergency, heart (including cardiac catheterization), cancer, maternity, behavioral health, long-term care, and much more. Leading national organizations regularly recognize our quality care. We offer Miami County's only Level III Trauma Center and the only Level II Special Care Nursery between Dayton and Lima. Our stroke care has earned The Joint Commission's Gold Seal of Approval® Advanced Certification for Primary Stroke Center. We have achieved Magnet® Recognition, nationally recognized as the highest standard for excellence in patient care.
Visitors
Whether you're a patient, family member, friend, or business partner, we welcome you to our campus. Get more information on parking, how to contact patients, rules for visiting patients, and the amenities we offer, including our food and dining options.
Our Providers
Whether you're looking for a primary care provider or a specialist, our physicians and advanced practice providers offer you advanced, compassionate care in a wide range of specialties. You'll find them conveniently close to home and work.
See all providers
Awards
We're proud to make a difference in our community. When others recognize our achievements, we know we're fulfilling our mission. We're grateful for the awards and recognition our hospital and people have earned.
See all awards
Monday, November 28, 2022
Join us for a free weight loss surgery seminar
Tuesday, November 29, 2022
A mammogram is the best way to detect breast cancer early
Wednesday, November 30, 2022
A mammogram is the best way to detect breast cancer early
Cardiac Rehab Program Became Decades-Long Health Habit
Phil Hughes wants heart patients to know there is life after a heart attack.
Hughes, who has more than three decades' experience with heart issues, in August will observe 30 years participating in the cardiac rehabilitation program at Upper Valley Medical Center.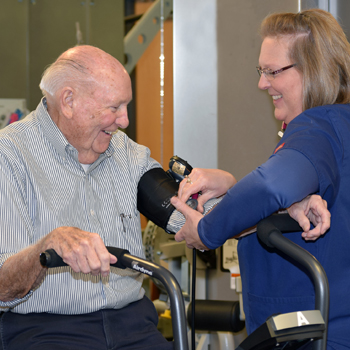 A Tipp City resident, Hughes first suffered a heart attack in November 1982 when he was 50.
"Dr. Lee was the cardiologist on duty at UVMC that morning. He cared for me then until he retired after 19 years. He was not only my cardiologist but became a very good friend and lifesaver," Hughes said. "He told you the way it was, and I liked that."
Following a second heart attack in April 1987, Hughes was introduced to the cardiopulmonary rehabilitation program under the direction of Ruth Jenkins, RN, and Melody Goettemoeller. "They were great and put me through the phases of rehab which helped me considerably because I was completely down at that point. They brought me back to where I was feeling good," he said.
Hughes also participated in the department's Heart to Heart support group where volunteers would sign up to talk with those encountering heart-related issues. "Patients like to talk to someone who has had an experience similar to what they are dealing with. They were always very receptive to talking to us and, hopefully, we made them feel more comfortable. Ruth Jenkins would assign us to talk to patients about their thoughts, reactions, and the procedure they were about to go through," he recalled.
"I had a guy who would call me at 2 in the morning, but I didn't care because that is what I was supposed to do. He told me later that I saved his life. That was a good feeling," he added.
Hughes' heart put him in the hospital again in June 1993 when he underwent bypass surgery at Good Samaritan Hospital (closed in 2018). After a couple of weeks of recovery, Hughes said he made up his mind that his heart issues weren't the end of the world.
"I took on myself to continue my exercise, do the things I was supposed to do, eat right, take medication as prescribed by all the good doctors and continue to work at rehab," he said, adding with a smile, "I'm still with you."
The bypass was followed by placement of stents in 2000, October 2004 and May 2015 and a defibrillator in December 2004 and again in 2009. In December 2016, Hughes underwent surgery for placing a new defibrillator with four wires instead of two wires to cover the entire heart versus the previous partial coverage. "This helped me to breathe a whole lot better," he said.
Hughes and wife Shirley have been married 56 years and have five children and 27 grandchildren. A Navy veteran, he worked in sales management and along with Shirley has developed two housing plats and owns several apartments. The couple share administrative responsibilities.
He said the last 30 years have not been easy but with support of his entire family, he's persevered.
"For everyone who has an experience with heart attack or something related, there is life after if you pay attention to what your doctor tells you, take your medicine, eat property. Don't sit around, find a hobby, work, keep active. That is very, very important," Hughes said.
He comes to cardiac rehab three times a week to work out 50 to 60 minutes on a series of machines.
"There's a lot of nice people I've met over the years by coming here. That is what makes it so you don't hate exercising," he said. "Ruth Jenkins, Tami McMillan and the staff of nurses at UVMC have been fantastic during the years. Without them, I probably wouldn't be here today."
He said he is appreciative of the doctors who have treated him since his heart troubles began including Dr. Sukwon Lee, Dr. Sameh Khouzam, Dr. Aaron Kaibas, and Dr. Georges Yacoub.
Hughes said it is important for people to pay attention to their bodies. "You know your body better than anybody else. If you get tired or if you have trouble breathing, do something about it. If you have a pain, don't sit around and wait and think it is going away. Call 9-1-1. The sooner you react to pain the better chance you have for survival."
To learn more about cardiac rehabilitation at UVMC, call (937) 440-4675 or log on to uvmc.com.
*The current wait time is an estimated wait time before a person sees a physician and is not a guarantee. It is based on patient activity (how many patients are being treated and the severity of their injuries) within the last hour, and it is subject to change at any moment. If you are experiencing an emergency, call 911.