Upper Valley Medical Center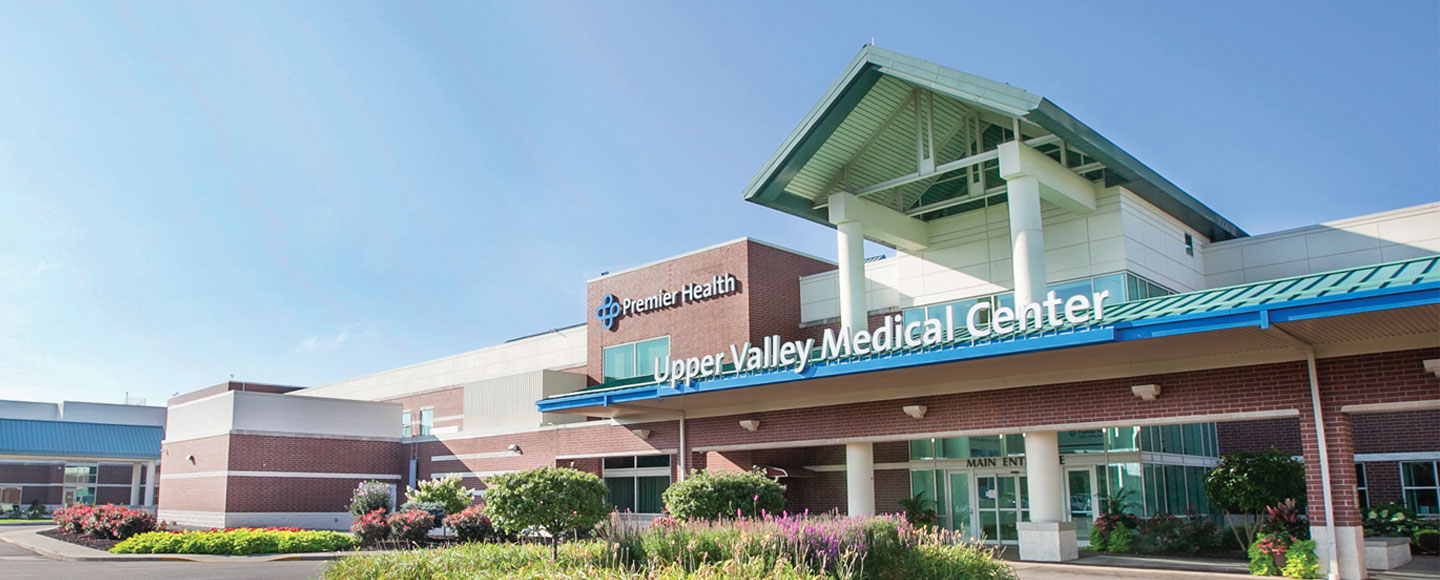 Upper Valley Medical Center serves residents of Miami County in Southwest Ohio from our 100-acre campus in Troy, next to Interstate 75. We offer a wide range of advanced care, including emergency, heart (including cardiac catheterization), cancer, maternity, behavioral health, long-term care, and much more. Leading national organizations regularly recognize our quality care. We offer Miami County's only Level III Trauma Center and the only Level II Special Care Nursery between Dayton and Lima. Our stroke care has earned The Joint Commission's Gold Seal of Approval® Advanced Certification for Primary Stroke Center. We have achieved Magnet® Recognition, nationally recognized as the highest standard for excellence in patient care.
Visitors
Whether you're a patient, family member, friend, or business partner, we welcome you to our campus. Get more information on parking, how to contact patients, rules for visiting patients, and the amenities we offer, including our food and dining options.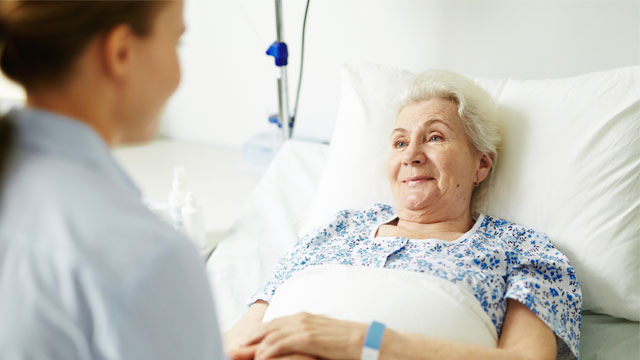 Our Providers
Whether you're looking for a primary care provider or a specialist, our physicians and advanced practice providers offer you advanced, compassionate care in a wide range of specialties. You'll find them conveniently close to home and work.
See all providers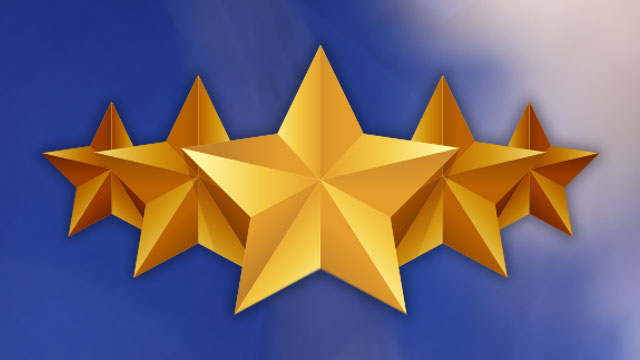 Awards
We're proud to make a difference in our community. When others recognize our achievements, we know we're fulfilling our mission. We're grateful for the awards and recognition our hospital and people have earned.
See all awards
Friday, June 2, 2023
A mammogram is the best way to detect breast cancer early
Saturday, June 3, 2023
A mammogram is the best way to detect breast cancer early
Monday, June 5, 2023
Edge Camp Jr. is a 7-week, Monday-Thursday (4x/wk) strength program.
Jerry Christy - Cardiac Rehab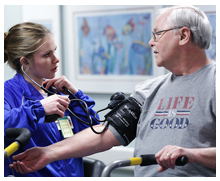 (February 2015) - After 40 years working as a cardiology nurse, Jerry Christy ended up someplace he never dreamed he would be – undergoing heart surgery.
Christy, who worked in a coronary care unit at Stanford University and open heart surgery ICU in Knoxville, Tenn., and taught about heart health, says today he was shocked to learn he had severe four vessel heart disease.
"My cardiovascular surgeon told me I was just a heart attack waiting to happen," Christy said following an exercise session at the Upper Valley Medical Center Cardiopulmonary Rehabilitation program.
Christy, a Piqua native, medic with the Air Force in Vietnam and a RN graduate of the University of California, said he'd always been healthy and worked teaching people how to take care of themselves.
"I also thought that I was practicing what I was preaching … so when I was told in October that I had severe heart disease, I was totally blindsided. I had no idea," he said.
Christy, 68, said heart troubles are in the family with both his father and his brother previously undergoing heart surgery. He said he'd exercised, watched what he ate and worked to reduce stress for years, though admittedly had slacked off some the past few years.
His heart issues were found in October when his wife, Kathy, told him he was yawning a lot. He was tired all the time, noticed some shortness of breath and was fatigued. He didn't have the more commonly known symptoms of chest and arm pain.
"I didn't put two and two together, even with my background. I thought it was because I was getting older," he said.
After listening to his wife's concerns, he visited family physician Dr. Katherine Lorenz.
She immediately referred him to Susan Hoying, certified nurse practitioner, and Dr. Cass Cullis of Upper Valley Cardiology. After blood tests, an EKG and a stress test – all abnormal – Christy was headed to see Dr. George Broderick at Good Samaritan Hospital (closed in 2018) and underwent a heart catheterization.
"I was expecting a stern lecture from him because in the last few years I had not taken as good care of myself," he said. "I was expecting a stern lecture that I was having the beginning of heart disease and I needed to take better care of myself."
The doctor's news left him "totally shocked" and in surgery in a couple of days.
From his visit to Dr. Lorenz to the surgery was one week.
"I am very fortunate to have these people that took good care of me," he said. "They saved my life."
He began the cardiac rehab program in December and continues to visit three days a week.
Christy, who started a hospital cardiac rehab program in California, said the staff at UVMC's program "is right on top of things."
"They are very keen to watching the patients while doing their exercises. It is a very safe program. They are in excellent hands here," he said of patients.
Christy who had never been a patient in a hospital until October said events moved so quickly once his heart issues were found that it was difficult for him to process everything. He's still surprised by how his life turned upside down.
"I thought I was taking care of myself over the years. I didn't think it would be me. I just am very thankful that I am here. I think I was in God's hands," he said.
From his experiences, Christy said he continues to believe what he preached for years. "You still have to take care of yourself. Even as we grow old, we have to continue to exercise, eat correctly, manage our stress," he said. "Our bodies were given to us by God and we have a responsibility to take care of our bodies, not to take them for granted."
*The current wait time is an estimated wait time before a person sees a physician and is not a guarantee. It is based on patient activity (how many patients are being treated and the severity of their injuries) within the last hour, and it is subject to change at any moment. If you are experiencing an emergency, call 911.