Physician Profile: Sports Medicine and Family Physician Enjoys World War II Naval History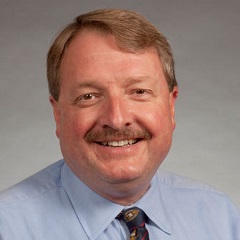 Michael W. Barrow, MD, sees patients at Samaritan North Family Physicians.
What is your clinical specialty?
Family practice and sports medicine
Where did you go to school?
Indiana State University – undergraduate (with Larry Bird)
Indiana University School of Medicine, MDBall State University – Master's Degree
What brought you to Premier Health?
I was recruited by Good Samaritan Hospital (closed in 2018) to start a new family practice with one of my residency classmates.
Why did you choose medicine as a career?
I liked biology and always enjoyed helping people. I especially enjoy working with adolescents, young adults, and athletes.
Who are the people who influenced and/or mentored you?
Certainly my parents are my most significant mentors. Two of my high school biology teachers and one of my college professors have been mentors to me as well.
What is one thing most people don't know about you? |
I am a World War II naval history buff.
Where is your hometown?
Terre Haute, Indiana
What, if any, sports team(s) do you cheer for?
Northmont Thunderbolts, University of Dayton, OSU, Pittsburgh Steelers
What is the last book you read?
"Killing the Rising Sun" by Bill O'Reilly
What is your favorite song in your playlist?
"Christ is Enough" by Hillsong
What is your favorite food?
Generally it would be Mexican, but I don't want to leave out Italian, any ice cream, or a good steak.
What is your favorite hobby?
Reading, spending time with family
What is your favorite animal, and why?
Dogs – they give unconditional love, and are a cost-effective and better alternative to therapy!
Where is your favorite vacation spot?
Beaches or entertainment parks (Disney World) with family because they build memories.
Describe something for which you are especially thankful:
Hands down, it would be my wife, Sandy. Being a physician's wife (especially with my sports medicine practice) is difficult. Schedules are always changing, and often involve nights and weekends. She has been my faithful supporter, cheerleader, and encourager. Also, she has been my inspiration to deepen my faith.
Pick a Side
iPhone or Android?
iPhone
Early bird or night owl?
Early bird
Beach bum or mountain hiker?
Beach bum
Dress shoes or tennis shoes?
Tennis shoes
Paperback or e-reader?
Paperback!
Coffee or tea?
Coffee
Cooking or baking?
Cooking
Sweet or salty?
Sweet
Back to the June 2018 issue of Premier Pulse