New High Sensitivity Troponin Test Goes Live
As of May 22, Premier Health and CompuNet Clinical Laboratories have switched to a new troponin test, the High Sensitivity Troponin T (5th Generation) assay, and will discontinue the current Troponin T (4th generation) assay. This new assay is the most recent generation available and has been employed in Europe, Canada, and Asia since 2009.
A brief ROCHE webinar with detailed information can be viewed online.
When ordering the High Sensitivity Troponin T test
Unit of Measure: The new platform reporting will be in whole numbers (ng/L rather than ng/mL).
There are now gender-specific cutoff points: 14 ng/L for females and 22 ng/L for males.

Normal result: Female ≤14 ng/L; Male ≤ 22 ng/L
Abnormal result: Female >14 ng/L; Male >22 ng/L
Critical result: Female and Male: ≥ 100 ng/L

Assay Range: 6 – 10,000 ng/L
Specimen Collection: Lithium Heparin Plasma ONLY
A multidisciplinary steering committee comprised of emergency medicine, cardiology, hospital medicine, laboratory, and quality personnel has met to develop education materials, criteria for reporting, and algorithms.
For questions about the new Troponin T test, please contact Tywauna Wilson, CompuNet chemistry director, at (937) 297-8243(937) 297-8243 or by email.
EPIC logic that shows how the results are compared ("delta") from the "0" to the "1 & 3" hours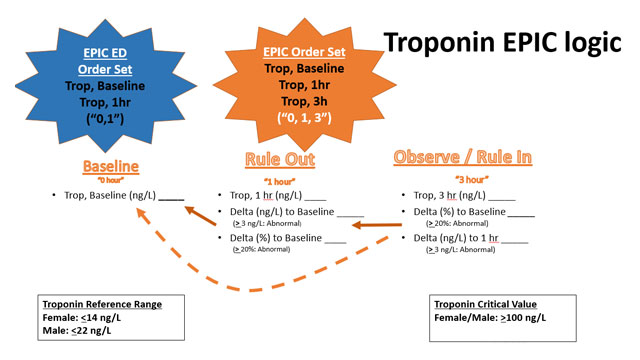 High Sensitivity Troponin Algorithm