Behavioral Health
Behavioral health services at Premier Health are ready to help with three inpatient units for mental health crises and outpatient programs for behavioral health and addiction issues.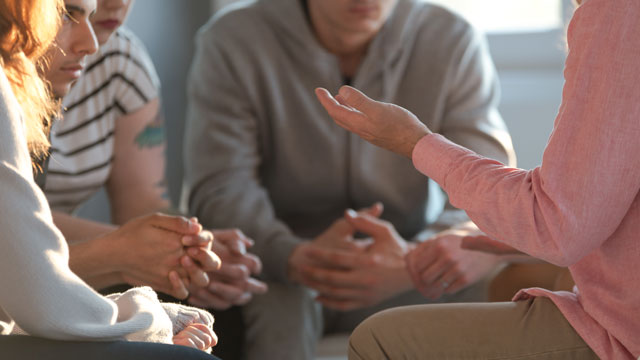 When you have a behavioral disorder, your mental outlook and thought patterns may keep you from doing the things you want to do in life. At Premier Health, our outpatient behavioral health services include programs that address depression, anxiety, posttraumatic stress disorder, personality disorders, and substance use disorders
In severe cases, where you may no longer be able to care for yourself, or you are a threat to your safety or others' safety, we have an inpatient unit at each of our three hospitals – Atrium Medical Center, Miami Valley Hospital, and Upper Valley Medical Center – to help you through a crisis.

We can help with extreme depression, anxiety disorders, posttraumatic stress disorder, schizophrenia, bipolar disorder, schizoaffective disorder (a combination of schizophrenia and bipolar), substance use disorders,or other mental and behavioral health disorders.
Our team is here to support you and learn what's most important to you. Then, we work with you in individual and group settings to make changes to reach your goals and get you safely back to outpatient care.
Those who come to us appreciate the loving, caring, nonjudgmental atmosphere we've created in our inpatient and outpatient programs. Kindness and respect are essential to our care. We encourage you to feel safe in sharing personal thoughts and emotions.
You Can Count On Our Support
We're here to listen and understand at times when you believe you're the only one who is struggling and feeling the way you do. We'll help you break the cycle of negative thought patterns and learn new perspectives and skills. Our goal is to give you hope for a more fulfilling life, with greater enjoyment and more success in your relationships.
Contact Us
If you or someone close to you is experiencing a crisis, call 911. If the crisis is serious but not life-threatening, you can directly call our inpatient behavioral health unit that's closest to you:
We also can help you with a range of outpatient programs for alcohol, drug, and mental health issues:

Call Miami Valley Hospital Outpatient Behavioral Health Services for adults:

(937) 208-6719

(937) 208-6719
Call Samaritan Behavioral Health for ages 5 through adult:

(937) 734-8333

(937) 734-8333
Anxiety
Bipolar Disorder
Borderline Personality Disorder
Depression
Marijuana Dependency
Obsessive-compulsive Disorder
OCD
Panic Disorder
Personality Disorder
Posttraumatic Stress Disorder
Schizoaffective Disorder
Schizophrenia
Substance Abuse Disorder