What's Behind the Quiet Quitting Trend?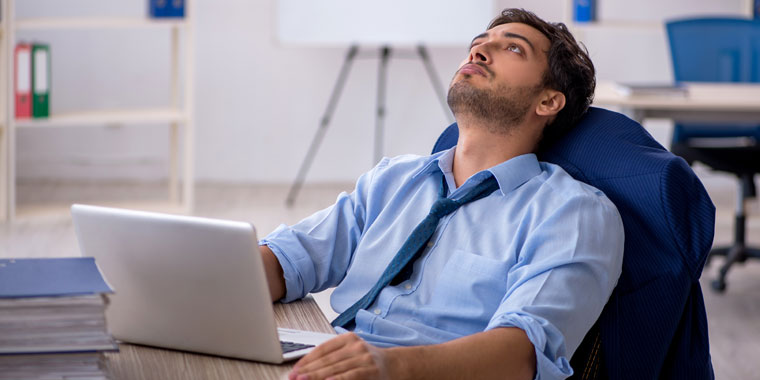 Find Your Perfect Match
Answer a few questions and we'll provide you with a list of primary care providers that best fit your needs.
There are different types of quiet quitting. An employee may be deliberately choosing work life balance or they may be psychologically detached from their job because of burnout.
Both are problematic for employers and workers, says Christina Waite, MD, Medical Director of Inpatient Psychiatric and Consult Services at Miami Valley Hospital.
Data from Gallup finds that 50% of the U.S. workforce is quiet quitting.
In the second quarter of 2022, the number of actively disengaged workers grew to 18% while engaged workers remained at 18%. This makes the ratio of engaged to actively disengaged employees is 1.8 to 1 — the lowest in almost a decade.
"That is a lot of untapped potential," Dr. Waite says. "Disengaged employees tend to be less productive and can miss out on opportunities for upward mobility. For employers this trend can lead to financial losses or a decline in reputation."
Combatting Quiet Quitting and Burnout
Quiet quitting is the notion that millions of people are not going above and beyond at work. Instead, employees are doing what their job description requires and only that. For some, this can be a way to manage work stress.
"Acting your wage," is another way to describe it, Dr. Waite says.
This has companies on edge. Many jobs require some extra effort to collaborate with coworkers and meet customer needs, says Gallup.
Gallup's State of the Global Workplace report found that unhappy and disengaged workers cost the global economy $7.8 trillion in lost productivity.
Based on what she sees as a clinician, Waite says quiet quitting is also about burnout — a form of exhaustion caused by constantly feeling swamped.
The pandemic created a difficult work environment where people are working from home and working harder within a smaller workforce. Pressure and work stress is coming from many directions: psychological, financial, worries about health and having to complete tasks one is unprepared for.
"Many people are taking stock of what is truly important to them, especially if they've been in touch with their own mortality," Dr. Waite says. "It really changes your view of how you want to spend your time."
Employees may feel faced with relentless demands and unspoken cultural expectations to meet lofty goals rather than actual work requirements.
What Employers Can Do
There is much that leadership and management can do to re-engage employees, Dr. Waite says. Companies that equip leaders to regularly engage teams in meaningful ways will benefit.
"Engagement is built on trust," Dr. Waite says.
To show employees they are essential, managers must consistently provide encouragement, mentorship and show they genuinely care. They should provide tools people need to do their jobs and advocate for and support employees.
"It's not about improving productivity but doing things the right way because it's best for all," Dr. Waite says. "A manager can explain what a team can accomplish with certain supports and also ensure that employees see how their work connects to everything else within the company."
Your Career is Not Your Life
If you feel disengaged at work, take steps to improve your outlook, such as:
Advocate for yourself
Be flexible and open to opportunities at work
Exercise
Find an ally or trusted manager
Find employment that matches your gifts and skills
Spend time in nature
Take care of your mental and physical health
When companies value their people and help them live reasonable, healthy lives, they are more likely to have employees who function at top of their game.
"Take a look at what you need to be your best and be physically and emotionally healthy so you can enjoy work and your life outside of work," Dr. Waite says.
For example, being mentored could lead to personal benefits in the long term that you are not aware of — or a promotion that means working less while earning more.
Find Your Perfect Match
Answer a few questions and we'll provide you with a list of primary care providers that best fit your needs.
Sources: Christina Waite, MD, Medical Director of Inpatient Psychiatric and Consult Services at Miami Valley Hospital, Gallup Christina Waite
Medical Director of Psychiatry at Miami Valley Hospital