Tom's Story: Hemorrhagic Stroke Patient Beats Incredible Odds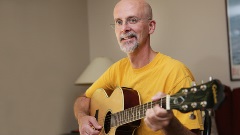 When "John Doe" arrived via CareFlight at Miami Valley Hospital on July 3, 2014, he had no name, no identification – and little chance of living.

His name turned out to be Tom Phelan, then 50 years old. A passerby found him unconscious on a bike path outside of Waynesville. Tom's helmet was off and he was 10 feet from his bike, indicating this was probably not a biking injury. Local emergency personnel called CareFlight Air and Mobile Services.

The team at Miami Valley Hospital's Shaw Emergency and Trauma Center was briefed by CareFlight and got to work. Luckily for Tom, he was brought to the only Level I Trauma Center in the Dayton region, which provides care for the most seriously injured patients in 17 counties in Southwest Ohio and East Indiana. Even though Tom's condition was not a traumatic injury, the expertise and quick action of the emergency team were critical to his survival.

"Without knowing who he was, or anything about his history, we got to work to determine why he wasn't responding," says Bryan R. Ludwig, MD, a neurointerventionalist with the Clinical Neuroscience Institute.
"A CT scan showed a fairly sizable intracerebral hemorrhagic stroke, also known as a 'head bleed.'

This type of stroke occurs when a weakened blood vessel in the brain bursts and bleeds into surrounding brain tissue. About 20 percent of stroke cases are intracerebral hemorrhagic strokes. The condition has a high mortality rate.

The bad news continued. Further imaging with a CTA (CT angiography) scan looked at Tom's vessels to find the cause of the bleeding. The imaging showed a very unusually shaped, rare form of brain aneurysm that had ruptured.

"This was a highly unusual situation, but we have the technical equipment and the skilled resources here to handle just this sort of emergency," says Dr. Ludwig.

Dr. Ludwig consulted with a vascular neurosurgeon, to confirm a plan of action, and Tom was taken to surgery. The vascular surgeon placed a tiny drain tube in the skull to release fluid and take pressure off the brain.

In the next very intricate step, Dr. Ludwig repaired the aneurysm using complex endovascular means, preserving the normal artery and sealing the ruptured artery. Lastly, the vascular surgeon opened the skull and removed much of the blood product, to reduce irritation and swelling.

Meanwhile, using Tom's cell phone, the staff contacted key people in Tom's life, including his sister, Pat Tenover.

"I was told to come to the hospital and quite frankly, I was sure I was going there to identify his remains," says Pat.

She drove to Miami Valley Hospital from her home in Delhi (outside of Cincinnati), a trip she would be making every day for the next 21 days. Pat learned that Tom was in surgery as doctors worked to save his life — and his abilities. From Pat, the staff learned that Tom was an avid biker, who recently lost 60 lbs. He lived in Waynesville and worked as an LPN at a Waynesville nursing home.

"I was so scared, waiting for the results," Pat recalls. "I was impressed and grateful with how I was kept informed every step of the way. I was thrilled with the news that the surgeons accomplished everything that could be done."

Intensive Care, Therapy, And Recovery

Tom was sent to the Neurointensive Care Unit at Miami Valley Hospital, which provides acute care for patients after a serious trauma, major surgery, or other serious neurological illnesses. Tom was monitored, evaluated and medicated, with Pat right there with him, joined by their sister Kathy who arrived from New Jersey.

The two sisters would be at Tom's bedside every day for his entire stay.

"He had wires and tubes, was intubated, had a drain in his head and more medicine than I could keep track of," Pat says.

Pat expresses high respect and deep appreciation for the ICU staff. "Everyone was so kind and kept us informed," she comments. "They answered every question we had except the one no one could answer: 'Would Tom wake up and how would he be?' "

Sometimes the little things impress you the most, Patsays. "Whenever they did a procedure on Tom, even as simple as brushing his teeth, they talked to him and explained what they were going to do, even though he was unconscious," she reports.

In the movies, people wake up dramatically — but Tom's regaining of consciousness was a slow progression.

"He started to move some body parts and one day, he opened his eyes and later started to focus," Pat says. "Soon he was able to shake his head yes or no. The intubation tube came out and he made more progress."

It became apparent that Tom was able to comprehend and that brain function was establishing itself once again. Therapists – physical, occupational, and speech – from Miami Valley Hospital worked with Tom, taking him from one level of achievement to the next.

Tom's next stop was a rehab center closer to Cincinnati, learning how to move his right side and how to speak. It was grueling work, but Tom was extremely determined.

Within another month, Tom returned to his home in Waynesville, with his two sisters still caring for him. By mid-November, four months after being transported to Miami Valley Hospital, Tom was able to live alone again.

Now, Tom can drive (with restrictions), hopes to bike again soon and possibly return to work. He continues to work on improving his speech and reaching his physical goals.

Tom does remember being on the bike path that day and texting his girlfriend, Anna, that he was headed back to his home. But what happened next is forgotten.

"In fact, my only memory of my entire stay at Miami Valley Hospital was the day I left for rehab," Tom says, shaking his head. "I have no memories of being there. But I do know that the surgical skills and then the care I received in the ICU are big reasons why I'm where I'm at today. I came close to losing all my abilities and even losing my life."

Tom says he is truly grateful for the care he received.
"Tom deserves all the credit," says Dr. Ludwig. "His determination is amazing."