Why Premier Health
We understand that childbirth is a very personal experience, not only for mom and baby, but for the entire family. We're here to guide you and your family in this exciting journey and partner with you to create a personalized birthing plan.

Advanced, Comprehensive Maternity Care

Premier Health maternity centers have built quality reputations for experienced, advanced and compassionate care. We offer pregnant women the following: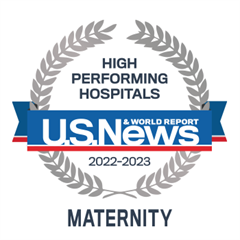 Cincinnati Family Magazine Best of Parenting 2023,

Greater Cincinnati Family Choice Award Winner:

Best Place to Have a Baby, Atrium Medical Center
Miami Valley Hospital and Upper Valley Medical Center named among the nation's Best Maternity Care Hospitals.
Miami Valley Hospital in Dayton and Atrium Medical Center in Middletown have been recognized by Money and the Leapfrog Group as among the nation's Best Maternity Care Hospitals.
Miami Valley Hospital was the only Level III hospital in the region to receive this award, while Atrium was the only Level II hospital in Cincinnati to attain the recognition. Miami Valley Hospital offers Level III Obstetrics and Neonatal Services. Atrium Medical Center offers Level II Obstetrics and Neonatal services.
Cincinnati Family Magazine Best of Parenting 2019, Finalist for Best Place to Have a Baby, Atrium Medical Center
An internationally recognized Maternal-Fetal Medicine Program
The Dayton area's only high-risk maternity center
A highly experienced, nationally recognized Level III Neonatal Intensive Care Unit and two Level II special care nurseries
Compassionate breastfeeding support, including International Board Certified Lactation Consultants
Two natural birthing centers, the only ones in Southwest Ohio
Lifestages certification by the Centering Healthcare Institute
Experienced, caring physicians, nurses and certified nurse midwives
All Premier Health Maternity Centers are Blue Distinction Center for Maternity Care
Prenatal Care and Education to Help You Prepare

To help ensure the health of you and your baby during pregnancy, we offer comprehensive prenatal care. We also support you and your family with childbirth and family education classes. These classes cover what to expect during labor and delivery, breastfeeding, how to prepare siblings for the arrival of their new brother or sister, and more.
Comfort-Focused Maternity Centers

Each Premier Health maternity center provides comfortable, homelike surroundings that invite the whole family to spend time with you and your newborn. Scheduling a tour is the best way to see what each maternity center has to offer.

Our large and private labor and delivery suites include such comforts as:

Private bath and shower (some with Jacuzzi® tub and shower for hydrotherapy labor)
Rocking chair
Flat-screen TV
Wireless internet access
Versatile, comfortable birthing bed
Free on-demand movies
Birthing bars
Aromatherapy and music therapy
Room service
Cozy areas for family and friends

Take a Virtual Tour

Take a virtual tour for a closer look at the many features each comfort-focused Premier Health maternity center has to offer.

Maternity Care Close To Home

Convenience is important when you're choosing a maternity center. Premier Health offers three birthing centers located throughout Southwest Ohio with varying birthing options to meet your preferences for laboring and birthing styles.

Our locations include:

Atrium Medical Center Family Birth Center
Miami Valley Hospital Berry Women's Center
Upper Valley Medical Center Maternity Center

Extensive Physician Network

Our Premier Physician Network supports you with specialists who care for you and your baby from the very beginning of your parenthood journey. Our board-certified specialists include: