A Midwife Might Be Right for You
Find Your Perfect Match
Answer a few questions and we'll provide you with a list of primary care providers that best fit your needs.
When you are scouting a primary health care resource for yourself, include a midwife in your search. Much more than simply a partner in childbirth, these medical professionals tailor care to each of their patients and partner with other caregivers to provide the best care for women in all phases of life.
What Is a Midwife?
A midwife is a health professional who provides a full array of women's health care throughout a woman's lifetime. These services can include general health and physical exams; pregnancy, birth and postpartum care; family planning; and care of women in their post-menopausal years.
There are several types of midwives, each with different certification requirements. The most common are certified nurse midwives (CNMs) and certified midwives (CMs), both of whom must go through specialized training in midwifery. This includes training in anatomy, physiology and obstetrics.
Credentials and licensing differ by state, but most midwives have a master's degree and are required to pass a national certification exam before practicing. CNMs and CMs are able to prescribe medications and tests.
Midwives offer personalized care for women who are low risk for health care issues. They practice in private offices, hospitals, clinics and birth centers, and are often covered by insurance.
What Is a Midwife's Role in Birthing?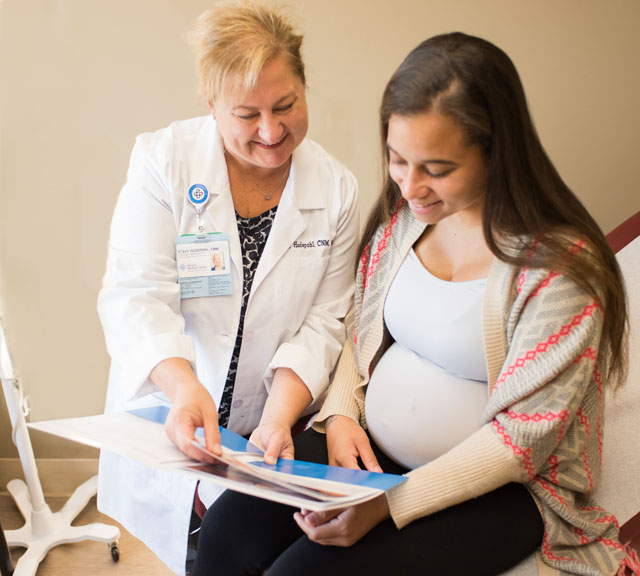 In hospitals, midwives partner with physicians and nurses to provide labor and delivery support. Midwives view childbirth as a natural life occurrence rather than a medical procedure. They rely on holistic approaches to childbirth and turn to medical interventions only if the health of the mother and/or baby is in question.
In a hospital birth, midwives work with you to achieve the birth experience you want. They are with you as you labor, during delivery and after your baby is born. They provide both emotional and physical support as well as tend to your and your baby's health care needs.
Women often choose a midwife because they want to greatly reduce or eliminate the need for interventions such as cesarean sections and vacuum or forceps deliveries.
"When a woman chooses to work with a midwife for a hospital childbirth, she gains several benefits," says Stacy Hudepohl, CNM, certified nurse midwife with the Center for Women's Health and Wellness. "The American College of Nurse-Midwives has documented that midwife-led care leads to lower rates of cesarean birth and induced labor and reduced risk of preterm birth." Their research also shows use of a midwife results in less use of regional anesthesia, decreased infant mortality rates, and higher chances of a successful start to breastfeeding. The use of midwives during childbirth may also reduce costs for patients due to the decreased amount of interventions.
Midwives routinely consult with obstetricians, perinatologists and other health care professionals and will refer you or your baby to them if complications arise.
The Truth About Common Midwife Myths
The role of midwives is often misunderstood. Here are the facts to clear away some common myths.
Myth: When it comes to women's health care, midwives are only involved in childbirth.

Fact: A midwife can be a trusted resource for each season of a woman's life, from the teen years all the way through elder care. Certified nurse midwives are strongly focused on improving overall health through disease prevention, personalized wellness education and counseling. They are skilled in primary care, gynecologic and family planning services, preconception care and childbirth, and pre- and post-menopausal management.


Myth: A midwife takes the place of a doctor.

Fact: Midwives work collaboratively with OB/GYNs who are in most cases present in the same office. A midwife can help counsel you in the care you need or will refer as needed for more specialized care.


Myth: Midwives only do home deliveries.

Fact: In the state of Ohio, certified nurse midwives can only provide care in the hospital setting or a birth center. They work in partnership with a collaborating physician who is available at all times for consultation and back up for any emergency.
How Do You Know if a Midwife is Right for You?
Midwives offer personalized care tailored to your individual needs. Any woman can choose the care of a midwife as long as her needs fall into the scope of their expertise. Take some time to learn about the health care provider choices available to you. Women often find that midwives provide much-appreciated emotional and physical support along with medical care.
In addition to Miami Valley Hospital's Family Beginnings Birth Center and the Maternity Center at Miami Valley Hospital South, Premier Health now offers Natural Beginnings at Atrium Medical Center in Middletown, a birthing center within a hospital that offers a unique approach to natural childbirth. "This offers the best of both worlds," says Hudepohl. "We feature an area dedicated to labor and delivery in a home-like experience that offers a low-tech, hands-off approach." The staff includes midwives and others who are specially trained to care for expecting moms throughout pregnancy and the entire birth experience. Labor-coping interventions include birthing balls, massage therapy, aromatherapy, hydrotherapy and water birth. "But if complications arise," Hudepohl says, "moms and babies are still in the hospital setting and emergency care is just down the hall."
Find Your Perfect Match
Answer a few questions and we'll provide you with a list of primary care providers that best fit your needs.
Source: American College of Nurse-Midwives; American Pregnancy Association; Stacy Hudepohl, CNM, Center for Women's Health and Wellness