Atrium Medical Center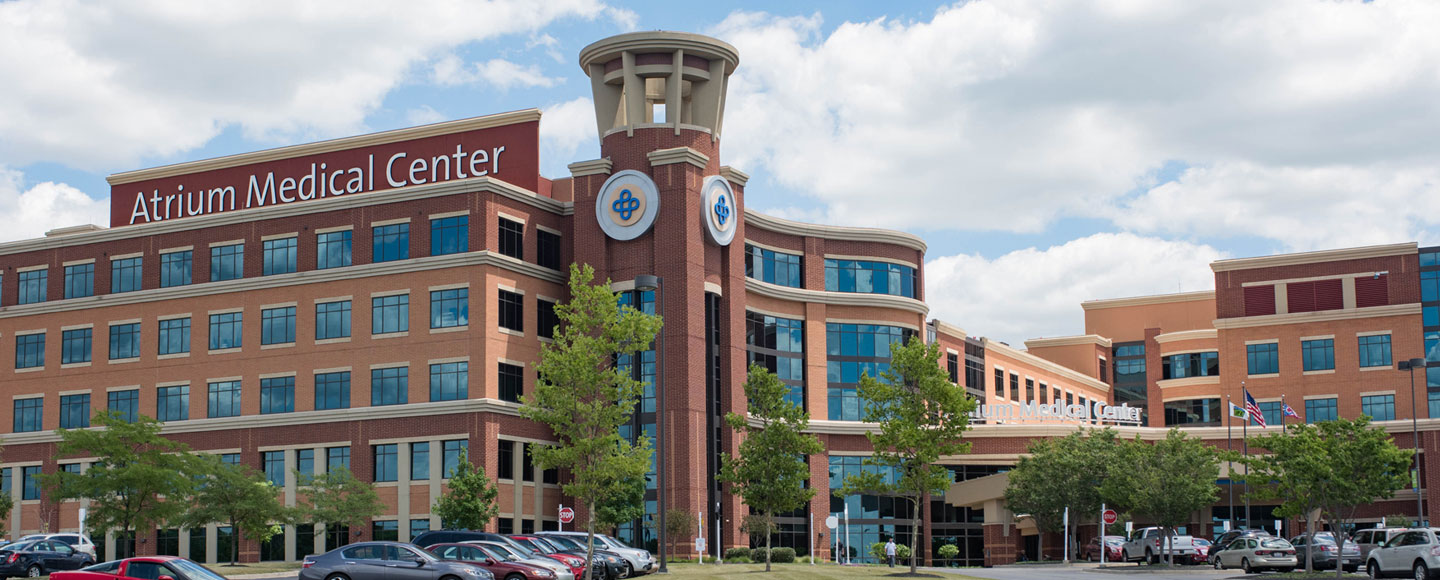 Atrium Medical Center has served Southwest Ohio from its Middletown campus since 1917. We offer a wide range of advanced, innovative care from our 260-acre campus. Leading national organizations regularly recognize our quality care. We are Warren County's only Level III Trauma Center and Primary Stroke Center, providing immediate assessment and care for seriously injured or ill patients, and the only accredited Chest Pain Center in Warren County. We offer maternity, cancer, orthopedics, and heart care, and much more. Atrium Medical Center was named among America's 100 Best Hospitals by Healthgrades. We have achieved Magnet® Recognition, nationally recognized as the highest standard for excellence in patient care.
Visitors
Whether you're a patient, family member, friend, or business partner, we welcome you to our campus. Get more information on parking, how to contact patients, rules for visiting patients, and the amenities we offer, including our food and dining options.
Our Providers
Whether you're looking for a primary care provider or a specialist, our physicians and advanced practice providers offer you advanced, compassionate care in a wide range of specialties. You'll find them conveniently close to home and work.
See all providers
Awards
We're proud to make a difference in our community. When others recognize our achievements, we know we're fulfilling our mission. We're grateful for the awards and recognition our hospital and people have earned.
See all awards
Friday, December 9, 2022
A mammogram is the best way to detect breast cancer early
Wednesday, December 14, 2022
A mammogram is the best way to detect breast cancer early
Saturday, December 17, 2022
A mammogram is the best way to detect breast cancer early
Premier Health Hosts Brake for Breakfast Across the Region Event Raises Breast Cancer Awareness
DAYTON, OHIO, September 9, 2020 – In recognition of Breast Cancer Awareness Month, Premier Health will hold "Brake for Breakfast" events at multiple locations throughout the month of October. During the morning commute, motorists can drive through and pick up a free breakfast bag and helpful breast health information, while supplies last.
According to the National Cancer Institute, over 40,000 women die annually from breast cancer. A woman's chances for survival are good if detected early.
The goal of Brake for Breakfast is to encourage more women 40 and older to get an annual mammogram and tell their mothers, sisters and daughters to do the same. This event is a fun way to show women that taking care of their health should be part of their daily routine. Commuters don't have to leave their cars to participate.
Each event will take place from 6 to 10 a.m. at the following locations:
Thursday, October 1
Upper Valley Medical Center Outpatient Care Center - North
280 Looney Road
Piqua, Ohio 45356
Thursday, October 8
Miami Valley Hospital North
8900 N. Main Street
Englewood, Ohio 45415
Tuesday, October 6
Atrium Medical Center
One Medical Center Drive
Middletown, OH 45005
Thursday, October 15
Miami Valley Hospital South
2400 Miami Valley Drive
Centerville, Ohio 45459
Premier Health is committed to safeguarding the health of our patients, visitors, and staff. New safety and contactless measures are in place at this year's Brake for Breakfast events. All staff and volunteers at the event will be wearing masks and will be screened for coronavirus symptoms. For added precaution, Premier Health is asking motorists to also wear a face covering while staying in their car. Additionally, the MIX107.7 or Q102 Morning Show will be on hand to greet motorists and provide helpful information about breast cancer awareness to their many listeners.
Premier Health offers breast imaging services at multiple locations throughout the region. Additional services such as 3D mammography, breast-specific MRI, PET/CT scans, ultrasound exams (including automated whole breast ultrasound), and image-guided biopsies performed with stereotactic technology, MRI and ultrasound, are also available. For women with a personal or family history of breast cancer, Premier Health offers high risk breast centers with specialized nurses, genetic counselors and other breast health specialists to develop a personalized plan to meet each woman's unique needs. Premier Health also has a mobile mammography coach to provide mammograms on-the-go for busy women in Southwest Ohio.
For more information about Brake for Breakfast events, visit premierhealth.com/b4b.
*The current wait time is an estimated wait time before a person sees a physician and is not a guarantee. It is based on patient activity (how many patients are being treated and the severity of their injuries) within the last hour, and it is subject to change at any moment. If you are experiencing an emergency, call 911.