Atrium Medical Center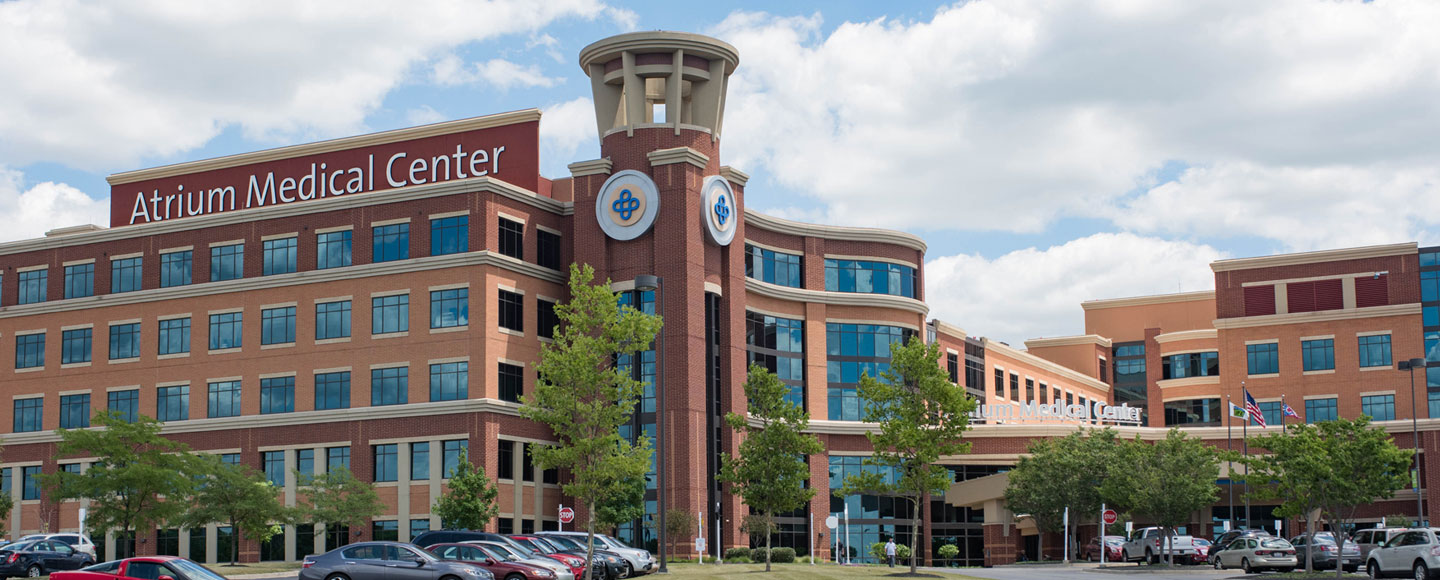 Atrium Medical Center has served Southwest Ohio from its Middletown campus since 1917. We offer a wide range of advanced, innovative care from our 260-acre campus. Leading national organizations regularly recognize our quality care. We are Warren County's only Level III Trauma Center and Primary Stroke Center, providing immediate assessment and care for seriously injured or ill patients, and the only accredited Chest Pain Center in Warren County. We offer maternity, cancer, orthopedics, and heart care, and much more. Atrium Medical Center was named among America's 100 Best Hospitals by Healthgrades. We have achieved Magnet® Recognition, nationally recognized as the highest standard for excellence in patient care.
Visitors
Whether you're a patient, family member, friend, or business partner, we welcome you to our campus. Get more information on parking, how to contact patients, rules for visiting patients, and the amenities we offer, including our food and dining options.
Our Providers
Whether you're looking for a primary care provider or a specialist, our physicians and advanced practice providers offer you advanced, compassionate care in a wide range of specialties. You'll find them conveniently close to home and work.
See all providers
Awards
We're proud to make a difference in our community. When others recognize our achievements, we know we're fulfilling our mission. We're grateful for the awards and recognition our hospital and people have earned.
See all awards
Friday, February 10, 2023
A mammogram is the best way to detect breast cancer early
Saturday, February 11, 2023
Pregnant and planning on an unmedicated birth? This class is for you.
Saturday, February 11, 2023
A mammogram is the best way to detect breast cancer early
Premier Health First in Ohio, Second in Nation to Achieve System-Wide Geriatric Emergency Department Accreditation
DAYTON, OH (June 11, 2020) – Premier Health is the first health system in Ohio and second in the nation to achieve system-wide Geriatric Emergency Department Accreditation (GEDA). This distinction from the American College of Emergency Physicians (ACEP) recognizes emergency departments that provide excellent care for older adults.
The bronze standard Level 3 Geriatric Emergency Department Accreditation applies to Atrium Medical Center in Middletown (which was accredited in October 2019), Miami Valley Hospital in Dayton, Miami Valley Hospital Austin Boulevard Emergency Center in Miamisburg, Miami Valley Hospital Jamestown Emergency Center in Jamestown, Miami Valley Hospital North in Englewood, Miami Valley Hospital South in Centerville, and Upper Valley Medical Center in Troy.
"The GEDA distinction spotlights Premier Health's mission to provide excellent care to our growing senior population," said Candy Skidmore, RN, CHEP, Premier Health vice president for service integration – emergency, trauma, and CareFlight. "This honor verifies our health system's commitment to having the necessary expertise, equipment, and personnel at every Premier Health emergency department to ensure optimal care for our seniors."
The accreditation process included a panel review by a team of ACEP-appointed physician reviewers and a board of governors' review.
The voluntary GEDA program, which includes three levels similar to trauma center designations, provides specific criteria and goals for emergency clinicians and administrators. The GEDA guidelines create criteria for staffing, equipment, education, policies and procedures, follow-up care, and performance improvement measures. When implemented collectively, a geriatric ED can expect to see improvements in patient care, customer service, and staff satisfaction.
"The emergency department is uniquely positioned to play a role in improving care to the geriatric community," said Darin Pangalangan, MD, chair of the ED/Trauma Institute at Premier Health. "The expertise which an emergency department staff can bring to an encounter with a geriatric patient can meaningfully influence not only a patient's outcome but also their decisions on treatment options."
The Level 3 GEDA bronze distinction identifies those emergency departments with one or more specific initiatives that are reasonably expected to elevate the level of care for senior citizens in one or more specific areas.
*The current wait time is an estimated wait time before a person sees a physician and is not a guarantee. It is based on patient activity (how many patients are being treated and the severity of their injuries) within the last hour, and it is subject to change at any moment. If you are experiencing an emergency, call 911.