Atrium Medical Center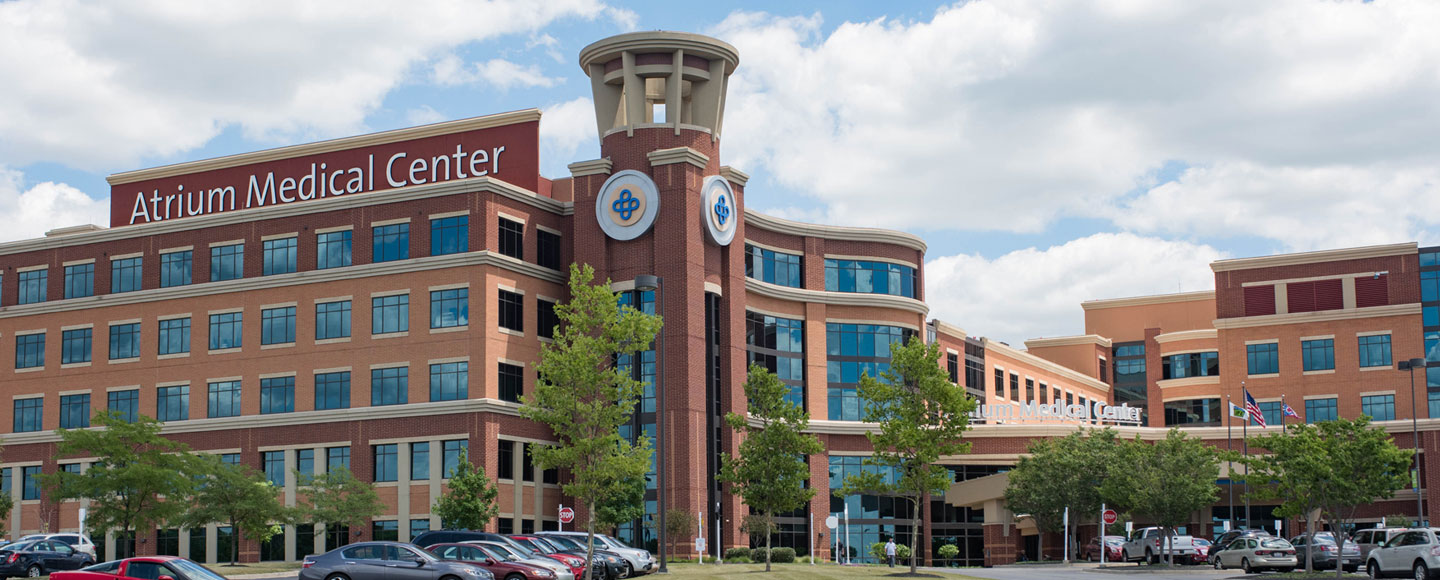 Atrium Medical Center has served Southwest Ohio from its Middletown campus since 1917. We offer a wide range of advanced, innovative care from our 260-acre campus. Leading national organizations regularly recognize our quality care. We are Warren County's only Level III Trauma Center and Primary Stroke Center, providing immediate assessment and care for seriously injured or ill patients, and the only accredited Chest Pain Center in Warren County. We offer maternity, cancer, orthopedics, and heart care, and much more. Atrium Medical Center was named among America's 100 Best Hospitals by Healthgrades. We have achieved Magnet® Recognition, nationally recognized as the highest standard for excellence in patient care.
Visitors
Whether you're a patient, family member, friend, or business partner, we welcome you to our campus. Get more information on parking, how to contact patients, rules for visiting patients, and the amenities we offer, including our food and dining options.
Our Providers
Whether you're looking for a primary care provider or a specialist, our physicians and advanced practice providers offer you advanced, compassionate care in a wide range of specialties. You'll find them conveniently close to home and work.
See all providers
Awards
We're proud to make a difference in our community. When others recognize our achievements, we know we're fulfilling our mission. We're grateful for the awards and recognition our hospital and people have earned.
See all awards
Wednesday, December 7, 2022
Join us for a free weight loss surgery seminar
Thursday, December 8, 2022
A mammogram is the best way to detect breast cancer early
Friday, December 9, 2022
A mammogram is the best way to detect breast cancer early
Premier Health Hospitals Earn Distinctions from Healthgrades
DAYTON, Ohio (October 22, 2019) – Premier Health hospitals each have received several accolades as part of Healthgrades' latest quality achievement awards. Healthgrades evaluates hospital quality solely based on clinical outcomes, adjusting for risk factors such as patient age, gender, and medical condition.
Miami Valley Hospital received "America's 100 Best Hospitals" awards in two specialties: cardiac care (seven consecutive years, 2014-2020) and prostate surgeries (two consecutive years, 2019-2020).
The hospital in Dayton also received several excellence awards, including the Healthgrades Joint Replacement Excellence Award™ (three consecutive years, 2018-2020), the Critical Care Excellence Award (twelve consecutive years, 2009-2020), and was recognized as being in the top 5 percent of hospitals in the nation for cranial neurosurgery, among other specialties. Additionally, Miami Valley Hospital was recognized as a Five-Star recipient in several specialties, including esophageal/stomach surgery, valve surgery, treatment of stroke, heart attack, heart failure, and treatment of pneumonia.
Atrium Medical Center in Middletown received the Healthgrades Critical Care Excellence Award™ for a seventh consecutive year (2014-2020) and the Healthgrades Patient Safety Excellence Award™ for a fifth consecutive year (2015-2019). The hospital also was recognized as a Five-Star recipient in multiple specialties: esophageal/stomach surgery, and the treatment of heart attack, stroke, pneumonia, sepsis, respiratory failure, and diabetic emergencies.
Upper Valley Medical Center in Miami County received a third consecutive Healthgrades Patient Safety Excellence Award (2017-2019) and was named a Five-Star recipient for esophageal/stomach surgeries and treatment of GI bleed.
"Our employees continually strive for excellence and are proud to see their efforts earn national recognition," said Mary Boosalis, president and CEO of Premier Health. "These distinctions – in some cases, maintained year after year – demonstrate Premier Health's ongoing commitment to providing high-quality patient care."
All hospitals are not eligible to participate in every category due to scope and procedural volumes.
*The current wait time is an estimated wait time before a person sees a physician and is not a guarantee. It is based on patient activity (how many patients are being treated and the severity of their injuries) within the last hour, and it is subject to change at any moment. If you are experiencing an emergency, call 911.