Atrium Medical Center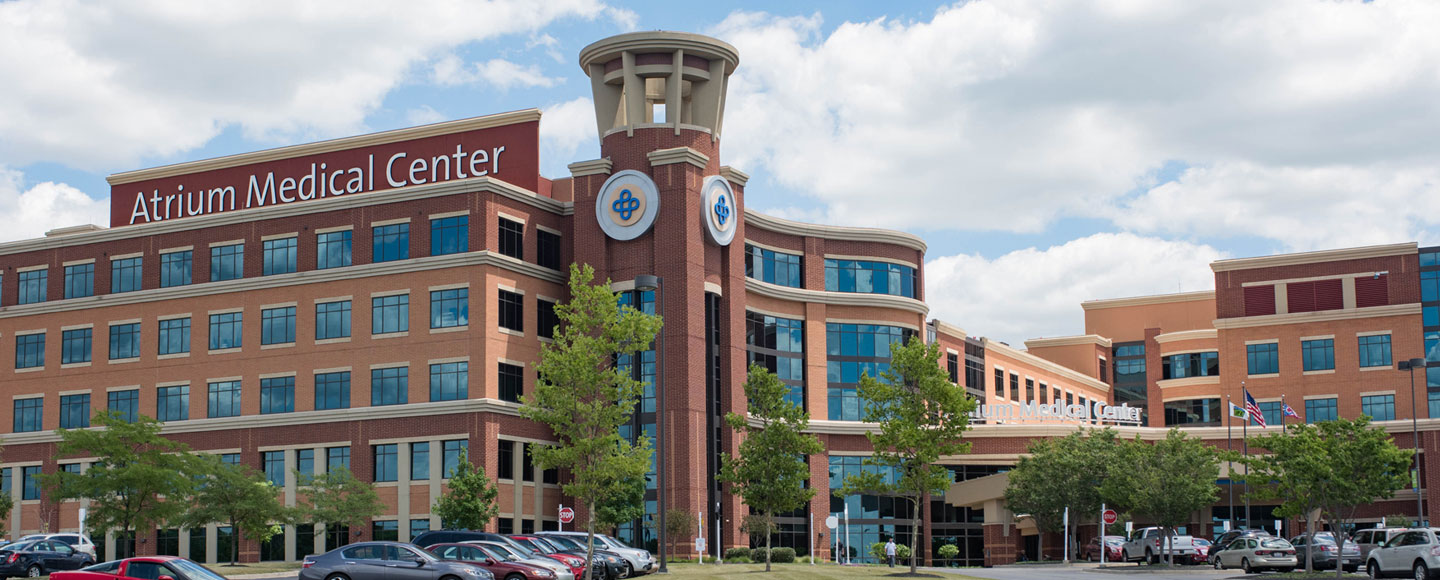 Atrium Medical Center has served Southwest Ohio from its Middletown campus since 1917. We offer a wide range of advanced, innovative care from our 260-acre campus. Leading national organizations regularly recognize our quality care. We are Warren County's only Level III Trauma Center and Primary Stroke Center, providing immediate assessment and care for seriously injured or ill patients, and the only accredited Chest Pain Center in Warren County. We offer maternity, cancer, orthopedics, and heart care, and much more. Atrium Medical Center was named among America's 100 Best Hospitals by Healthgrades. We have achieved Magnet® Recognition, nationally recognized as the highest standard for excellence in patient care.
Visitors
Whether you're a patient, family member, friend, or business partner, we welcome you to our campus. Get more information on parking, how to contact patients, rules for visiting patients, and the amenities we offer, including our food and dining options.
Our Providers
Whether you're looking for a primary care provider or a specialist, our physicians and advanced practice providers offer you advanced, compassionate care in a wide range of specialties. You'll find them conveniently close to home and work.
See all providers
Awards
We're proud to make a difference in our community. When others recognize our achievements, we know we're fulfilling our mission. We're grateful for the awards and recognition our hospital and people have earned.
See all awards
Tuesday, August 16, 2022
A mammogram is the best way to detect breast cancer early
Thursday, August 18, 2022
A mammogram is the best way to detect breast cancer early
Monday, August 22, 2022
Join us for a free weight loss surgery seminar
Atrium Medical Center One of Three Ohio Hospitals to Receive Gold Plus Award
MIDDLETOWN, Ohio (August 30, 2019): Atrium Medical Center has received the Mission: Lifeline® Gold Receiving Plus Quality Achievement Award for continuing to implement the highest level of quality improvement measures outlined by the American Heart Association for the treatment of patients who suffer severe heart attacks.
This award recognizes Atrium for meeting specific criteria and performance standards outlined by the American Heart Association for quick and appropriate treatment of ST elevation myocardial infarction (STEMI) – the deadliest type of heart attack, caused by a blockage of blood flow to the heart. To prevent death, Atrium staff work diligently to perform timely emergency procedures that re-establish blood flow as quickly as possible, either by mechanically opening the blocked vessel or by providing clot-busting medication.
"Atrium Medical Center has an established record of providing the highest level of care for heart attack patients in our community who come in directly or by transfer from another facility," said Mouhamad Abdallah, MD, medical director of Atrium's Chest Pain Center and medical director of Atrium's cardiac catheterization lab. "We take pride in our commitment to save lives through cardiac care and are honored that our dedication has again been recognized at the highest level by the American Heart Association through Mission: Lifeline."
Atrium is one of two hospitals in the Cincinnati market – and one of only three in the state of Ohio – to receive the Gold Plus Quality Achievement Award. Gold Plus is the association's highest honor for facilities that receive severe heart attack patients. Nationwide, only 66 hospitals received the Gold Plus Award, according to the heart association.
"We commend Atrium Medical Center for this award in recognition for following evidence-based guidelines for timely heart attack treatment," said Tim Henry, MD, chair of the Mission: Lifeline Acute Coronary Syndrome Subcommittee. "We applaud the significant institutional commitment to their critical role in the system of care for quickly and appropriately treating heart attack patients."
The American Heart Association's Mission: Lifeline program's goal is to reduce system barriers to prompt treatment for heart attacks, beginning with the 9-1-1 call, to EMS transport and continuing through hospital treatment and discharge. The initiative provides tools, training, and other resources to support heart attack care following protocols from the most recent evidence-based treatment guidelines.
*The current wait time is an estimated wait time before a person sees a physician and is not a guarantee. It is based on patient activity (how many patients are being treated and the severity of their injuries) within the last hour, and it is subject to change at any moment. If you are experiencing an emergency, call 911.