Atrium Medical Center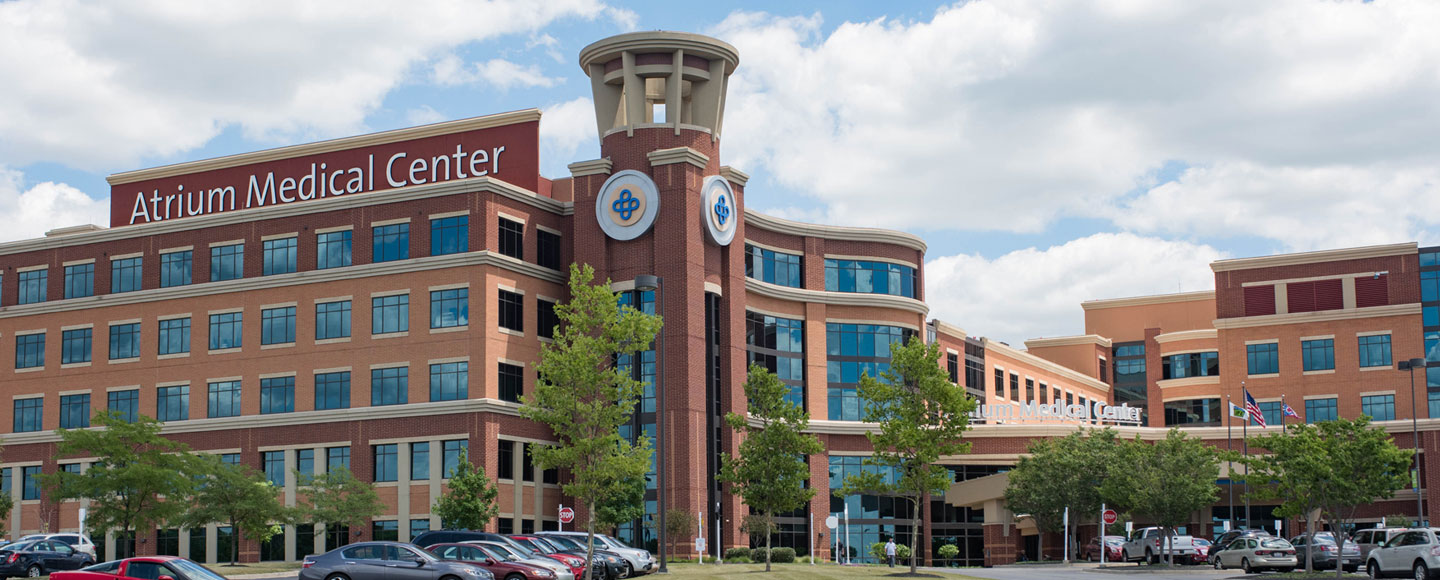 Atrium Medical Center has served Southwest Ohio from its Middletown campus since 1917. We offer a wide range of advanced, innovative care from our 260-acre campus. Leading national organizations regularly recognize our quality care. We are Warren County's only Level III Trauma Center and Primary Stroke Center, providing immediate assessment and care for seriously injured or ill patients, and the only accredited Chest Pain Center in Warren County. We offer maternity, cancer, orthopedics, and heart care, and much more. Atrium Medical Center was named among America's 100 Best Hospitals by Healthgrades. We have achieved Magnet® Recognition, nationally recognized as the highest standard for excellence in patient care.
Visitors
Whether you're a patient, family member, friend, or business partner, we welcome you to our campus. Get more information on parking, how to contact patients, rules for visiting patients, and the amenities we offer, including our food and dining options.
Our Providers
Whether you're looking for a primary care provider or a specialist, our physicians and advanced practice providers offer you advanced, compassionate care in a wide range of specialties. You'll find them conveniently close to home and work.
See all providers
Awards
We're proud to make a difference in our community. When others recognize our achievements, we know we're fulfilling our mission. We're grateful for the awards and recognition our hospital and people have earned.
See all awards
Friday, February 10, 2023
A mammogram is the best way to detect breast cancer early
Saturday, February 11, 2023
Pregnant and planning on an unmedicated birth? This class is for you.
Saturday, February 11, 2023
A mammogram is the best way to detect breast cancer early
Premier Health Achieves First System-Wide Magnet® Recognition
Only 20 Health Systems Nationwide Have Achieved Highly Selective Designation
DAYTON, Ohio (January 17, 2019) – All Premier Health hospitals have earned Magnet® Recognition from the American Nurses Credentialing Center (ANCC), a subsidiary of the American Nurses Association. Nationally recognized as the highest standard for excellence in patient care, only 8 percent of U.S. hospitals hold the esteemed four-year designation – and only 20 U.S. health care systems have achieved the honor as a system.
Premier Health hospitals are the only Dayton-area adult hospitals recognized as Magnet® hospitals.
"Magnet designation is confirmation of our culture of excellence," said Mary Boosalis, president and CEO of Premier Health. "Achieving this recognition for the first time as a health care system is not only rare; it signifies that all Premier Health facilities stand equally committed to deliver the best patient care possible."
Magnet status is recognized as professional nursing's highest honor. A wide body of research has shown that Magnet-designated hospitals provide a safer environment with better outcomes for patients, including fewer complications and injuries, as well as lower mortality rates.
"Premier Health is only the second health system in Ohio to achieve Magnet designation as a system," said Mike Maiberger, executive vice president and chief operating officer of Premier Health. "Achieving this highly selective honor is a huge point of pride for our organization and a testament to the hard work of our nursing teams and all who support them."
Jeanette Ives Erickson, DNP, RN, NEA-BC, FAAN, chair of the Commission on Magnet Recognition, announced the commission's vote in favor of Premier Health's Magnet status via conference call.
Appraisers who visited Atrium Medical Center, Miami Valley Hospital, Miami Valley Hospital North, Miami Valley Hospital South, and Upper Valley Medical Center during a weeklong site visit in November toured 79 departments and units, and met with 546 clinical nurses, along with many hospital leaders, physicians, essential partners, and community stakeholders.
The Magnet Recognition Program evaluates hospitals based on empowerment and autonomy of nurses, collaborative work environments, nurse and patient satisfaction, nurse education and research, patient outcomes that exceed national benchmarks, and more.
"Magnet appraisers said they were impressed with our systems and structures, community partnerships, interdisciplinary partnerships, physician-nurse partnerships, and our nursing staff overall," said Peggy Mark, Premier Health's chief nursing officer. "Achieving system designation through the Magnet Recognition Program is an organizational effort that demonstrates the quality of work and commitment to our patients by everyone at Premier Health, and especially years of tireless work by our nursing teams. Our hospitals could not have earned this honor without their hard work and dedication."
As part of Premier Health's first-ever system Magnet designation, Miami Valley Hospital has achieved its fourth Magnet® designation since 2004. With its latest designation, the hospital in Dayton joins an elite group of only 58 U.S. health care organizations – fewer than 1 percent of hospitals in the nation – to have earned four Magnet designations, according to the ANCC.
Miami Valley Hospital is the fifth-longest sustaining Magnet-designated hospital in Ohio. Atrium Medical Center and Upper Valley Medical Center join 30 other hospitals in Ohio with Magnet status and only 481 Magnet-designated facilities in the world.
*The current wait time is an estimated wait time before a person sees a physician and is not a guarantee. It is based on patient activity (how many patients are being treated and the severity of their injuries) within the last hour, and it is subject to change at any moment. If you are experiencing an emergency, call 911.