Atrium Medical Center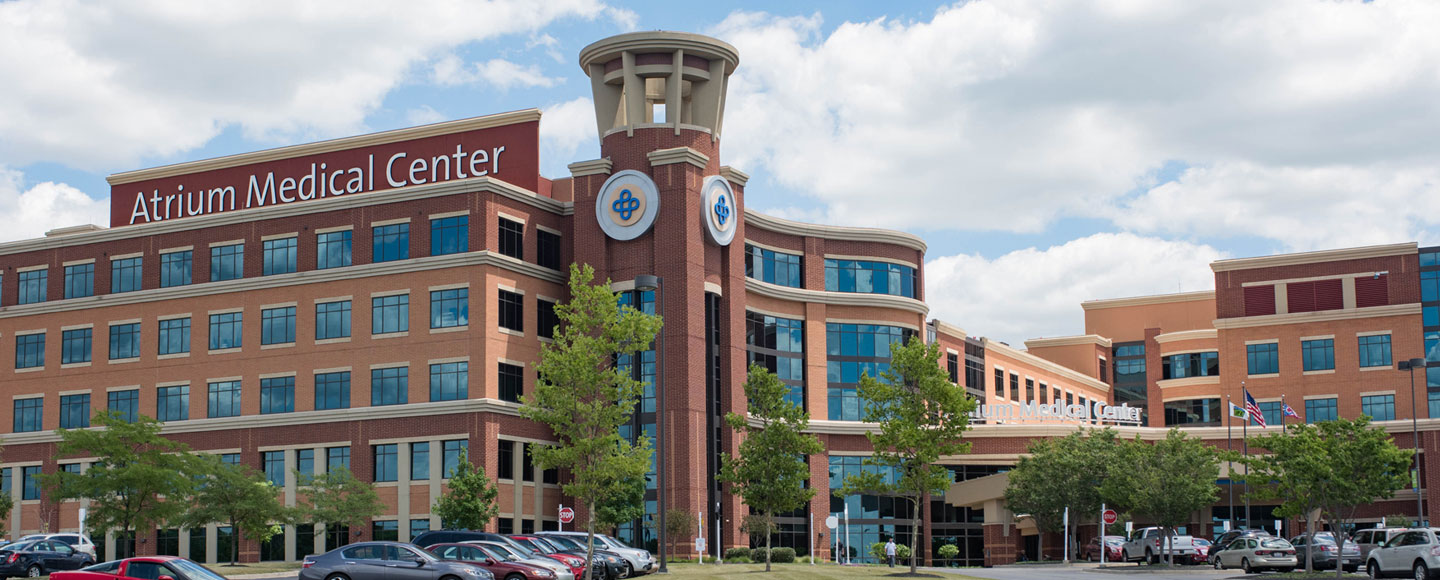 Atrium Medical Center has served Southwest Ohio from its Middletown campus since 1917. We offer a wide range of advanced, innovative care from our 260-acre campus. Leading national organizations regularly recognize our quality care. We are Warren County's only Level III Trauma Center and Primary Stroke Center, providing immediate assessment and care for seriously injured or ill patients, and the only accredited Chest Pain Center in Warren County. We offer maternity, cancer, orthopedics, and heart care, and much more. Atrium Medical Center was named among America's 100 Best Hospitals by Healthgrades. We have achieved Magnet® Recognition, nationally recognized as the highest standard for excellence in patient care.
Visitors
Whether you're a patient, family member, friend, or business partner, we welcome you to our campus. Get more information on parking, how to contact patients, rules for visiting patients, and the amenities we offer, including our food and dining options.
Our Providers
Whether you're looking for a primary care provider or a specialist, our physicians and advanced practice providers offer you advanced, compassionate care in a wide range of specialties. You'll find them conveniently close to home and work.
See all providers
Awards
We're proud to make a difference in our community. When others recognize our achievements, we know we're fulfilling our mission. We're grateful for the awards and recognition our hospital and people have earned.
See all awards
Tuesday, August 9, 2022
A mammogram is the best way to detect breast cancer early
Wednesday, August 10, 2022
Join us for our weight loss surgery support group
Thursday, August 11, 2022
Join us for a free weight loss surgery seminar
Schedule a Screening Mammography Near You in July
(July 3, 2018) - Premier Health is making it easier for busy women to get their annual mammogram screening with its mobile mammography coach that travels to businesses, public venues and events throughout Southwest Ohio.
Equipped with advanced imaging equipment, the coach offers traditional 2D and Genius™ 3D Mammography™ technology to detect breast cancer.
Schedule a mobile mammogram by calling (855) 887-7364. For more information about the process and locations, visit http://www.premierhealth.com/mobilemammo or email MobileMammo@premierhealth.com.
The coach is owned and operated by Atrium Medical Center.
The following dates and times are open for appointments:
July 5, 10:00 am to 7:00 pm at SureCare Medical Center, 360 W. Central Ave., Springboro, OH 45066;
July 6, 9:00 am to 5:00 pm at MidPointe Library, 125 S. Broad St., Middletown, OH 45044;
July 7, 10:00 am to 4:00 pm for Market in the Park at Warren County Armco Park, 1223 Ohio 741, Lebanon, OH 45036;
July 9, 9:00 am to 5:00 pm at Trenton Family Medicine, 3590 Busenbark Rd., Trenton, OH 45067;
July 10, 9:00 am to 5:00 pm at MidPointe Library, 9363 Center Pointe Dr., West Chester Twp., OH 45069;
July 11, 9:00 am to 5:00 pm for Atrium Days at Robert "Sonny" Hill Community Center, 800 Lafayette Ave., Middletown, OH 45044;
July 12, 9:00 am to 5:00 pm at Miami County Internal Medicine, 2600 Mote Dr., Covington, OH 45318;
July 13, Noon to 2:00 pm at Terrace Ridge Apartments, 1312 McKaig Ave., Troy, OH 45373;
July 14, 11:00 am to 4:00 pm for Community Festival and Health Fair at McKinley United Methodist Church, 196 Hawthorn St., Dayton, OH 45402;
July 19, 9:00 am to 5:00 pm at MidPointe Library, 200 Edgewood Dr., Trenton, OH 45067;
July 20, 11:00 am to 3:00 pm for Miami Valley Housing Opportunities Community Engagement Fair: "I am the Key!" at 907 W. Fifth St., Dayton, OH 45402;
July 23, 9:00 am to 5:00 pm at Waynesville Pharmacy, 415 S. Main St., Waynesville, OH 45068;
July 24, 8:00 am to 5:00 pm at Miami Valley Hospital Medical Imaging- Springboro, 630 N. Main St., Springboro, OH 45066;
July 25, 8:00 am to 5:00 pm at Premier Women's Center, 1529 Fair Rd., Sidney, OH 45365;
July 27, 9:00 am to 5:00 pm at Premier Estates of Middletown, 4400 Vannest Ave., Middletown, OH 45042;
July 28, 9:00 am to 3:00 pm for Mammos and Massages at Hand & Stone Massage and Facial Spa at Dayton Mall, 2826 Miamisburg Centerville Rd., Miamisburg, OH 45459;
July 30, 9:00 am to 6:00 pm at Miami Valley Hospital Jamestown Emergency Center, 4940 Cottonville Rd., Jamestown, OH 45335; and
July 31, 9:00 am to 5:00 pm at Germantown Public Library, 51 N. Plum St., Germantown, OH 45327.
Premier Health welcomes partnerships with area businesses and event organizers to bring the mobile mammography coach to their locations in the community. For more information about how to bring the coach to your event or site, email MobileMammo@premierhealth.com or call (844) 453-4199.
Genius 3D Mammography is a trademark of Hologic Inc.
*The current wait time is an estimated wait time before a person sees a physician and is not a guarantee. It is based on patient activity (how many patients are being treated and the severity of their injuries) within the last hour, and it is subject to change at any moment. If you are experiencing an emergency, call 911.