Atrium Medical Center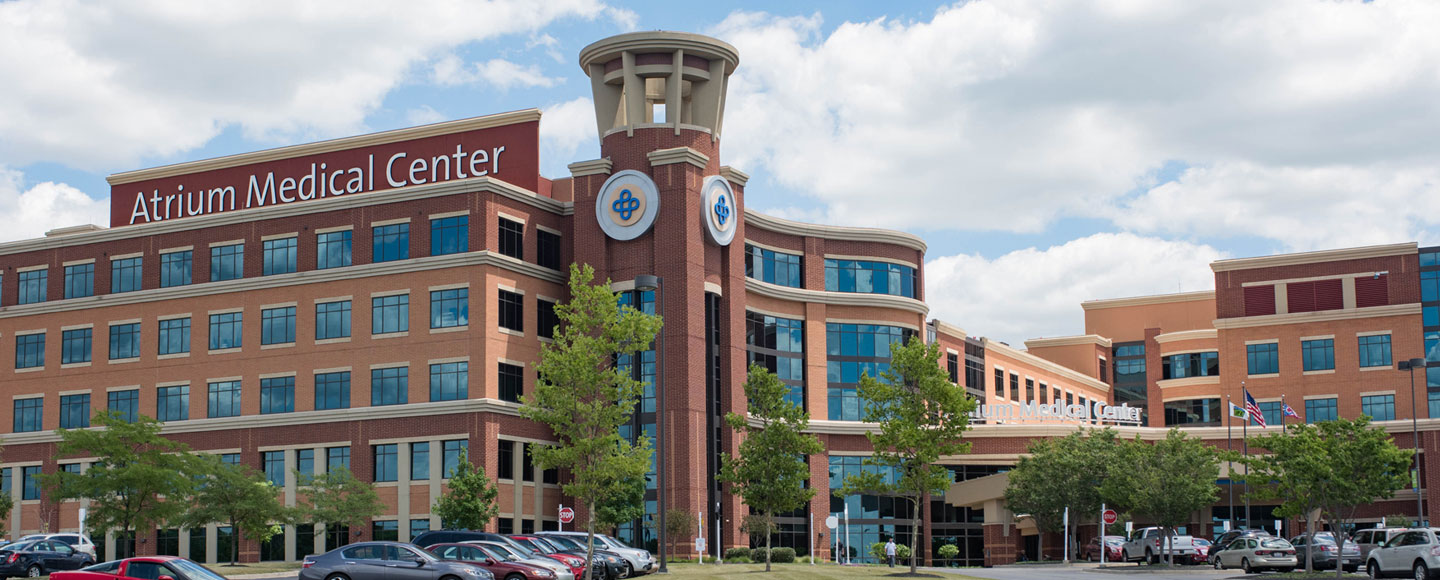 Atrium Medical Center has served Southwest Ohio from its Middletown campus since 1917. We offer a wide range of advanced, innovative care from our 260-acre campus. Leading national organizations regularly recognize our quality care. We are Warren County's only Level III Trauma Center and Primary Stroke Center, providing immediate assessment and care for seriously injured or ill patients, and the only accredited Chest Pain Center in Warren County. We offer maternity, cancer, orthopedics, and heart care, and much more. Atrium Medical Center was named among America's 100 Best Hospitals by Healthgrades. We have achieved Magnet® Recognition, nationally recognized as the highest standard for excellence in patient care.
Visitors
Whether you're a patient, family member, friend, or business partner, we welcome you to our campus. Get more information on parking, how to contact patients, rules for visiting patients, and the amenities we offer, including our food and dining options.
Our Providers
Whether you're looking for a primary care provider or a specialist, our physicians and advanced practice providers offer you advanced, compassionate care in a wide range of specialties. You'll find them conveniently close to home and work.
See all providers
Awards
We're proud to make a difference in our community. When others recognize our achievements, we know we're fulfilling our mission. We're grateful for the awards and recognition our hospital and people have earned.
See all awards
Monday, August 8, 2022
A mammogram is the best way to detect breast cancer early
Tuesday, August 9, 2022
A mammogram is the best way to detect breast cancer early
Wednesday, August 10, 2022
Join us for our weight loss surgery support group
Premier Health First in Ohio to Reach Public Health Milestone With Maternity Care
Health System's Maternity Centers Have Completed All Steps of Statewide Breastfeeding Initiative
DAYTON, Ohio (November 16, 2017) – Premier Health is the first health system in Ohio whose maternity centers have completed all steps of a statewide breastfeeding initiative aimed at reducing the state's high infant mortality rate.
The initiative, Ohio First Steps for Healthy Babies, was launched by the Ohio Department of Health and the Ohio Hospital Association.
Among the hospitals recognized for achieving all steps in promoting, protecting and supporting breastfeeding are Miami Valley Hospital, with an additional site at Miami Valley Hospital South; Good Samaritan Hospital (closed in 2018); Atrium Medical Center; and Upper Valley Medical Center. Some of the steps include helping mothers initiate breastfeeding within half an hour of birth, as well as giving newborns no food or drink other than breast milk unless medically indicated.
"This distinction shows what teamwork and perseverance can accomplish," said Teri Gulker, director of nursing at Good Samaritan Hospital and Upper Valley Medical Center. "This initiative is paying dividends for babies and their mothers throughout the Miami Valley, and we're proud to be a part of it."
About 61 percent of mothers exclusively breastfed their infants in the days following delivery at Premier Health hospitals in 2016, significantly above the state average rate of 52 percent at hospital discharge.
"Breast milk benefits babies with its mix of nutrients, protein and fat," said Marc Belcastro, DO, chief medical officer at Miami Valley Hospital. "It's easily digestible, and its anti-infective properties help newborns fend off infection."
Asthma, allergies, respiratory illness and ear infections also occur less frequently in babies that are breastfed, Belcastro said. And research suggests that breastfeeding lowers the risk of Sudden Infant Death Syndrome, Type 2 diabetes, obesity and other medical conditions.
The benefits don't end there. Breastfeeding also boosts the health of mothers, helping them lose pregnancy weight more quickly while reducing their risk of breast and ovarian cancer.
Premier Health's hospitals also have removed free infant formula samples and formula company-branded diaper bags from their facilities. The hospitals have been recognized as "bag-free" facilities by First Steps for Healthy Babies in partnership with the Ohio Breastfeeding Alliance and the Ohio Lactation Consultant Association.
"First Steps is proud to recognize the commitment of Premier Health for the great work to support and promote breastfeeding," said Ryan Everett, director of population health for the Ohio Hospital Association. "Through active participation in programs like First Steps, Ohio hospitals are engaging patients and the community as partners to improve the health and wellness of moms and babies across the state."
In recognition of the importance of these programs, Premier Health offers lactation consultants and other resources to assist mothers one-on-one or through breastfeeding classes.
For more information about Premier Health's services, visit premierhealth.com/maternity, premierhealth.com/breastfeeding or call 937-208-BABY to register for classes. For more information about Ohio First Steps for Healthy Babies, visit ohiohospitals.org/ohiofirststeps.
*The current wait time is an estimated wait time before a person sees a physician and is not a guarantee. It is based on patient activity (how many patients are being treated and the severity of their injuries) within the last hour, and it is subject to change at any moment. If you are experiencing an emergency, call 911.