Atrium Medical Center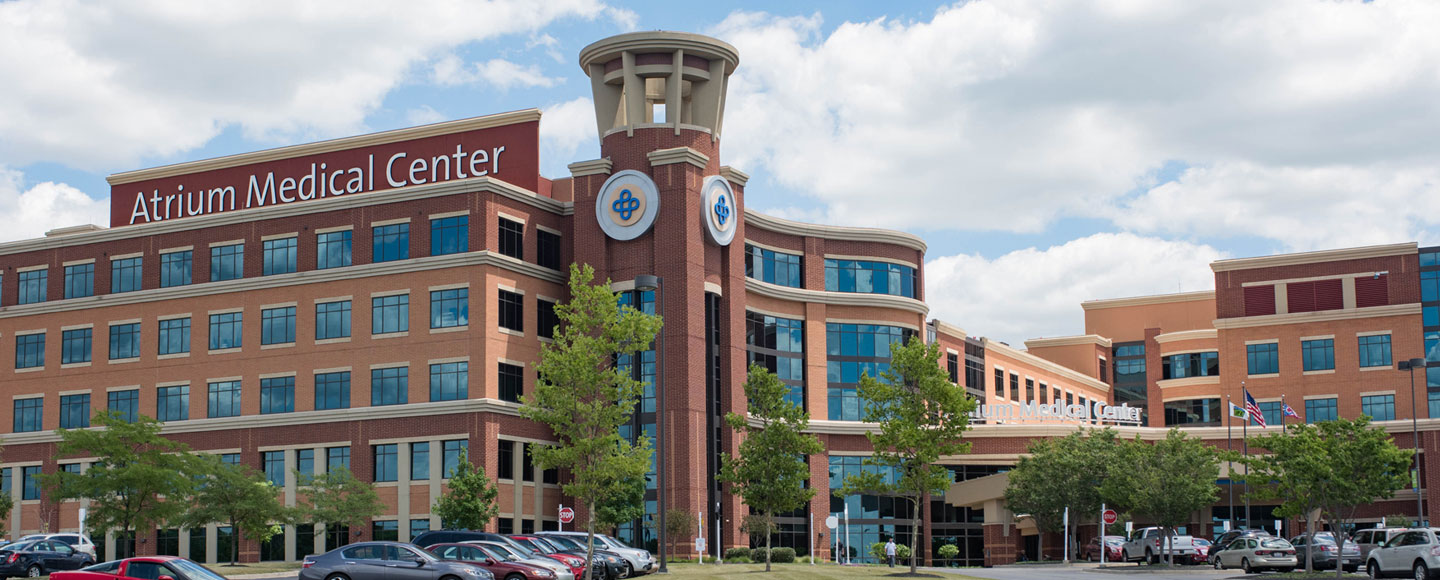 Atrium Medical Center has served Southwest Ohio from its Middletown campus since 1917. We offer a wide range of advanced, innovative care from our 260-acre campus. Leading national organizations regularly recognize our quality care. We are Warren County's only Level III Trauma Center and Primary Stroke Center, providing immediate assessment and care for seriously injured or ill patients, and the only accredited Chest Pain Center in Warren County. We offer maternity, cancer, orthopedics, and heart care, and much more. Atrium Medical Center was named among America's 100 Best Hospitals by Healthgrades. We have achieved Magnet® Recognition, nationally recognized as the highest standard for excellence in patient care.
Visitors
Whether you're a patient, family member, friend, or business partner, we welcome you to our campus. Get more information on parking, how to contact patients, rules for visiting patients, and the amenities we offer, including our food and dining options.
Our Providers
Whether you're looking for a primary care provider or a specialist, our physicians and advanced practice providers offer you advanced, compassionate care in a wide range of specialties. You'll find them conveniently close to home and work.
See all providers
Awards
We're proud to make a difference in our community. When others recognize our achievements, we know we're fulfilling our mission. We're grateful for the awards and recognition our hospital and people have earned.
See all awards
Monday, January 30, 2023
A mammogram is the best way to detect breast cancer early
Monday, January 30, 2023
Join us for a free weight loss surgery seminar
Friday, February 10, 2023
A mammogram is the best way to detect breast cancer early
Atrium Medical Center to offer Diabetes and Wound Care Awareness Health Fair
MIDDLETOWN, Ohio (Nov. 7, 2017): November is Diabetes Awareness Month, and Atrium Medical Center will hold a free Diabetes and Wound Care Awareness Health Fair open to the community.
Anyone wanting more information about pre-diabetes, how to manage diabetes, and the importance of wound care are welcome to attend the health fair from 11 a.m. to 1 p.m. Tuesday, Nov. 28. The health fair will be held in the main lobby of Atrium, located at One Medical Center Dr., Middletown, OH 45005.
Health fair attendees can meet the staff members of Atrium Medical Center's Diabetes Wellness Center and Wound Care Center and Hyperbaric Services. Also at the event, a blood sugar screening, foot health and general diabetes education will be provided. Fasting is not required for the blood sugar screening.
"Those interested in managing diabetes and healthy eating during the holidays will learn about nutritional strategies from the Diabetes Wellness Center. The Wound Care Center and Hyperbaric Services team welcomes any patient to learn about prevention of diabetic ulcers and caring for their skin," said Christina Skinner, Healogics director of the Wound Care Center at Atrium.
An estimated 30.3 million people in the United States (9.4 percent of the population) have diabetes, including 7.2 million who are unaware they are living with the disease, according to the American Diabetes Association. The percentage of adults with diabetes increases with age, reaching 25.2 percent of the population ages 65 years or older. There are also 1.5 million people living in the U.S. diagnosed with diabetes every year, according to the association.
Diabetes is tied to hard-to-heal wounds. High blood sugar levels, poor circulation, immune system issues, nerve damage, and infection may contribute to a non-healing diabetic foot ulcer, according to Healogics, which operates wound centers nationwide, including the one at Atrium. Estimates are 15 percent of people living with diabetes will develop a foot ulcer, per Healogics.
Early detection and intervention can help reduce the possibility of limb loss and complications of diabetes, according to Healogics. The Wound Care Center at Atrium recommends the following to help prevent diabetic foot ulcers:
Stop smoking immediately
Get a comprehensive foot examination each time you visit your health care provider (at least four times a year)
Inspect your feet daily, either by yourself or with the help of a family member
Care for your feet regularly, including cleaning toenails and taking care of corns and calluses
Choose supportive, proper footwear (shoes and socks)
Take steps to improve circulation such as eating healthier and exercising on a regular basis
Contact the Wound Care Center to learn more about diabetic foot ulcers and other non-healing wounds. To schedule an appointment, call (513) 974-5700. Atrium's Wound Center is managed by Healogics and specializes in the treatment of non-healing, chronic wounds.
For more information about diabetes, contact the Diabetes Wellness Center at (513) 727-5475. The Diabetes Wellness Center of Atrium Medical Center provides comprehensive diabetes education to help individuals better manage their diabetes. Staff at the Diabetes Wellness Center have the experience to take a proactive approach with patients, providing them with the knowledge and skills to self-manage their diabetes.
"Get prepared for the holidays by visiting our health fair November 28 at Atrium, and learn how to manage your diabetes before joining the meal table with loved ones," said Carolyn Fogarty, manager of the Diabetes Wellness Center.
Atrium Medical Center serves Butler, Warren and surrounding counties from its main campus conveniently located along the Interstate 75 corridor at exit 32, between Cincinnati and Dayton. The full-service hospital and Level III Emergency Trauma Center employs approximately 1,500 people in full-time, part-time and on-call positions. Other facilities operated by Atrium include Atrium Health Center Trenton and Atrium Health Center Mason.
HOW TO GO
Who: Open to the public wanting to learn more about diabetes and wound care
What: Diabetes and Wound Care Awareness Health Fair
When: 11 a.m. to 1 p.m. Tuesday, Nov. 28.
Where: The main lobby of Atrium Medical Center, One Medical Center Dr., Middletown, OH 45005
Why: Get prepared for the holidays and learn more about healthy eating habits and how to manage your diabetes or pre-diabetes
How: Free to attend
*The current wait time is an estimated wait time before a person sees a physician and is not a guarantee. It is based on patient activity (how many patients are being treated and the severity of their injuries) within the last hour, and it is subject to change at any moment. If you are experiencing an emergency, call 911.