Atrium Medical Center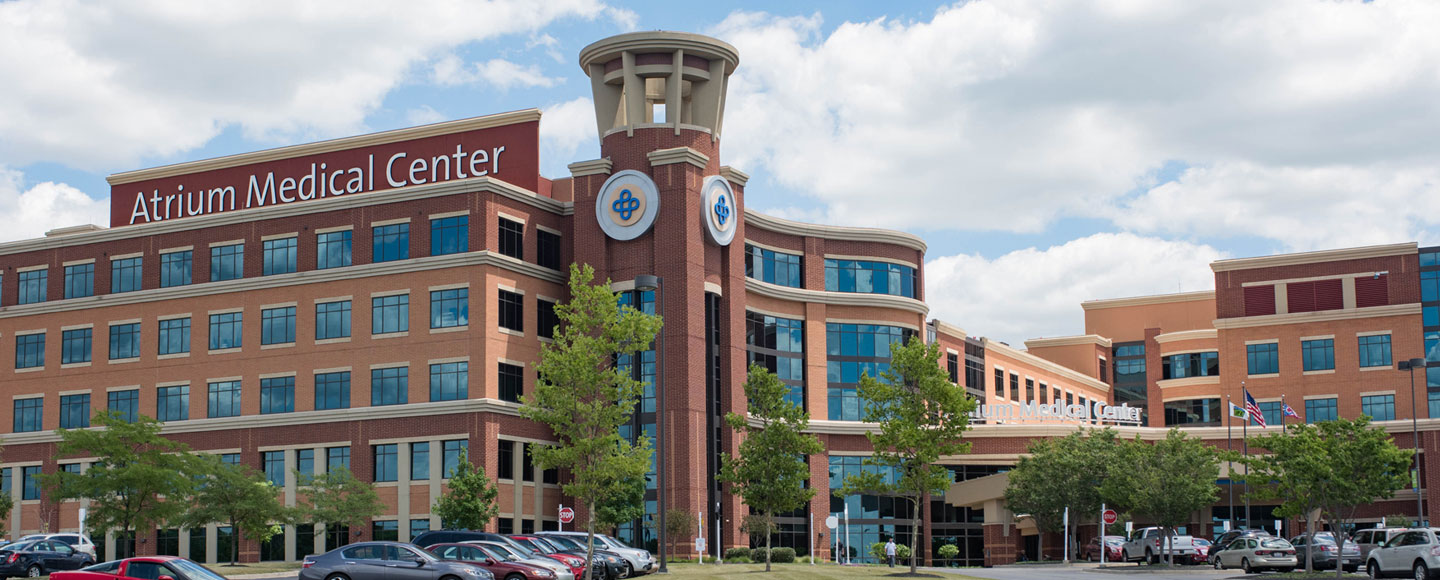 Atrium Medical Center has served Southwest Ohio from its Middletown campus since 1917. We offer a wide range of advanced, innovative care from our 260-acre campus. Leading national organizations regularly recognize our quality care. We are Warren County's only Level III Trauma Center and Primary Stroke Center, providing immediate assessment and care for seriously injured or ill patients, and the only accredited Chest Pain Center in Warren County. We offer maternity, cancer, orthopedics, and heart care, and much more. Atrium Medical Center was named among America's 100 Best Hospitals by Healthgrades. We have achieved Magnet® Recognition, nationally recognized as the highest standard for excellence in patient care.
Visitors
Whether you're a patient, family member, friend, or business partner, we welcome you to our campus. Get more information on parking, how to contact patients, rules for visiting patients, and the amenities we offer, including our food and dining options.
Our Providers
Whether you're looking for a primary care provider or a specialist, our physicians and advanced practice providers offer you advanced, compassionate care in a wide range of specialties. You'll find them conveniently close to home and work.
See all providers
Awards
We're proud to make a difference in our community. When others recognize our achievements, we know we're fulfilling our mission. We're grateful for the awards and recognition our hospital and people have earned.
See all awards
Friday, February 10, 2023
A mammogram is the best way to detect breast cancer early
Saturday, February 11, 2023
Pregnant and planning on an unmedicated birth? This class is for you.
Saturday, February 11, 2023
A mammogram is the best way to detect breast cancer early
Atrium Medical Center to Host Growing Butler/Warren County Heart Walk
MIDDLETOWN, Ohio (September 1, 2017): The American Heart Association's Greater Cincinnati chapter, which coordinates efforts in the region to reduce death and disability from heart disease and stroke, has expanded its annual Heart Walk in Middletown to welcome teams and organizations from throughout Butler and Warren counties.
Premier Health and Atrium Medical Center hosts the walk and is the signature sponsor.
Teams are forming now for this year's newly-named Butler/Warren County Heart Walk to be held Saturday, Sept. 30, on the campus of Atrium Medical Center. Registration and a health expo will begin at 9 a.m. September 30, at Atrium Family YMCA, located at 5750 Innovation Drive, Middletown, OH, 45005. The two-mile walk begins at 10 a.m., and travels through the gardens surrounding Atrium Medical Center.
"The walk is so important because heart disease is the number one killer of all Americans, both male and female," said Bob Fairchild, vice president of business development of Huhtamaki, a Franklin manufacturing company, and chair of the 2017 Butler/Warren County Heart Walk. "Regular exercise is an essential element of cardiovascular health, and the Heart Walk is an easy way to get out and walk."
To learn more or register, visit www2.heart.org/butlerwarrencountywalk. Individual walkers and families are welcome to participate. Same-day registration is also accepted.
At the event, walkers can also expect free health screenings offered by Premier Health and Atrium Medical Center, a variety of vendors, a special pet area for participants to bring their dogs, and more.
"Atrium Medical Center, as a member of Premier Health, strives to improve the health of communities we serve with partners such as the American Heart Association. The Heart Walk is a hands-on way for Butler and Warren County community members to gather and take steps to better their health," said Michael Uhl, president of Atrium Medical Center. "We are proud to host the expanded Butler/Warren County Heart Walk and invite you to Middletown to join us in the fight against heart disease."
Heart Walks are held across the nation to support the American Heart Association's fight against heart disease and stroke. There is no registration fee, but participants are encouraged to form a team and fundraise.
For more information about how to be part of the Butler/Warren County Heart Walk, contact Stephanie.Anderson@heart.org or call (513) 842-8894.
"The American Heart Association decided to expand the annual Heart Walk to include all of Butler and Warren counties because the convenient location off Interstate 75 makes it easy for area residents to access a heart-healthy activity close to home in a growing population center of Greater Cincinnati," said Stephanie Anderson of the Greater Cincinnati American Heart Association.
Atrium Medical Center is a full-service hospital and Level III Trauma Center located conveniently along the Interstate 75 corridor at exit 32, One Medical Center Drive in Middletown, between Cincinnati and Dayton. As an accredited Chest Pain Center, Atrium has an evidence-based, protocol-driven and systematic approach to cardiac patient care allowing clinicians to reduce time to treatment during the critical early stages of a heart attack.
*The current wait time is an estimated wait time before a person sees a physician and is not a guarantee. It is based on patient activity (how many patients are being treated and the severity of their injuries) within the last hour, and it is subject to change at any moment. If you are experiencing an emergency, call 911.