Atrium Medical Center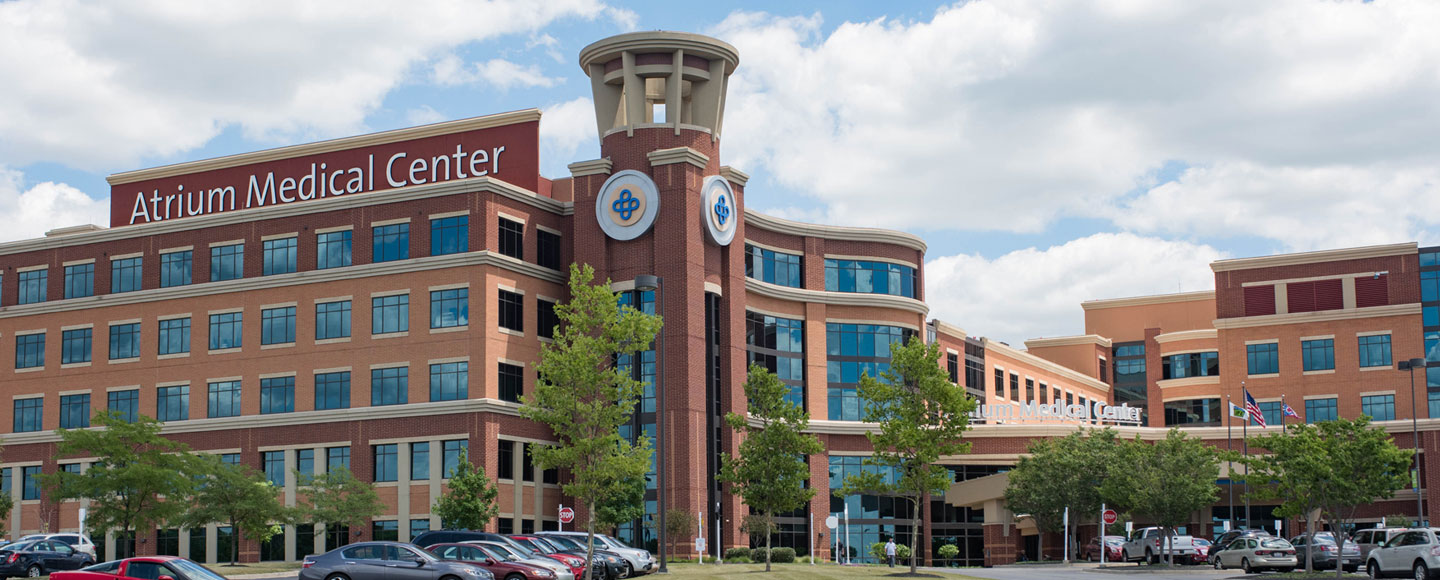 Atrium Medical Center has served Southwest Ohio from its Middletown campus since 1917. We offer a wide range of advanced, innovative care from our 260-acre campus. Leading national organizations regularly recognize our quality care. We are Warren County's only Level III Trauma Center and Primary Stroke Center, providing immediate assessment and care for seriously injured or ill patients, and the only accredited Chest Pain Center in Warren County. We offer maternity, cancer, orthopedics, and heart care, and much more. Atrium Medical Center was named among America's 100 Best Hospitals by Healthgrades. We have achieved Magnet® Recognition, nationally recognized as the highest standard for excellence in patient care.
Visitors
Whether you're a patient, family member, friend, or business partner, we welcome you to our campus. Get more information on parking, how to contact patients, rules for visiting patients, and the amenities we offer, including our food and dining options.
Our Providers
Whether you're looking for a primary care provider or a specialist, our physicians and advanced practice providers offer you advanced, compassionate care in a wide range of specialties. You'll find them conveniently close to home and work.
See all providers
Awards
We're proud to make a difference in our community. When others recognize our achievements, we know we're fulfilling our mission. We're grateful for the awards and recognition our hospital and people have earned.
See all awards
Friday, February 10, 2023
A mammogram is the best way to detect breast cancer early
Saturday, February 11, 2023
Pregnant and planning on an unmedicated birth? This class is for you.
Saturday, February 11, 2023
A mammogram is the best way to detect breast cancer early
Warren County Safe Communities Coalition Shares Steps for Driving Responsibly During Labor Day Weekend
MIDDLETOWN, Ohio (Aug. 16, 2017): The end of summer is traditionally marked by the Labor Day holiday, a time for our country to reflect on the hard work of our fellow Americans. The long weekend is typically celebrated through picnics, pool parties, and barbecues, as families and friends enjoy the last few days of summer before fall and winter approach. Sadly, the Labor Day holiday is also one of the deadliest, with drunk drivers endangering themselves and others on America's roadways.
This year, members of Warren County Safe Communities Coalition are partnering with the National Highway Traffic Safety Administration to stop drunk drivers and help save lives. The high-visibility national enforcement campaign, Drive Sober or Get Pulled Over, runs from today, August 16, through September 4. During this period, local law enforcement will show zero tolerance for drunk driving. Increased state and national messages about the dangers of driving impaired, coupled with enforcement and increased officers on the road, aim to drastically reduce drunk driving on our roadways.
Local motorists can help prevent drunk driving by taking the following steps, according to the National Highway Traffic Safety Administration:
Being a responsible driver is simple; if you are drinking, plan not to drive
Before drinking, choose a sober friend as a designated driver
Don't let your friends drive impaired. Take their keys, take them home, or help arrange a sober ride
If you've been drinking, call a taxi or ride service, phone a sober friend or family member, download safe driving mobile applications such as SaferRide, or use public transportation
Always wear a seat belt— it's the best defense against impaired drivers
If you see an impaired driver on the road, contact your local law enforcement. Call Ohio State Highway Patrol at #677
"Help us stress the dangers of driving impaired to our community by sharing these sober driving tips with your friends and family," said Ann Brock, coordinator for Warren County Safe Communities Coalition and trauma outreach coordinator for Atrium Medical Center's Level III Trauma Center. "Drunk driving is a massive problem in the United States, with more than 10,000 people dying annually. If you're out on the roads and see someone driving drunk, please call your local law enforcement, or Ohio State Highway Patrol. You could help save a life."
Warren County Safe Communities Coalition members include Atrium Medical Center, Warren County law enforcement agencies, local government agencies, Ohio State Highway Patrol and Warren County Career Center. The coalition focuses on motor vehicle and traffic safety awareness initiatives throughout the year. Follow Warren County Safe Communities Coalition on Facebook at https://www.facebook.com/WarrenCountySafeCommunitiesCoalition/.
Atrium Medical Center is a full-service hospital and Level III Trauma Center located conveniently along the Interstate 75 corridor at exit 32, One Medical Center Drive in Middletown, between Cincinnati and Dayton. Atrium maintains full accreditation as Warren County's only Level III Trauma Center and serves Butler County, providing rapid assessment, resuscitation, initiation of appropriate treatment and ongoing care for all forms of traumatic injury.
*The current wait time is an estimated wait time before a person sees a physician and is not a guarantee. It is based on patient activity (how many patients are being treated and the severity of their injuries) within the last hour, and it is subject to change at any moment. If you are experiencing an emergency, call 911.