Atrium Medical Center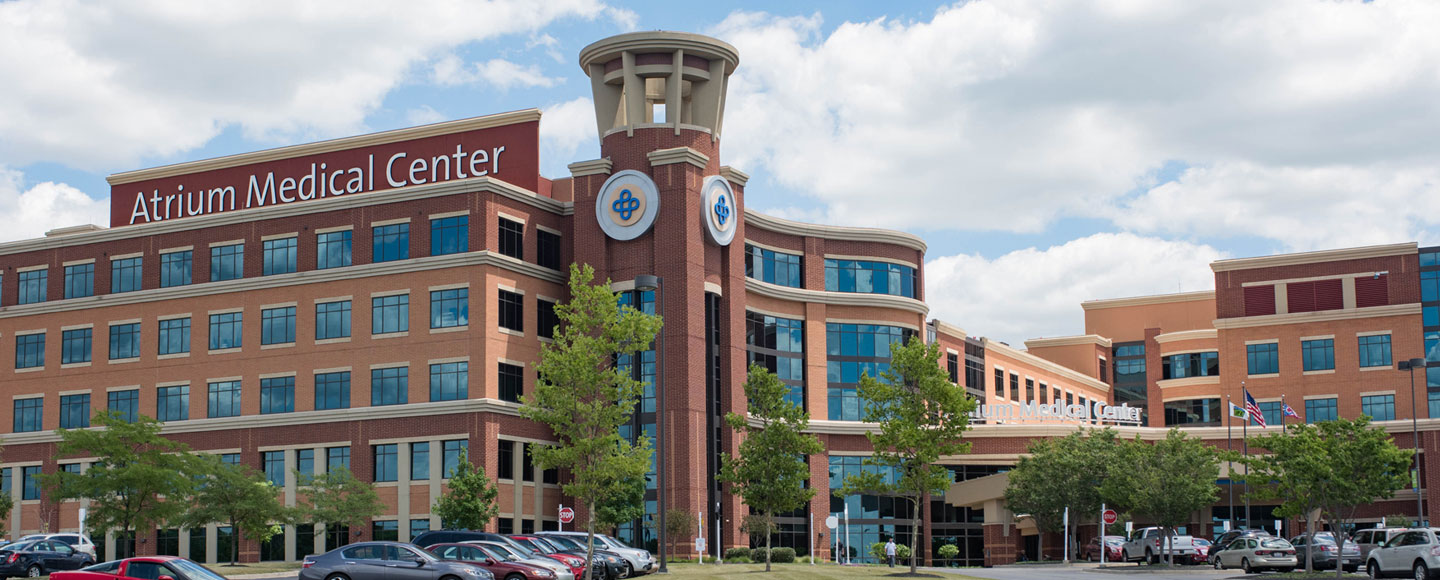 Atrium Medical Center has served Southwest Ohio from its Middletown campus since 1917. We offer a wide range of advanced, innovative care from our 260-acre campus. Leading national organizations regularly recognize our quality care. We are Warren County's only Level III Trauma Center and Primary Stroke Center, providing immediate assessment and care for seriously injured or ill patients, and the only accredited Chest Pain Center in Warren County. We offer maternity, cancer, orthopedics, and heart care, and much more. Atrium Medical Center was named among America's 100 Best Hospitals by Healthgrades. We have achieved Magnet® Recognition, nationally recognized as the highest standard for excellence in patient care.
Visitors
Whether you're a patient, family member, friend, or business partner, we welcome you to our campus. Get more information on parking, how to contact patients, rules for visiting patients, and the amenities we offer, including our food and dining options.
Our Providers
Whether you're looking for a primary care provider or a specialist, our physicians and advanced practice providers offer you advanced, compassionate care in a wide range of specialties. You'll find them conveniently close to home and work.
See all providers
Awards
We're proud to make a difference in our community. When others recognize our achievements, we know we're fulfilling our mission. We're grateful for the awards and recognition our hospital and people have earned.
See all awards
Friday, February 10, 2023
A mammogram is the best way to detect breast cancer early
Saturday, February 11, 2023
Pregnant and planning on an unmedicated birth? This class is for you.
Saturday, February 11, 2023
A mammogram is the best way to detect breast cancer early
Atrium Medical Center Introduces New Program in Effort to Lower Infant Mortality Rates
MIDDLETOWN, Ohio (Aug. 4, 2017): Atrium Medical Center is launching a new way to care for the highest risk pregnant women in the Middletown community. The program, called CenteringPregnancy®, is a partnership between Atrium, the Butler County Partnership to Reduce Infant Mortality (PRIM), and the Ohio Department of Medicaid.
CenteringPregnancy® brings 8 to 10 pregnant women who are due around the same time together for prenatal care. Each of the 10 visits is 90 minutes to two hours long—giving women 10 times as much time with their provider team. Patients meet in a comfortable group setting outside the exam room and, as part of an ongoing group, patients form a supportive community where they develop skills and confidence to take control of their health. The Centering group healthcare models combine health assessment, interactive learning and community building to deliver better health outcomes and a better care experience for patients and their providers.
The new CenteringPregnancy® service can lead to healthier babies, and is meant to combat the high infant mortality rates, premature births and low birth weights affecting many newborns in the Middletown community.
"With the launch of CenteringPregnancy®, Atrium Medical Center is expanding its services to meet the variety of needs of expecting mothers in Butler County. Atrium offers comprehensive maternity services including group meetings for women before they deliver, birth and family education, and natural birth services at Greater Cincinnati's only natural birth center," said Dr. Rhonda Washington, an obstetrician and gynecologist at Atrium Medical Center and medical director of CenteringPregnancy® at Atrium.
Centering meetings will be held Wednesdays beginning September 13 at the Maternal Child Health Center, located on the Atrium Medical Center campus at 100 Campus Loop Rd., Middletown, OH 45005. Free transportation and childcare will be provided. Expecting mothers who are interested in enrolling can contact Maternal Child Health Center at (513) 974-5235. Eligibility requirements to join CenteringPregnancy® at Atrium include expecting mothers who are Butler County residents and have a Medicaid health plan.
Priority for enrollment will be given to African American women as they suffer the highest rates of infant deaths before their baby's first birthday, according to Ohio Department of Health. Statewide in 2015, the Infant Mortality Rate was 7.2 deaths per 1,000 live births for all races and 15.1 deaths per 1,000 live births for African American infants, according to the state health department's most recent data
.
"We are thrilled to have Atrium on board with the Butler County Partnership to Reduce Infant Mortality as we work to help more babies reach their first birthdays. Infants are dying in our county at rates higher than other counties around the state and the nation. Our African American babies are being hit especially hard by low birth weights and prematurity, which puts them at high risk of dying before they are even one-year-old," said Jenny Bailer, Butler County health commissioner. "We are so appreciative of this partnership between PRIM and Atrium. Our highest risk women and babies will be the big winners when this program is up and running."
*The current wait time is an estimated wait time before a person sees a physician and is not a guarantee. It is based on patient activity (how many patients are being treated and the severity of their injuries) within the last hour, and it is subject to change at any moment. If you are experiencing an emergency, call 911.