Atrium Medical Center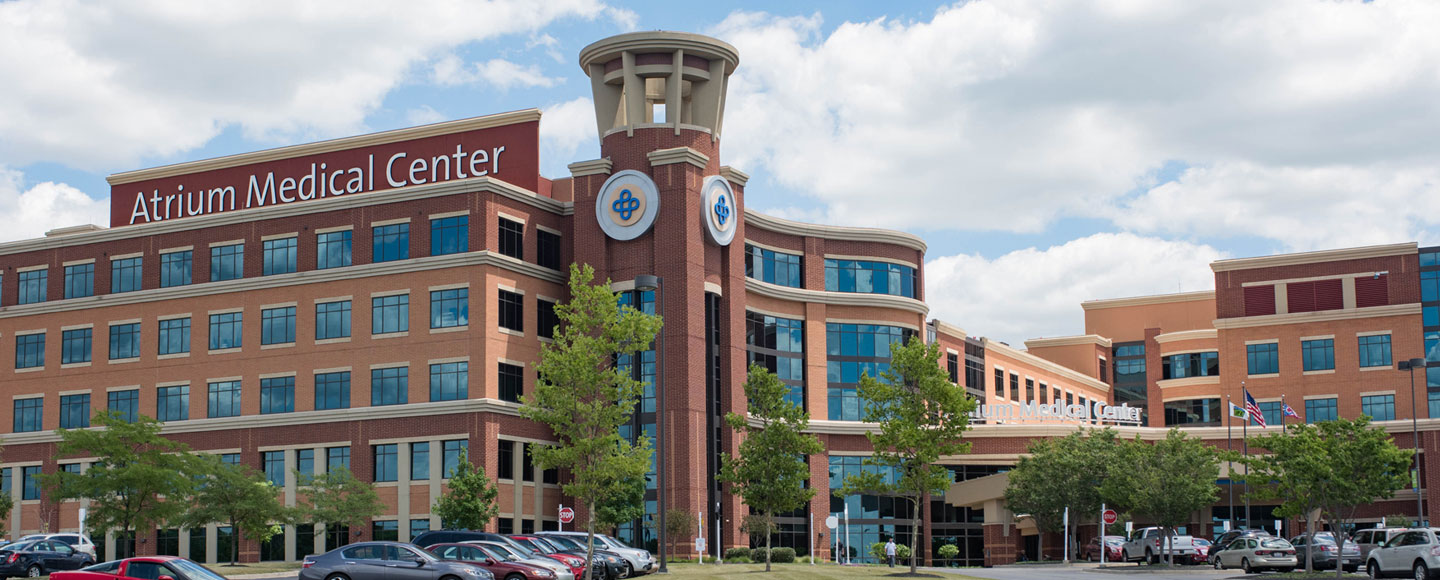 Atrium Medical Center has served Southwest Ohio from its Middletown campus since 1917. We offer a wide range of advanced, innovative care from our 260-acre campus. Leading national organizations regularly recognize our quality care. We are Warren County's only Level III Trauma Center and Primary Stroke Center, providing immediate assessment and care for seriously injured or ill patients, and the only accredited Chest Pain Center in Warren County. We offer maternity, cancer, orthopedics, and heart care, and much more. Atrium Medical Center was named among America's 100 Best Hospitals by Healthgrades. We have achieved Magnet® Recognition, nationally recognized as the highest standard for excellence in patient care.
Visitors
Whether you're a patient, family member, friend, or business partner, we welcome you to our campus. Get more information on parking, how to contact patients, rules for visiting patients, and the amenities we offer, including our food and dining options.
Our Providers
Whether you're looking for a primary care provider or a specialist, our physicians and advanced practice providers offer you advanced, compassionate care in a wide range of specialties. You'll find them conveniently close to home and work.
See all providers
Awards
We're proud to make a difference in our community. When others recognize our achievements, we know we're fulfilling our mission. We're grateful for the awards and recognition our hospital and people have earned.
See all awards
Friday, January 27, 2023
A mammogram is the best way to detect breast cancer early
Monday, January 30, 2023
A mammogram is the best way to detect breast cancer early
Monday, January 30, 2023
Join us for a free weight loss surgery seminar
Charity Golf Tournament to Raise Funds for HEAL Program
MIDDLETOWN, Ohio (July 18, 2017): Gemma Power Systems, LLC, will sponsor and host the HEAL Charity Golf Tournament to help raise funds for Atrium Medical Center Foundation's HEAL endowment, benefiting families who've suffered the loss of a young child.
Gemma Power Systems is performing the engineering, procurement and construction contract to build the NTE Middletown Energy Center. Gemma has a long-standing commitment to support the local communities in which it works and lives. Gemma selected the Help Endure A Loss (HEAL) Program because of its broad reach and impact on local families.
"Gemma Power Systems prides itself on delivering the best project experience to our customers, suppliers, subcontractors, and our communities. We're extremely pleased to support this local organization, which provides such a critical and enduring service to the greater Middletown community. We look forward to a very successful event," said Daniel L. Martin, president of Gemma Power Systems.
Make the putt and make the difference at the Gemma Power Systems HEAL Charity Golf Tournament, which takes place Friday, August 11, at the Golf Club at Yankee Trace located at 10000 Yankee Street in Centerville, Ohio. For questions or to register for the golf tournament, reach Pam McQueeny, event organizer, at (860) 659-0509 ext. 1310 or pamelamcqueeny@gemmapower.com.
The Help Endure A Loss (HEAL) Program assists families by offering comfort and reassurance when coping with a loss of an infant or the birth of a child with serious health issues. The program offers grief counselors and educational information during a family's time of need. HEAL also provides education and tips through the Protecting Infants Early Reduces Catastrophic Events (PIERCE) project to promote safe sleep, prevent loss and maintain a healthy pregnancy.
All HEAL services are offered free of charge and intended for any family within the community who has experienced the loss of a child. For more information about the HEAL program, visit www.atriummedcenter.org/HEAL.
*The current wait time is an estimated wait time before a person sees a physician and is not a guarantee. It is based on patient activity (how many patients are being treated and the severity of their injuries) within the last hour, and it is subject to change at any moment. If you are experiencing an emergency, call 911.